Embark on your educational journey in the Netherlands. Great news! The NL Scholarship program is currently accepting applications. In this article, we will provide comprehensive information about this scholarship, including its advantages and a step-by-step application guide.
For the academic year 2024-2025, the Dutch government is offering the NL Scholarship for international students. This scholarship is applicable to both undergraduate and master's degree programs and offers recipients €5,000, which can be utilized to cover tuition expenses.
Netherlands Scholarship By Ministry Of Education.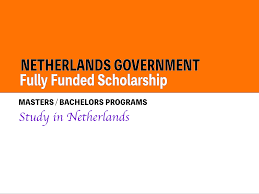 READ ALSO: ARTHUR JARVIS UNIVERSITY POST-UTME SCREENING
The NL Scholarship is open to applications from international students outside the European Economic Area (EEA) who wish to pursue undergraduate and master's degree programs at Dutch research universities and universities of applied sciences in the Netherlands. This scholarship, known as the Holland Scholarship, is administered by the Dutch Ministry of Education, Culture and Science and is awarded to exceptional students.
Degree Level:
Netherlands Scholarship 2024 by Ministry of Education. is available to undertake Undergraduate, Masters level programs at Netherlands Universities.
Available Subjects:
Following subject are available to study under this scholarship program.
All Subjects
Scholarship Benefits:
The NL Scholarship offers the following benefits:
Scholarship amount of €5,000.
Please be aware that this scholarship does not cover the full tuition fees.
Eligible Nationalities:
This scholarship is open to international students.
Eligibility Criteria:
Your nationality is non-EEA.
You are applying for a full-time bachelor's or master's program at one of the participating Dutch higher education institutions.
You meet the specific requirements of the institution of your choice. You can find these on the website of the institution.
You do not have a degree from an education institution in the Netherlands.
Application Procedure:
Please follow the following instructions to avail NL Scholarship:
Apply for the NL Scholarship. Click here
You can find an overview of participating Dutch research universities and universities of applied sciences applied sciences, as well as selected fields of study.
Compose a letter of motivation (max. 500 words) to the university, in which you describe why you are a talented student, taking into account both your academic achievements and extra-curricular activities (e.g. voluntary work).
Indicate in your online application that you are applying for the NL Scholarship and upload your scholarship motivation letter where indicated. The university will contact you to let you know if you have been awarded a scholarship.
(The application for the academic year 2024-2025 will open around November 2023)