The Peking University Yenching Academy Scholarship 2024 in China is currently accepting applications. This scholarship is open to international students from across the globe. Individuals aspiring to pursue their Master's Degree with a prestigious scholarship are encouraged to submit their applications. Peking University is providing a fully funded scholarship opportunity in China for the academic year 2024. Importantly, there is no application fee associated with this scholarship.
The Yenching Academy annually enrolls approximately 120 new students from both the Chinese Mainland and abroad, to study, live, and learn together. International students comprise roughly 80% of the student body.
Peking University Yenching Academy Scholarship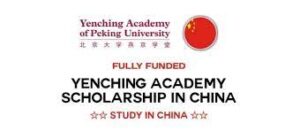 READ ALSO: CRAWFORD UNIVERSITY POST-UTME/DE SCREENING
Peking University, located in Beijing, China, is one of the country's most esteemed and historic institutions of higher education. Founded in 1898, it has garnered a reputation as a global academic powerhouse and a hub for cutting-edge research and intellectual exploration. Renowned for its commitment to academic excellence, Peking University offers a comprehensive range of programs across diverse disciplines, catering to both undergraduate and postgraduate students. The university's campus, known for its blend of traditional Chinese architecture and modern facilities, fosters a vibrant and dynamic atmosphere for learning and collaboration. Peking University's notable achievements in research, its impressive array of academic resources, and its dedication to fostering a global perspective through international collaborations all contribute to its position as one of China's premier institutions. With a rich history and a forward-looking approach to education, Peking University stands as a beacon of academic innovation and leadership on both the national and international stages.
Degree Level:
Fully Funded Peking University Yenching Academy Scholarship 2024, Study in China. is available to undertake Masters level programs at Peking University.
Available Subjects:
Following subject are available to study under this scholarship program.
All Subjects
Scholarship Benefits:
The Peking University Yenching Academy Scholarship 2024 in China offers a comprehensive fully-funded scholarship that covers all expenses for the chosen candidate. The Yenching Academy Fellowship encompasses the following advantages:
1. Full coverage of tuition fees.
2. Provision of an accommodation allowance.
3. Monthly stipend.
4. Round-trip travel fare.
5. Allowance for field study costs.
Eligible Nationalities:
This scholarship is open to internationals students of all nationalities.
Eligibility Criteria:
Applicants should have:
. Minimum of a Bachelor's degree in any field, or be currently enrolled in a Bachelor degree program and be on track to graduate no later than August 31, 2024*
. An outstanding academic record
Strong interest in interdisciplinary study of China
'. A record of extracurricular achievement, community engagement, social responsibility, and leadership potential
. English proficiency.
*Peking University does not allow students to be enrolled in other degree programs whilst studying at the university.
Application Procedure:
Candidates may apply through Yenching Academy's online application portal. Each applicant will create an account on the Yenching Academy admissions portal and submit the following materials in English:
. Completed online application form
. Personal statement (750 words or less)
. Statement of Research Interest (maximum 1500 words, excluding citations);
. Curriculum Vitae
. Official transcript(s)
. Diploma(s) or Certificate(s) of Enrollment
. Two academic letters of recommendation
. English requirements and minimum scores:
○ IELTS (Academic): Overall 7.0
○ TOEFL (iBT): Overall 100
○ Cambridge English Scale (Advanced): Overall 185
○ CET 6: Overall 600
○ TEM 4: Pass level of "良好" or above
I hope you find this article helpful.