Professor Charles Esimone, the Vice Chancellor of Nnamdi Azikiwe University, Awka, has taken the decision to dismiss Mr. Afam Ezeaku, a lecturer from the Faculty of Law, in response to allegations of sexual harassment.
The announcement was made through a press release provided to journalists on Friday by Dr. Emmanuel Ojukwu, the Special Adviser to the Vice Chancellor on Public Relations and Special Duties.
Dr. Ojukwu clarified that the claims suggesting students of the university had engaged in protests against sexual harassment within the institution are not accurate. This clarification comes in light of media reports that had cited protesters as asserting that the Vice Chancellor had failed to take action following a report by a panel led by Professor Obi Oguejiofor, which had found Ezeaku at fault.
"It is important to state that there was no protest of any sort in the university.
"However, there is an ongoing investigation concerning alleged sexual harassment by some lecturers. The Vice-Chancellor immediately removed the affected lecturers from their official positions and issued those affected strong warning letters in the affected departments," he said.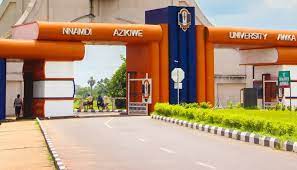 He remarked that a drawback faced by the university was the students who made claims of sexual harassment not stepping forward to provide testimony before the investigative committee.
Ojukwu conveyed that the Vice Chancellor had also convened a meeting with the implicated departments, during which he conveyed the university's dissatisfaction and cautioned both lecturers and staff against engaging in any activities that could tarnish the institution's reputation.
He went on to mention that the Vice Chancellor cautioned that the university administration would take serious measures to discipline staff who transgress, particularly those who engage in the mistreatment or sexual harassment of students.
Ojukwu said: "The Vice-Chancellor has therefore made a dedicated telephone number available to enable students to report all forms of harassment by staff especially sexual harassment.
"He further assured students of the renewed determination of the university to protect them and treat all forms of allegations of sexual harassment with the seriousness it deserves and confidentially."
I hope you find this article helpful.