Tai Solarin College Of Education (TASCE) Post UTME Form 2023/2024 Session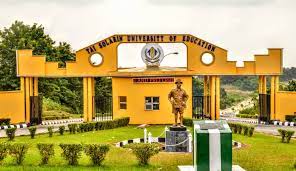 The Tai Solarin College of Education (TASCE) Post UTME Screening Application Form is out in 2023/2024 as an Academic session. The TASCE post-UTME form is now available for purchase online. See how to apply for the screening exercise.
Admission management of the Tai Solarin College of Education (TASCE) has released the 2023/2024 Post UTME Screening Form. See Post UTME Screening date, Post UTME Screening requirements, and how to apply below.
This is to inform all the candidates seeking admission into the Tai Solarin College of Education (TASCE) that the post-UTME screening exercise application form for the 2023/2024 academic session is out.
READ ALSO: UNILAG POST UTME ADMISSION SCREENING FORM
TASCE POST UTME SCREENING APPLICATION FORM 2023/2024
The general public, particularly prospective candidates are hereby informed that 2023/2024 admission is in progress for the 3 Years Full-Time NCE Programmes of the College.
TASCE NCE Post UTME Eligibility.
UTME Candidates who chose TASCE as their first/second choice institution or UTME candidates who did not choose TASCE but seeking a change of institution to TASCE through JAMB, having scored a minimum of 100 in the 2023 UTME
Candidates who sat for the 2023 UTME and scored less than 100
Candidates who did not attempt the 2023 UTME but have a minimum of 3 credits in O' Levels.
TAI SOLARIN COLLEGE OF EDUCATION NCE COURSES AND REQUIREMENTS.
1. Political Science/Economics
2. Political Science/Islamic Studies
3. Political Science/Christian Religious Studies
4. Political Science/History
5. Political Science/Social Studies
6. Economics/Mathematics
7. Economics/Social Studies
8. Economics/Geography
9. History/Christian Religious Studies
10. History/Social Studies
11. History/Islamic Studies
12. History /Political Science
13. CRS/Social/Studies
14. Social Studies/Christian Religious Studies
16. Social Studies/Islamic Studies
17. Geography/Mathematics
18. Geography/Social Studies
19. Geography/History
20. Geography/Political Science
21. Geography /Physics
22. Computer Science/Geography
23. Computer Science/Physics
24. Computer Science/Chemistry
25. Computer Science/Mathematics
26. Computer Science/Biology
27 Computer Science/Economics
28. Mathematics/Biology
29. Mathematics/Physics
30. Mathematics/Chemistry
31. Mathematics/Integrated Science
32. Biology/Integrated Science
33. Biology/Chemistry
34. Biology/Geography
35. Biology/Physics
36. Integrated Science/Geography
37. Physics/Chemistry
38. Chemistry/Geography
39. French/DM
40. French/Yoruba
41. French/Christian Religious Studies
42. English/Social Studies
43. French/History
44. French/Social Studies
52. Yoruba Language/History
53. Yoruba Language/Christian Religious Studies
54. Yoruba Language/French
55. Yoruba Language/Islamic Studies
56. English (Double Major)
57. English/Geography
58. English/Yoruba
59. English/History
59. English/Christian Religious studies
60. English/French
61. Arabic/Islamic Studies
62. Primary Education (PED) (Double Major)
63. Early Childhood and Care Education (Double Major)
64. Fine & Applied Arts (Double Major)
65. Home Economic (Double Major)
66. Agricultural Science (Double Major)
67. Physical &Health Education (Double Major)
68. Business Education (Double Major) Options in;
a) Business Studies
b) Accounting
c) Secretariat
69. Technical Education (Double Major) option in;
a) Automobile Technology
b) Building Technology
c) Electrical/ Electronic Technology
d) Metalwork Technology
e) Woodwork Technology
Requirements:
FULL-TIME NCE PROGRAMME

: This is available for candidates who scored a minimum of 100 in JAMB and have a minimum of five (5)credit passes at one or two sittings in relevant O ' Level subjects including Mathematics and English

NCE Foundation

is available for candidates who scored a minimum of 100 in JAMB but have deficiencies in O ' Level results. Such candidates, upon the remediation of their deficiencies, having offered 100-level courses at the foundation class, shall be eligible to transit to 200 levels of the NCE program. The minimum requirement is 3 credit passes and 2 passes at not more than two sittings in O' level.
HOW TO APPLY FOR TASCE POST UTME.
Application forms for the programs listed above are currently online at https://tasce.edu.ng the following cost and payment will be made online with your ATM cards.
NCE (Post-JAMB (UTME) Screening) – Two Thousand (#2,000.00) naira only
For more information, please contact the Admissions Office TASCE, Omu-Ijebu, or call any of the following numbers: 09092365349, 08033822352, 08036708320, 08033558233.
I hope you find this article helpful.