The Thomas Adewumi University (TAU) announces a wonderful chance for anyone seeking to broaden their horizons in academics. The prestigious university is now accepting applications for the highly regarded Interim Joint Matriculation Board (IJMB) program for the academic year 2023–2024. Thomas Adewumi University (TAU) heralds an excellent opportunity for those looking to broaden their academic horizons.
                Thomas Adewumi University IJMB Program 2023/2024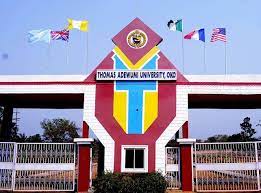 | | |
| --- | --- |
| 🏫 TAU IJMB Admission | For the 2023/2024 academic session at Thomas Adewumi University. |
| 📄 Admission Requirements | Min. 5 Credits in SSCE subjects in ≤ 2 sittings. Applicants with pending results may apply. |
| 🔝 Admission Progression | Complete IJMB → Obtain JAMB Direct Entry form → Admission into TAU or preferred university. |
| 🌐 Apply Online | Start your application: https://advancedstudies.tau.edu.ng/applicant |
| 📞 Contact by Phone | Reach out at +2347037351412, +2348032474987, +2348165668278. |
| 🕘 Phone Service Hours | Monday to Friday from 9.00 am – 6.00 pm. |
| ✅ Eligibility Reminder | Pending results applicants should present O'level results before 200-level admission. |
| 🚀 Application Encouragement | Don't miss out! Unlock endless educational opportunities at TAU. |
TAU IJMB Programme: What's in Store?
For the uninitiated, the IJMB program at TAU is a transformative educational journey. It's structured to provide students with a springboard into higher education. Upon its successful completion, students will be equipped with the credentials to facilitate entry into the 200-level at Thomas Adewumi University or any other university of their choice.
READ ALSO: MAAUNPOST-UTME SCREENING FORM
Eligibility
Before you dive in, let's clear the air on the admission requirements:
Educational Background: Candidates should boast at least 5 Credits in relevant SSCE subjects. And the good news? These can be achieved in a maximum of 2 sittings.
Pending Results? No Worries!: For those on the edge of their results, breathe easy. You can still put in your application. Just ensure that you present the requisite O'level results before making your leap into the 200-level.
Post IJMB Steps: On wrapping up the IJMB program, candidates should keep their eyes peeled for the JAMB Direct Entry form. This is your ticket to furthering your academic journey, be it at TAU or any other university that's caught your fancy.
Kickstart Your Application: Here's How
Ready to set the wheels in motion? The process is straightforward:
Online Application: Dive straight into the online application. Click here to start your journey.
Assistance Over the Phone: For those who prefer a more personal touch or need clarifications, TAU's dedicated helplines are at your service. Get in touch between Monday and Friday, from 9.00 am to 6.00 pm.

📞 +2347037351412
📞 +2348032474987
📞 +2348165668278
In summary, seize the day and take this chance to pave the way for a brighter academic future with the IJMB program at Thomas Adewumi University. A world of endless possibilities and academic excellence awaits. So, what are you waiting for? Dive in and shape your future today.
I hope you find this article helpful.