If you're interested in diet science, health, and nutrition, an online nutrition degree may be an attractive option.
You may also experience a fulfilling career with opportunities for growth and the personal satisfaction of helping your community.
These days, you can get your degree online or in the classroom.
Online Nutrition Degrees
There are a number of things that can be done with a degree in nutrition, and many potential jobs can be lucrative and rewarding.
Careers may be found in the private, public, or governmental sectors on a macro or personal level. People who pursue a career in nutrition can often positively impact whole communities and change food culture in institutions like schools or hospitals. You may branch out into holistic nutrition and alternative medicine as well.
Those who continue with their education and get master's or doctoral degrees often find themselves in charge of large organizations or heading up task forces that focus on nutrition. They may also work in psychology, helping those with eating disorders work through their issues.
Many nutritionists conduct private research and publish papers on new nutrition trends and dietary concerns. Some of these become respected experts in their fields, even making tours as motivational speakers. Some nutritionists with an entrepreneurial bent may find themselves starting up companies and creating whole product lines.
If you decide to pursue this career path, you may also find yourself teaching. Many nutritionists work in schools all around the country, educating both the public and aspiring nutritionists about the field.
If you want to work as a nutritionist, you should have a core desire to help your community and a commitment to good health and wellness. It helps to walk the walk as well as talk the talk. The best candidates are great at making decisions and are able to inspire others in a diplomatic and caring way.
They are seen as leaders in their field and command a sense of authority. If this sounds like you, a career in nutrition might just be the right path for you to pursue. Fortunately, it's easier than ever to get your foot in the door.
Nutrition Curriculum & Courses
Although every school is different, there are a few standard courses that you will probably take to get your nutrition degree. We've given you a sampling of them below.
Vitamins and Minerals Overview – We know that vitamins and minerals are essential to a healthy body, and this course examines how to get the most out of them in your diet.
Intro to Public Health – Managing public health requires a lot of diplomacy and an understanding of nutrition on a macro level.
Diet and Culture – Nutrition and diet are different all over the world. This course looks at the pros and cons of the Western diet and takes a deep dive into how people eat across the planet.
Food Service 101 – If you want to work in an institution, you will likely find this course to be vital. It examines how food is prepared and served on a large scale.
Wellness Psychology – Often, diet can't be separated from psychology, as this course examines. It looks at eating disorders and other anxieties surrounding food.
Clinical Nutrition – This class looks at how to diagnose food-related issues and provide blueprints for change on a clinical level.
Lifelong Nutrition – What we need to eat changes as we age. A course in lifelong nutrition looks at diet throughout an average human lifetime.
Sports Nutrition – Athletes need a different nutritional plan than the rest of us, sports nutrition looks at the marriage between diet and athleticism.
Global Nutrition – This course looks at nutrition from a birds-eye view, examining how nutritional trends and diets shape how our globe operates.
Science of Herbs – Herbal medicine has long been a part of a healthy and natural diet. Courses teaching you what different herbs do are essential components of a degree in nutrition.
These are just a few sample classes of what you can expect. Every school and concentration is different.
Nutrition Careers & Salaries
There are plenty of directions that you could go with a degree in nutrition. Those who tend towards academics may find themselves writing research papers or working in the classroom. Others might find themselves out in the field or directing large companies to help them get more nutritionally sound initiatives in place.
Those who have a yearning to help others might find themselves in counseling roles, or areas where they can help create healthy, long-lasting dietary plans that will substantially improve the lives of their patients. The sky is really the limit with this degree.
According to the U.S. Bureau of Labor Statistics, these are some of the most current salaries for jobs in nutrition. Salaries will vary depending on what state you live in and how competitive the field is, but this should give you a good idea of what to expect after graduation.
| | |
| --- | --- |
| Careers | Annual Median Salary |
| Environmental Scientist | $73,230 |
| Food Scientist | $68,830 |
| Dietitian or Nutritionist | $63,090 |
| Food Service Manager | $56,590 |
| Health Educator | $56,500 |
| Exercise Physiologist | $50,280 |
| Athletic Trainer | $49,860 |
| Nutrition Journalist | $49,300 |
| Eating Disorder Counselor | $47,660 |
| Community Health Worker | $42,000 |
Your salary will also depend on your experience and education level. Those who are just starting can expect to make less, even in higher-paying professions.
Choosing a Nutrition Degree
Although everyone is different, there are some things to keep in mind when choosing where to get your online nutrition degree. Attending school outside of a traditional way may give you a lot more flexibility when it comes to your schedule, and you will need to use the technology at hand to complete your classes.
Make sure that the school of your choice offers you the flexibility to set your own schedule. If you have other commitments, like a family or full-time work, ensure that you are not constricted by time limits on your classes. It's also helpful to make sure that you can access your school materials at any time of the day.
Make sure that the technology the school uses is in line with what you are comfortable with, as you will need to use it to complete your work and stay up to date with your professors. Remember, there are plenty of options out there, so don't just go with the first one.
Associates Degrees in Nutrition
This basic degree is essential for getting your foot in the door with any nutrition-related job.
It usually takes two years to get your associate's degree, but you might find that it takes longer if you are doing flexible classes online.
Bachelor's Degrees in Nutrition
A bachelor's degree is typically finished in four years and can help set you on the path to finding intermediary work in nutrition.
Master's Degrees in Nutrition
Many of the higher-paying jobs in nutrition require a master's degree, although it's not compulsory for some.
If you want to set yourself aside from the pack, having a traditional or online master's degree in nutrition is an excellent way to do it. In order to get one, you will need a bachelor's degree in nutrition or a related field.
PhD Degrees in Nutrition
The highest-level degree you can get, a Ph.D., can help you pursue work in just about any capacity in the field of nutrition that you choose, as well as teach college-level classes to others who are aspiring nutritionists.
If you love academics and never want to leave, consider getting this degree.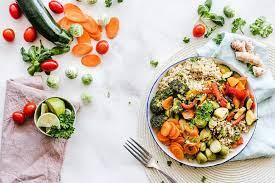 Admissions Requirements
All schools are different, but there are some standard admissions requirements that you might come across. It's better to be prepared with more things than you need, rather than be surprised at admissions.
Check online to ensure that you are meeting all of the requirements. For starters, here is a general list of what you might need.
For your associate's or bachelor's degree be prepared to show proof of high school graduation or a G.E.D.
For your master's degree, you will need proof of your bachelor's degree in nutrition or a related field.
Many schools require transcripts.
You might be asked about your criminal record.
More prestigious schools may require letters of recommendation.
Occasionally, but not always, schools will ask for your S.A.T. scores.
Being prepared at admissions can help take away some of the stress of applying to the school of your dreams.
Accreditation
Regional accreditation is one of the most important things to take into consideration when choosing a college. It essentially proves that the school that you want to go to is a leader in the field, and has been acknowledged as being authoritative and providing a good education.
Employers will probably look at whether or not a school is accredited, and often this will factor into the hiring process. Generally, accreditation looks at a couple of different factors like how impressive the faculty is, what previous students have gone on to do, and how well the curriculum stands up to that of other schools. An independent body does it.
You can check for regional accreditation right on a school's website. If you can't find it there, don't hesitate to contact the school directly. Accreditation should play a significant factor in whether or not you decide to go to a specific school.
Nutrition Professional Organizations
Like any other field, nutrition has its own set of professional organizations. The following is a list of some of the most famous ones.
Nutrition Licensing and Certification
Certification can be a great way to set yourself apart in the competitive field of nutrition. There are plenty of different certifications that you can pursue, but these are some of the most popular ones.
Certified Clinical Nutritionists – These professionals work in hospitals and nursing homes with some of the most vulnerable populations.
Certified Nutrition Specialists – These people are leaders in the field and create larger plans for nutritional health in institutions.
Commission on Dietetic Registration Specialty Certification – These professionals work with special fields like pediatric nutrition.
Registered Dieticians – These professionals are licensed to be able to come up with nutritional plans.
Financial Aid for Nutrition Degrees
Financial aid is available for anyone pursuing his or her online nutrition degree. There are a number of different ways that you can fund your schooling on the regional, local, state, and federal levels.
You can apply for grants, loans, or scholarships. You don't need to pay back grants or scholarships, but you will have to pay back your student loans after you graduate. For this reason, it's essential only to take out the loans that you can reasonably expect to pay back in a timely fashion.
Apply for any scholarship that you think you might get. When it comes to financial aid, it's best to shoot for the stars. If you are lower-income, you might qualify for several different types of income-based grants or loans. Look online to explore all of your options. You never know what you might qualify for, so don't hesitate to throw your hat into the ring.
Scholarships
There are plenty of scholarships available for those who are working towards a nutrition degree. Scholarships are a great way to help offset some of your school costs, and you may qualify for one, or several of them.
America's Farmers Grow Ag Leaders Scholarship
If you are passionate about agriculture, food science, and the future of farming, this might be a scholarship for you.
Asparagus Club Scholarship
If you have at least a 2.5 G.P.A. and are passionate about nutrition, you may apply to this scholarship.
CANFIT Scholarship
This scholarship rewards minority students who want to pursue a career in nutrition or a nutrition-related field.
CGCS-Bernard Harris Scholarship
If you are a minority student interested in pursuing a degree in healthcare, nutrition, or science, this scholarship might apply to you.
Cynthia E. Mboe Memorial Scholarship
Specifically, for first-generation women, this scholarship may help offset some of your schooling costs.
Dairy Management Inc. Scholarship Program
If you are passionate about farming and the dairy industry, this scholarship may help you complete your schooling.
Delbert Oberteuffer Scholarship
This scholarship is for doctoral candidates who are passionate about children's health and nutrition.
Empowered to Serve Scholarship
This scholarship rewards those who want to make a difference in their communities through health initiatives and urban planning.
First International Nutritionist/Dietitian (FIND) Fellowship for Study in the USA
International students who are completing their degrees in the United States may apply for this scholarship.
JCCs of North America Graduate Scholarship
If you are planning to work in physical education or nutrition after graduating, this scholarship might be right up your alley. It's specifically for those in sports medicine.
Michael Moody Fitness Scholarship
This scholarship rewards those who want to work in nutrition and athletic health.
School Nutrition Association Professional Development Scholarship
If your dream job is using your nutrition skills to enhance the food service industry, this might be the best scholarship for you.
The Brown Medical and Educational Foundation Healthcare Scholarship
This scholarship is for those who want to work in nursing or other community-related healthcare fields.
The Poeschl Family Scholarship
If you want to work in nutrition but are in a lower-income bracket, this scholarship may help you to offset some of the costs.
The Vegetarian Resource Group Scholarship
If you are a passionate vegetarian, this might just be the best scholarship for you. There are plenty of scholarships available to students of all levels. There's no reason why you should not apply for one, or several of these different opportunities. You never know what you might get.
Can You Get a Nutritionist Degree Online?
Yes, a nutritionist degree can be obtained online. There are several different programs that can help you on this journey.
How Long Does It Take to Become a Nutritionist Online?
It all depends on your schedule and what you need to do while you are finishing up your classes.
A nutritionist degree usually takes about four to six years to complete, although it could be a little bit more if you have many other commitments to attend to.
What is the Best Online Nutrition Course?
The best online nutrition course depends on your personal preference and schedule.
Many people like to learn about the basics of nutrition and how to operate in the field, as that gives them a powerful overview of what to expect after they graduate.
How Much Does it Cost to Get a Nutrition Degree?
Your cost will vary depending on where you go to school and how long your schooling takes. An associate's degree is typically a lot less expensive than a bachelor's degree because you will not need to take as many classes.
You may be able to offset the cost of your education by getting scholarships and grants, as well as taking out loans.
Are There Any Online Holistic Nutrition Degree Programs?"
There are some online holistic degree programs, but these vary from state to state. Always make sure that the program of your choice is regionally accredited and that the credits can transfer if you want to attend another university down the road.
Holistic medicine is a respected field and a bit part of nutrition.
Is a Masters Degree Required to Become a Registered Dietician?
While it's not required, some people think that having their master's degree gives them a significant advantage when it comes to becoming a registered dietician.
It's more important to have the proper certification, though, so if you want to work as a registered dietician, make sure that you take the correct steps to become certified.
Is Getting Your Bachelor Degree in Nutrition and Dietetics Online Worth it?
Many professionals think that it's completely worth it to get this degree because you can work in many different capacities. The sky is often the limit with a nutrition and dietetics degree online, and you can pursue further education with more advanced degrees.
Many people find that they gain a substantial amount of job satisfaction from working in this field.
What Can I Do With a Nutrition Degree After Graduation?
You can use your nutrition degree to work in a number of different post-graduation settings, including governmental or private settings, rehabilitation centers, or private institutions.
Many people work with smaller communities to help turn around their dietary practices. Whatever job you wind up taking, there is generally substantial room for advancement.
What Is a Bachelor in Nutrition Science Degree?
This degree deals with the intersection of health and diet and looks at all of the factors that influence these two things.
You can learn about health on a macro level, such as how it affects communities or groups of people, as well as a human level. This degree can help you obtain an overview of how nutrition works, biology, and social science.
Is There a Difference Between a Nutritionist and a Dietician?
The primary difference between nutritionists and dieticians is that dieticians need to answer to a regulatory college.
This might make you think that dieticians are held in higher esteem. Still, in reality, many nutritionists are exceptionally well-educated and hold influential positions in the health and wellness field.
What Are the Required Skills and Qualifications to be a Nutritionist?
The best nutritionists know how to work effectively as a team, and can motivate others to do their best. They are the ultimate diplomats and understand that the power of collaboration is one of the most important ways to get things done.
Excellent nutritionists also need to have a comprehensive overview of the science and know the basics of anatomy.
Should I get my Nutrition Bachelor Degree Online or On-Campus?
Although there are certainly upsides to getting your bachelor's degree in a physical classroom, many students opt to get their degrees online because of the flexibility it may afford them.
These days, accredited online courses carry just as much weight as their traditional counterparts. If you want to get your degree on your own time, or if you have other commitments that make it difficult for you to be a full-time student, the online option might be right for you.
Universities Offering Nutrition Online Bachelor's Degree Programs
Methodology: The following school list is in alphabetical order. To be included, a college or university must be regionally accredited and offer degree programs online or in a hybrid format.
Finding everything from palm trees to human remains, Arizona State University is home to a public research academy that started in 1886. With undergrad, graduate, and doctoral degrees that range from accounting to women's studies, there are hundreds of programs to choose from. ASU serves students using campus-based classes and through e-learning.
Arizona State University is accredited by the Higher Learning Commission of the North Central Association of Schools and Colleges.
Beginning in 1849, Eastern Michigan University is home to more than 20,000 students pursuing one of its 200 undergraduate and 150 graduate degrees. Offering a blend of academics, volunteer programs, and global networking, students at EMU can receive a high-quality public education that helps prepare them for the future. EMU is also a top military-friendly school.
Eastern Michigan University is accredited by the Higher Learning Commission.
Established in 1863, Kansas State University aims to provide students with challenging degree programs that will assist in helping them become global-conscious scholars. K-State has undergrad, graduate, and Ph.D. programs that are offered through e-learning or a face-to-face atmosphere. KSU helps to unlock a passion for discovery and innovation.
BS in Nutrition and Health
Kansas State University is accredited by the Higher Learning Commission.
Purdue University stands out to students looking for a school that shows educational sustainability and innovation because it has been doing this since 1869. PU's many associates, bachelor, and master's degree programs help students show their skills and success to employers around the world. Its distance-learning program is one more way Purdue leads in public education.
Purdue University is accredited by the Higher Learning Commission of the North Central Association of Colleges and Schools.
Texas Women's University has been helping to empower women since 1901 and has allowed men to attend courses since 1994. As a public education facility, TWU takes pride in the ability to offer undergraduate and graduate degrees through various formats that include online, weekend, and night classes. Their doctoral programs are highly accessible, as well.
TWU is accredited by the Southern Association of Colleges and Schools Commission on Colleges.
The University of Alabama breaks the mold for size and achievement in public education. Since 1820, UA has been giving students a research outlet and program knowledge to realize their aspirations of earning a BA, BS, BAS, MA, or doctoral degree. UA was the first school to open an engineering program and has the only law school in the state.
The University of Alabama is accredited by the Southern Association of Colleges and Schools Commission on Colleges.
The year 1885 started a long tradition of education and exploration for the University of Arizona. This public education entity set high standards for those looking to graduate with an undergrad, master's, or doctoral degree in one of the many academic majors offered at UA.
The University of Arizona continues to grow by adding medical schools and partnerships since its establishment.
BS in Nutritional Sciences
The University of Arizona is accredited by the Higher Learning Commission.
EDsmart named the University of North Dakota the ninth-best online college. UND offers an online program for a Bachelor's in Human Nutrition. The program is fully online and asynchronous. Online students pay in-state tuition regardless of residency. The program offers a choice between a Science track or a Health Promotion track.
UND is accredited by the Higher Learning Commission.
Since its beginning in 1889, the University of Northern Colorado continuously expands its programs to demonstrate its ability to provide students with competitive public education. Student empowerment is essential to the ideals of UNC's many undergrad and graduate programs. It has many means of displaying student achievement, including museums, a newspaper, and a radio station.
The University of Northern Colorado is accredited by the Higher Learning Commission.
Opening as a faith-based private university in 1889, Weber State University has now been offering public degree programs since 1933. Its programs include routes to obtain an associate, bachelor's, and graduate-level education. Weber University aims to help students advance in self-discovery and core content knowledge in more than one-hundred academic course areas.
BS in Nutrition Education
Weber State is regionally accredited by the Northwest Commission on Colleges and Universities.
Getting Your Nutrition Degree Online
Nutrition can be an exciting field with a lot of room for advancement. People who get their degrees in this field generally find that they are in for a rewarding career that positively affects the community in very real ways.
If you are passionate about health, interested in how science works, and want to make a substantial difference in the world, this degree might be an excellent choice for you!
If you've been waiting to take the plunge, now may be the time. You can look into getting financial aid to offset the costs of your schooling, and plenty of colleges with nutrition majors offer flexible class schedules that can help accommodate your busy life.
I hope you find this article helpful.