The Umaru Musa Yar'Adua University (UMYU) in Katsina, an esteemed academic institution, has unveiled its first, second and third batch UTME admission lists for the impending 2023/2024 academic year. This significant announcement serves as an important milestone for the multitude of UTME candidates vying for a place in the university's diverse degree programs.
UMYU 1st, 2nd And 3rd Batch Admission Lists 2023/2024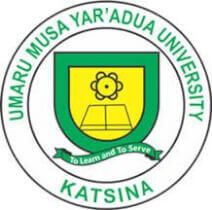 | | |
| --- | --- |
| 🏛 Institution | Umaru Musa Yar'Adua University (UMYU) in Katsina |
| 📅 Session | 2023/2024 |
| 🎓 Admission Batches | 1st, 2nd and 3rd batch UTME admission lists |
| 📋 Access Method | Lists available in PDF format online |
| 🌐 University Portal Steps | Find name, accept the offer on UMYU official admissions website |
| 🚫 Alternate Course Offer | Visit JAMB office or CBT centre for course change |
| 🔄 JAMB Verification Steps | JAMB facility risk-free → Login → 'Check Admission Status' |
| 🎉 Result | Congratulations to those admitted for 2023/2024! |
UMYU UTME Admission: What You Need to Know
The university's administration, ever transparent in its proceedings, has taken diligent strides to present the UTME admission rosters online, ensuring ease of accessibility for all prospective students.
How to Uncover Your UMYU Admission Status
UMYU has streamlined the process for candidates to verify their admission status:
Accessing the Provisional Lists: These lists, segmented into the First UTME Admission List and the Second UTME Admission List, are presented in a user-friendly PDF format.
Name Verification: Browse through the aforementioned documents to discern if your name features among the successful candidates.
READ ALSO: IMSU DEBATE, QUIZ AND ESSAY WRITING COMPETITION 2023
Post-Name Verification Steps via
UMYU

Official Portal

Once you spot your name on the esteemed list, here are the subsequent directives:
Acknowledging the Admission: Head to the UMYU University Portal to formalise your acceptance.
Course Discrepancies: If your admission pertains to a course divergent from your original preference, it mandates a trip to a proximate JAMB office or an accredited CBT centre. The purpose? To facilitate an official change of course.
JAMB Portal: An Alternate Admission Verification Route
Procedure to Validate Your Admission via JAMB:
Embark on this journey at JAMB's eFacility portal.
Using your exclusive credentials, gain entry into your JAMB profile.
Seek out the 'Check Admission Status' section, typically found at the page's base.
Populate the mandatory fields: your exam year and JAMB registration number.
Elicit your admission details by clicking 'Check Admission Status'.
Imperative Actions Post-Admission Confirmation
Having affirmed your UMYU admission, it's prudent to undertake a couple of pivotal steps on JAMB's facility portal:
Endorse the Admission: This requires you to formally accept the university's offer.
Acquire Official Documentation: Secure and print your JAMB Admission Letter, a testament to your achievement.
An effusive commendation is reserved for the relentless candidates who have carved their niche in UMYU's 2023/2024 academic cadre. The fruition of your efforts marks the dawn of a promising academic expedition at Umaru Musa Yar'Adua University.
I hope you find this article helpful.