Rwanda, often referred to as the land of a thousand hills, has grown into a truly mesmerizing place for tourists to visit in recent years. This small, yet magnificent country, located in the core of Africa, has captured the hearts of many with its enchanting mix of landscapes, wildlife, and cultural history. With something for everyone, it's no wonder why people from all over the world are drawn to its charm.
The country's landscape is a beautiful mix of rolling hills, vast plains, and impressive mountains. It's like a canvas painted with a rich assortment of colours and textures, making every view an unforgettable experience.
The wildlife in Rwanda is equally as breathtaking. Home to a wide range of species, it's a dream come true for nature lovers. Here, you can see animals in their natural habitat, offering a unique opportunity to experience the wild in a way that few other places can offer.
But Rwanda is more than just its natural wonders. It's a place filled with vibrant cities that are as welcoming as they are exciting. The cities offer a unique blend of traditional and modern life, with bustling markets, historic sites, and modern amenities. You'll find that the people of Rwanda are warm and hospitable, always ready to share their rich cultural heritage with visitors.
History plays a significant role in Rwanda's charm. The country's past is filled with captivating stories that give depth to its culture and traditions. Visiting the historical sites and museums provides a deeper understanding of the resilience and spirit of the Rwandan people.
In conclusion, Rwanda is a place of diverse attractions and experiences, each one contributing to an unforgettable journey. Whether you're an adventurer looking for thrilling experiences, a nature enthusiast keen on exploring wildlife, or a culture vulture interested in learning about the country's history and traditions, Rwanda has something for you. The unforgettable beauty of this country, combined with its rich history and warm hospitality, make tourism in Rwanda a truly unique experience.
A Glimpse into Rwanda's Natural Wonders
Rwanda's scenic beauty is unrivaled, offering visitors an opportunity to immerse themselves in breathtaking natural wonders. The jewel in Rwanda's tourism crown is Volcanoes National Park, a haven for endangered mountain gorillas. Trekking through the mist-covered slopes to encounter these majestic creatures is an experience that leaves an indelible mark on visitors. Akagera National Park, with its picturesque savannahs and abundant wildlife, provides thrilling safari experiences. Lake Kivu, one of Africa's Great Lakes, invites travelers to relax on its sandy beaches, indulge in water sports, and explore the surrounding charming lakeside towns.
The Cultural Tapestry of Rwanda
Rwanda's cultural heritage is as diverse as its landscape. The country's vibrant culture is deeply rooted in its ancient traditions and is exemplified by its music, dance, and folklore. The Intore dancers, renowned for their graceful performances, offer a glimpse into Rwanda's history and traditions. Visitors can also engage with local communities, experiencing their daily life, and partaking in traditional ceremonies and celebrations. The King's Palace Museum in Nyanza is a fascinating showcase of Rwanda's monarchy, while the Ethnographic Museum in Huye provides insights into the country's cultural mosaic.
Kigali: A City of Resilience and Charm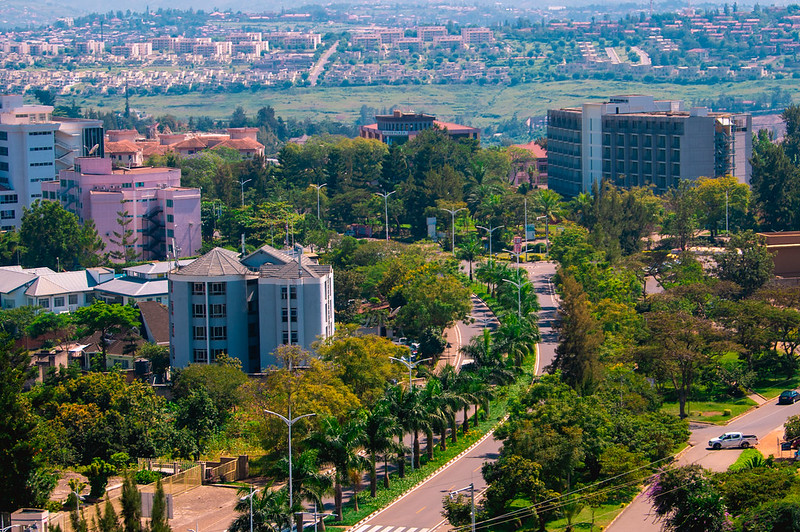 The capital city of Kigali is a testament to Rwanda's progress and resilience. Clean, safe, and vibrant, Kigali offers a modern urban experience infused with Rwandan hospitality. The Kigali Genocide Memorial serves as a poignant reminder of the country's dark past and a tribute to the resilience of its people. In contrast, the Kimironko Market, Inema Arts Center, and various craft cooperatives highlight Rwanda's burgeoning arts and crafts scene. With its stylish cafes, gourmet restaurants, and thriving nightlife, Kigali provides a cosmopolitan ambiance for visitors to enjoy.
Sustainable Tourism and Conservation Efforts
Rwanda has made remarkable strides in sustainable tourism and conservation, setting an example for the world. The country's commitment to gorilla conservation, with its stringent regulations and limited permits, ensures the long-term survival of these magnificent creatures. Revenue generated from gorilla trekking permits contributes to community development and conservation efforts. The Akagera Management Company's successful reintroduction of lions and rhinos exemplifies Rwanda's dedication to wildlife conservation. Additionally, the country has made substantial investments in renewable energy, eco-lodges, and responsible tourism practices to minimize the industry's ecological footprint.
Community-Based Tourism Initiatives: The Beauty of Rwanda
Rwanda's tourism industry is deeply intertwined with community-based initiatives, creating opportunities for local communities to benefit from tourism activities. One shining example is the Iby'Iwacu Cultural Village near Volcanoes National Park, where former poachers have transformed their lives by showcasing traditional Rwandan culture to visitors. The Red Rocks Initiative in Musanze empowers local women by providing training in crafts and hospitality, allowing them to generate income and improve their livelihoods. These initiatives not only contribute to poverty alleviation but also promote cultural preservation and create authentic and immersive experiences for travelers.
Gorilla Trekking in Volcanoes National Park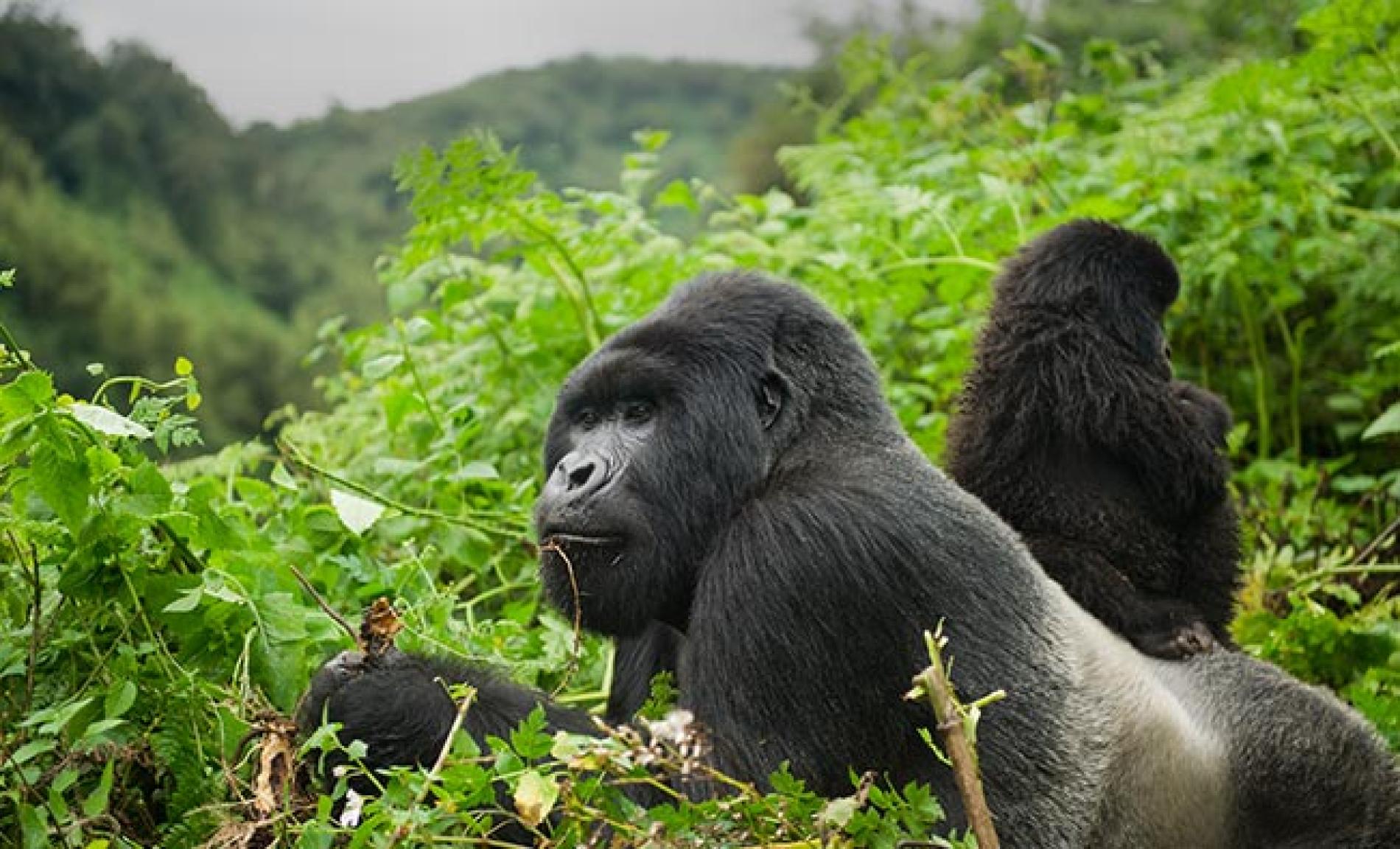 At the forefront of Rwanda's tourism industry is Volcanoes National Park, a haven for one of the world's most endangered species—the mountain gorillas. A trek through the lush forests of the Virunga Mountains presents a once-in-a-lifetime opportunity to observe these magnificent creatures in their natural habitat. With strict regulations in place to ensure their protection, tourists can engage in guided treks that provide an up-close encounter with these gentle giants, creating memories that will last a lifetime.
Nyungwe Forest National Park and its Primate Encounters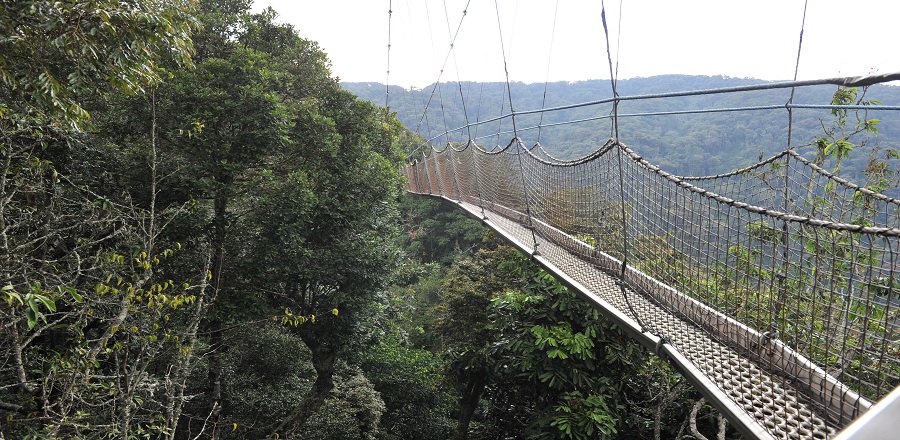 Nyungwe Forest National Park, a sprawling expanse of ancient rainforest, is a biodiversity hotspot and a sanctuary for primates. The park is home to 13 different species of primates, including chimpanzees and the striking colobus monkeys. Adventurous travelers can embark on thrilling chimpanzee tracking expeditions, where they can witness these fascinating creatures swinging through the treetops. Additionally, the Canopy Walkway, suspended high above the forest floor, offers a unique perspective of the park's lush canopy and a chance to spot rare bird species.
Serene Lakes and Water-based Activities
Rwanda's picturesque lakes provide a tranquil respite for visitors seeking relaxation and natural beauty. Lake Kivu, one of Africa's Great Lakes, offers breathtaking vistas and opportunities for swimming, kayaking, and boat tours. Its shores are dotted with charming towns, where visitors can immerse themselves in the local culture, sample delicious cuisine, and enjoy the hospitality of lakeside resorts. Lake Muhazi, located near the capital city of Kigali, is another hidden gem that beckons travelers with its serene ambiance and recreational activities such as fishing and sailing.
Cultural Exploration and Heritage Sites
Rwanda's cultural heritage is as rich and diverse as its natural wonders. In the capital city of Kigali, visitors can explore the vibrant arts scene, visit the Genocide Memorial, and gain insights into Rwanda's remarkable resilience and progress. The King's Palace Museum in Nyanza provides a glimpse into Rwanda's traditional monarchy and showcases beautifully crafted artifacts. The Intore dancers, known for their energetic performances, offer a captivating display of traditional Rwandan music and dance. Additionally, the ancient rock art sites in the southeastern region of Rwanda provide a fascinating link to the country's prehistoric past.
Akagera National Park and the Big Five
For wildlife enthusiasts, a visit to Akagera National Park is a must. This expansive savannah ecosystem, situated along the border with Tanzania, is home to a diverse range of wildlife, including lions, elephants, buffalos, leopards, and rhinos. Through guided game drives, visitors can witness the awe-inspiring sight of these iconic African animals in their natural habitat. The park also offers boat safaris on Lake Ihema, providing an opportunity to observe hippos, crocodiles, and a multitude of bird species.
Wildlife Safari in Akagera National Park of Rwanda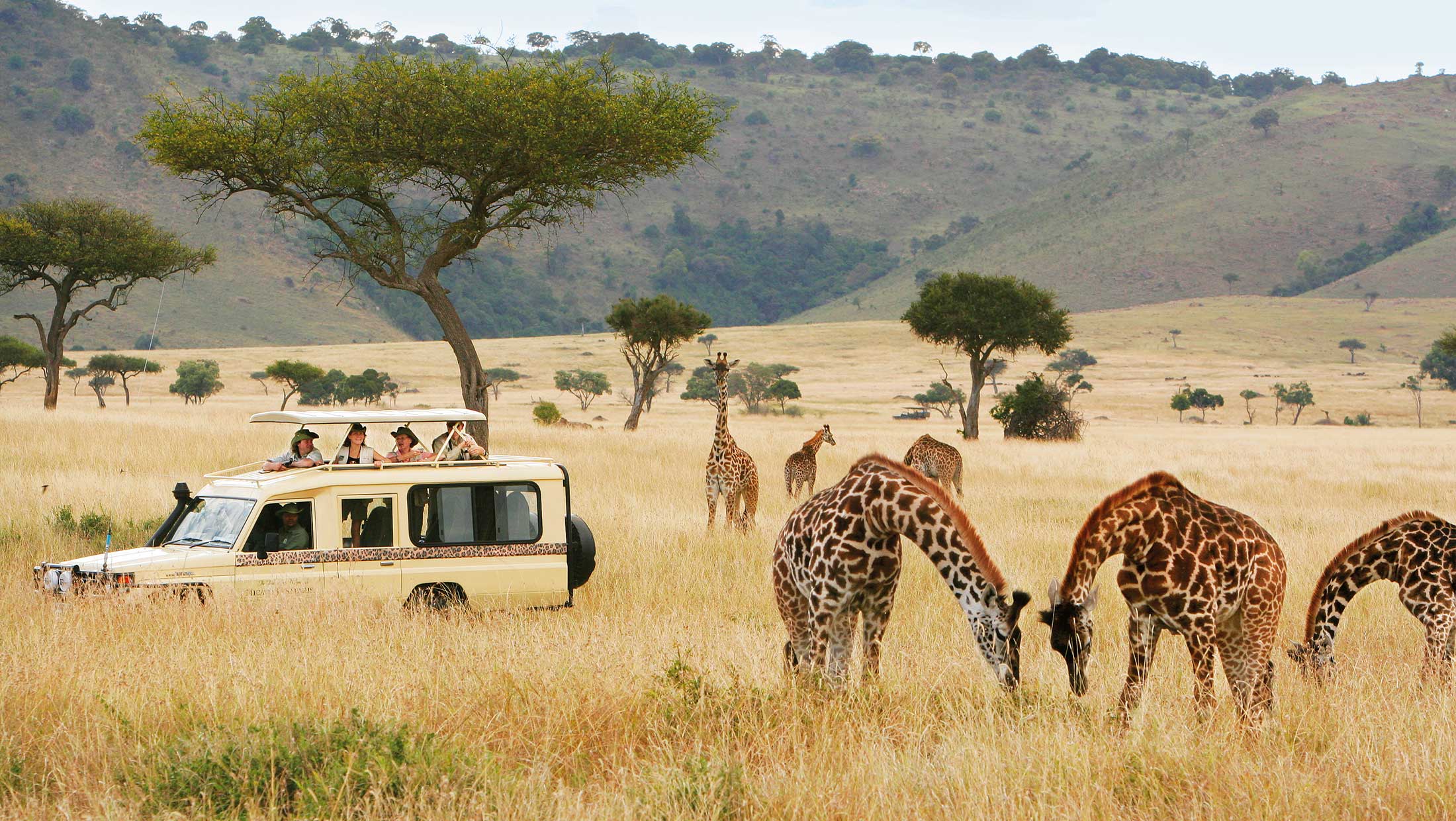 For those seeking a classic African safari adventure, Akagera National Park is the place to be. Located in the eastern part of Rwanda, along the border with Tanzania, Akagera offers a savannah landscape teeming with diverse wildlife. Visitors can spot the "Big Five" (lion, elephant, buffalo, leopard, and rhinoceros), as well as other animals like giraffes, zebras, antelopes, hippos, and crocodiles. Game drives and boat safaris on Lake Ihema provide excellent opportunities to view the park's rich wildlife population in their natural habitat.
Volcano Climbing and Hiking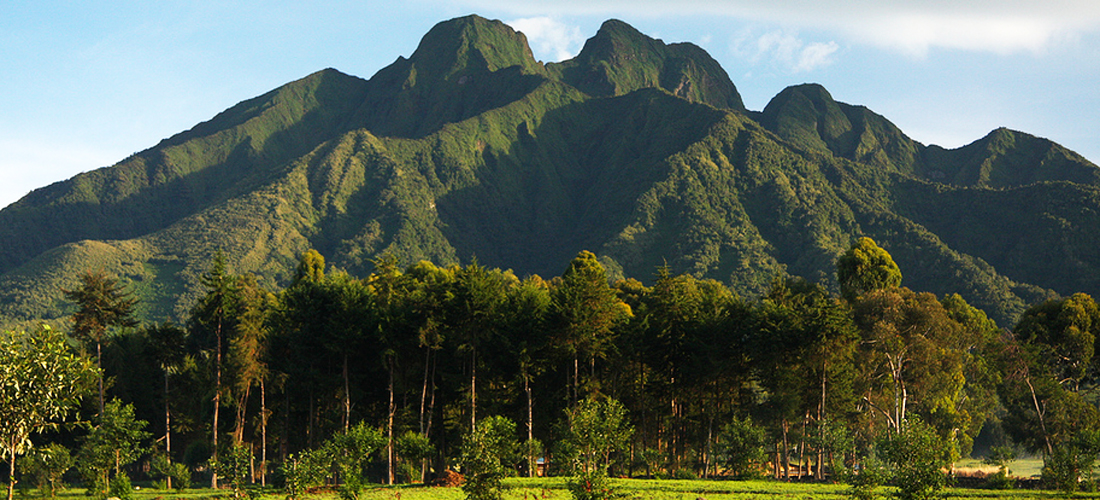 Rwanda's Virunga Mountains present a unique opportunity for adventure enthusiasts to embark on volcano climbing and hiking expeditions. Mount Bisoke and Mount Karisimbi are two popular peaks that can be conquered with the assistance of experienced guides. The exhilarating ascent provides stunning panoramic views of the surrounding landscape and the neighboring countries of Uganda and the Democratic Republic of Congo.
Canopy Walk in Nyungwe Forest National Park
Nyungwe Forest National Park, a biodiverse rainforest in southwestern Rwanda, offers an adventurous canopy walk that provides a bird's-eye view of the lush forest and its inhabitants. The canopy walkway is suspended between ancient trees and spans over 160 meters, offering a thrilling experience for visitors who are not afraid of heights.
Adventure on Lake Kivu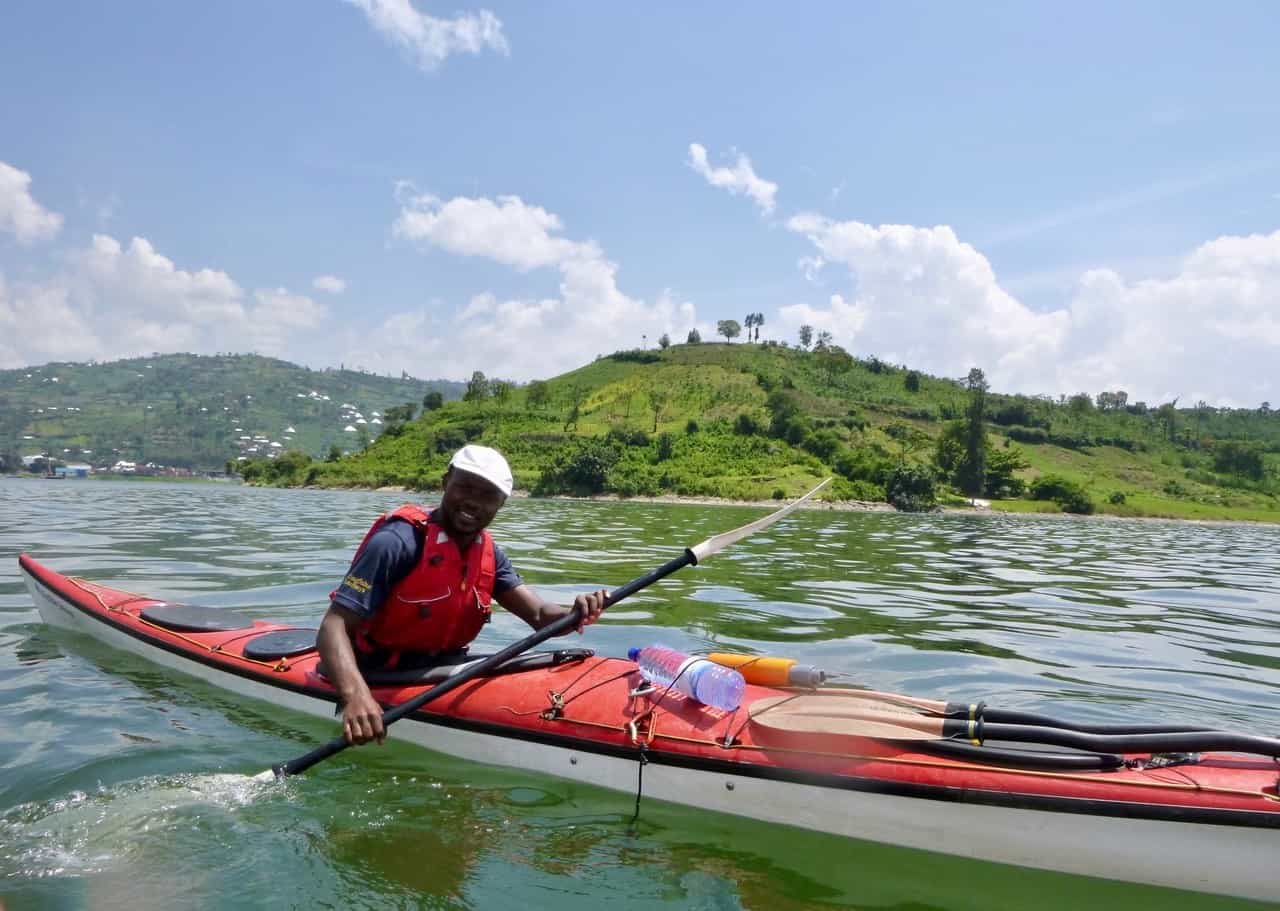 Lake Kivu, one of Africa's Great Lakes, provides ample opportunities for water-based adventure activities. Visitors can indulge in kayaking, paddleboarding, and boating while admiring the scenic beauty of the lake and its surrounding hills. The lake's clear waters and gentle waves make it a great spot for water sports and relaxation.
Cycling Adventures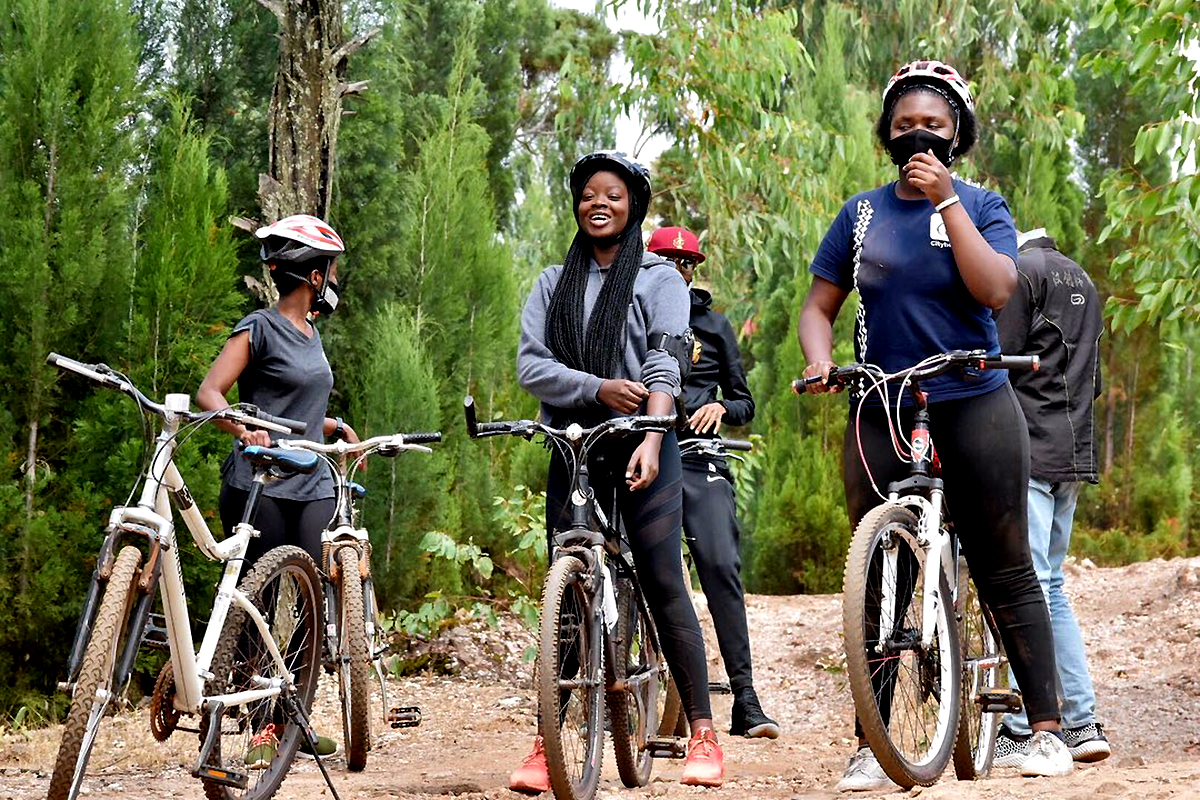 Rwanda's diverse landscape and well-maintained road network make it a cyclist's paradise. Cycling tours offer a unique way to explore the countryside, interact with local communities, and appreciate the stunning scenery. From leisurely rides through tea plantations to challenging mountain biking trails, Rwanda has options for all levels of cyclists.
Cultural Experiences and Homestays
For a more immersive and authentic adventure, visitors can engage in cultural experiences and homestays with local communities. This allows travelers to learn about traditional practices, participate in local rituals, and share daily life with Rwandans, gaining a deeper appreciation for the country's rich cultural heritage.
Community-based Tourism and Eco-lodges
Rwanda's commitment to sustainable tourism is evident through its focus on community-based initiatives and eco-lodges. Visitors can immerse themselves in local communities, participate in cultural activities, and contribute to the preservation of traditional practices. Numerous eco-lodges have sprung up across the country, offering eco-friendly accommodation options that blend harmoniously with the surrounding environment. These lodges often support local conservation efforts and provide employment opportunities for nearby communities, creating a positive impact on both the environment and the local economy.
Read Also: 7 Amazing Benefits of Sustainable Tourism
Conclusion
Rwanda's emergence as a vibrant tourism destination is a testament to the country's dedication to conservation, cultural preservation, and sustainable development. With its awe-inspiring landscapes, incredible wildlife encounters, and rich cultural experiences, Rwanda offers a truly unforgettable journey for travelers seeking adventure and immersion in nature. As more people discover the allure of this remarkable country, it is essential to ensure that tourism development continues to prioritize sustainability and responsible practices, safeguarding Rwanda's treasures for generations to come.
Hope you find this article helpful.