The administration of the University of Lagos (UNILAG), a highly regarded academic institution, has commenced the sale of admission forms for its Distance Learning Institute (DLI) programs. These are designed as Open and Distance Learning initiatives for the forthcoming 2023/2024 academic year.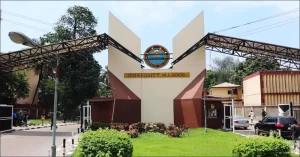 | | |
| --- | --- |
| 🏫 Institution | University of Lagos (UNILAG) Distance Learning Institute (DLI) |
| 📆 Session | 2023/2024 academic session |
| 📜 Programmes | B.Sc. in Accounting, Business Administration, Economics, Public Administration, and various Education specializations |
| 📝 Eligibility | Graduates, HND/ND holders, professional qualification holders, and candidates with relevant 'O' Level credits |
| 📬 Application | The two-stage process involving JAMB registration and DLI UNILAG application |
| 💰 Fees | N3,500 for JAMB registration; N17,500 for DLI UNILAG application |
| ⚠️ Requirements | Upload of specific documents like birth certificate, 'O' Level Certificate, NYSC Certificate (if applicable) |
| 🕒 Deadline | The application deadline is 15th December 2021 |
Invitation for Applications to UNILAG Distance Learning Programs
Qualified candidates are encouraged to apply for admission into UNILAG's DLI, an institution offering comprehensive Open and Distance Learning programs, for the academic session of 2023/2024.
List of Available Programs at UNILAG DLI
The programs being offered under the Distance Learning Institute include:
B.Sc. Accounting
B.Sc. Business Administration
B.Sc. Economics
B.Sc. Public Administration
Specialisation Areas in Education
Moreover, specialized courses in Education encompass:
B.Sc. (Ed.) Biology
B.Sc. (Ed.) Business Education
B.Sc. (Ed.) Chemistry
B.Sc. (Ed.) Mathematics
B.Sc. (Ed.) Physics
B.Sc. (Ed.) Economics
B.Sc. (Ed.) Early Childhood Education
B.A. Education/English
General Entry Requirements for UNILAG DLI Admission
The eligibility criteria for application are as follows:
Categories of Eligible Applicants
Graduates from the University of Lagos or any other Senate-recognised universities with degrees in disciplines pertinent to the offered courses.
Individuals possessing a Higher National Diploma (HND), National Diploma (ND), or National Certificate in Education (NCE) in relevant disciplines.
Full professional qualification holders, including ACA, ANAN, ACCA, ACMA, ACIA, ACIS, ACIB, and CII, may be considered for advanced level entry, subject to possessing five credits in WASCE/SSCE/GCE/NECO ('O' Level), inclusive of English Language, Mathematics, Economics, and any other two relevant subjects, in no more than two sittings.
Candidates with WASCE/SSCE/GCE/NECO ('O' Level) credits in five subjects including English Language, Mathematics, and three other pertinent subjects in not more than two sittings.
Special Notes on Eligibility
Candidates falling under categories 1 to 3 will be evaluated based on their transcripts, and they must also meet the 'O' Level requirements as described in Category 4.
Candidates are required to correctly input and upload all examination numbers and certificates for WASCE/SSCE/GCE/NECO "O" Level or its equivalent during the application process. Advanced qualifications like Degrees, HND, NCE, OND, and professional qualifications must be sent along with the application number to:
The Institute Secretary,
Distance Learning Institute,
University of Lagos
For precise prerequisites, visit UNILAG DLI
Comprehensive Guide on How to Apply for UNILAG DLI Admission
General Information
The application process will be carried out in two primary phases: Part-Time JAMB Registration and DLI UNILAG application. Candidates for DLI must be at least 16 years of age as of 31st October 2023. The offer of admission is contingent upon the number of qualified applicants.
Awaiting results and online printouts of 'O' Level results slips are not accepted. Only certificates for WASCE/SSCE/GCE/NECO results obtained before 2020 are considered valid.
Application Stages
Stage 1: JAMB Registration
Visit the JAMB CAP Website to initiate Part-Time registration.
A payment of N3,500 is required to obtain the registration number.
Stage 2: DLI UNILAG Application
Log on to the UNILAG Application Portal.
Initiate a fresh application.
Select Distance Learning Institute as the application type. Complete all the required fields.
Make an online payment of N17,500 or opt for bank payment.
After payment, continue the application process.
Complete and upload all necessary documents.
Finalize the application and print a copy for your records.
Submit your completed application on or before 15th December 2021.
Mandatory Preparatory Course
All applicants must complete the Applicant's Induction Course (AIC) before the final enrolment process.
For additional assistance, you may contact the helplines or e-mail: dlienquiries@unilag.edu.ng
Required Documents for Uploading
Candidates must upload the following:
Testimonial (Primary or Secondary)
Birth Certificate or a Sworn Affidavit
'O' Level Certificate/All other Qualifications
NYSC Certificate/NYSC Exemption Certificate (Direct Entry candidates)
Marriage Certificate and Newspaper classification (Married females only)
Your journey toward quality education through UNILAG's Distance Learning Institute starts here. Applications are now open; seize this opportunity to advance your educational and career aspirations.
I hope you find this article helpful.