The University of Maiduguri Business School (UMBS) is delighted to extend invitations to suitably qualified candidates to submit applications for admission into its esteemed Professional Masters and Postgraduate Diploma programs for the 2023/2024 Academic Session. The commencement for the sale of application forms is 29th September 2023, with the window concluding on 10th November 2023.
UNIMAID Business School Admission Form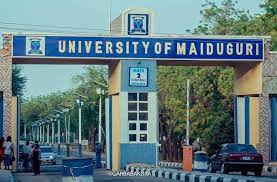 | | |
| --- | --- |
| Programs 🏫 | Professional Masters and Postgraduate Diplomas available in various disciplines. |
| Application 📝 | Forms are available from 29th September to 10th November 2023. |
| Requirements 🧾 | O Level credits, NYSC Discharge or Exemption Certificate, and a University degree in a relevant area. |
| Fee 💰 | A non-refundable fee of N15,000 is required. |
| Collection 📍 | Forms are collected at the SAR, UMBS upon presentation of payment receipt. |
| Return 🔄 | Completed application forms to be returned on or before 15th November 2023. |
| Account 🏦 | Payment to UMBS account at Unimaid Microfinance Bank. |
| Eligibility ✅ | Various eligibility criteria exist for different programs. |
Programs Offered
Professional Masters
The available Professional Masters Programs include:
i) Masters in Business Administration (MBA) covering specializations in:
Accounting
Finance
Management
Marketing
ii) Masters in Treasury and Financial Management (MTFM) iii) Masters in Public Administration (MPA) iv) Masters in Health Planning and Management (MHPM) v) Masters in International Relations (MIR) vi) Masters in Strategic Studies (MASS) vii) Masters in Labour and Industrial Relations (MILR) viii) Masters in Crime Control and Prevention (MCC) ix) Masters in Social Policy (MSP)
READ ALSO: CHRISLAND UNIVERSITY POST-UTME FORM
Postgraduate Diplomas
The Postgraduate Diploma Programmes available are:
i) Postgraduate Diploma in Management (PGDM) with branches in:
Finance
Finance and Materials Management
Human Resource Management
Management
Marketing
ii) Postgraduate Diploma in Accounting (PGDA) iii) Postgraduate Diploma in Criminology (PGDC) iv) Postgraduate Diploma in Education (PGDE) v) Postgraduate Diploma in Economics (PGDEcons) vi) Postgraduate Diploma in Environmental Management (PGDEM) vii) Postgraduate Diploma in Geography (PGDGeo) viii) Postgraduate Diploma in Geology (PGDGey) ix) Postgraduate Diploma in Industrial and Labour Relations (PGDILR) x) Postgraduate Diploma in Library and Information Science (PGDLIS) xi) Postgraduate Diploma in Political Science (PGDPS) xii) Postgraduate Diploma in Public Administration (PGDPA)
Entry Prerequisites
General Entry Requirements
Candidates must satisfy the following criteria:
i) Possess five (5) O Level credits in SSCE/NECO/WASC or equivalent qualifications, including Mathematics and English Language. ii) Hold an NYSC Discharge or Exemption Certificate.
Professional Masters – Additional Criteria
In addition to fulfilling the general entry requirements, candidates aspiring for admission into professional masters programmes must meet the following conditions:
i) Hold a University degree in any relevant area with a minimum classification of second class lower division. ii) A candidate with a third class degree must additionally possess a postgraduate diploma in the relevant area.
Postgraduate Diplomas – Specific Requirements
Candidates aspiring to enroll in postgraduate diploma programmes must, in addition to the general requirements, meet the following specifications:
i) Possess a University degree, with a classification not lower than a second class lower division, in a discipline different from that of the postgraduate diploma desired. ii) Possess a third class degree in the relevant discipline.
Application Procedure
Obtaining the Application Form
Interested candidates/applicants can secure application forms by adhering to the subsequent steps:
i) Remit a non-refundable fee of fifteen thousand (N15,000) naira only to the UMBS account at Unimaid Microfinance Bank.
Account Name: University of Maiduguri Business School
Account No.: 1100037923
ii) Submit the payment teller or proof of payment at the Finance office of the UMBS to receive a payment receipt. iii) Present the payment receipt to the SAR, UMBS for the collection of the application form. iv) Return the duly completed application form, attached with copies of relevant documents, to the SAR, UMBS.
All completed application forms must be submitted on or before 15th November 2023.
In summary, the University of Maiduguri Business School earnestly awaits applications from aspiring and competent candidates, encouraging them to seize this opportunity to advance their academic and professional trajectories within its distinguished programs. Applicants are advised to comply diligently with the outlined procedures and requirements to facilitate a seamless application process.
I hope you find this article helpful.