The Fully Funded University of Oxford Weidenfeld Hoffmann Scholarships in UK  provide an excellent opportunity for academically brilliant students worldwide.  It allows students to study at Oxford for free. The University of Oxford aims to establish an extraordinary interactive community of leaders who can bring valuable change to the world. The Oxford Weidenfeld-Hoffmann Scholarships not only change the lives of the international students who come to Oxford, but they also help them to change their countries where they return after receiving education from Oxford. Oxford is a world-famous learning, teaching, and research center and the oldest English-speaking University. The University of Oxford is a leading public university in the United Kingdom. It is ranked fourth in the World University Rankings 2023. Students can choose how to spend their time studying or enjoying many of the extracurricular activities available. It offers an opportunity to study at the University of Oxford for outstanding and deserving students and professionals from developing and emerging countries. The University contributes 40% of funds for these scholarships, with 60% from charitable donations from supporters of the Weidenfeld-Hoffmann Trust. Hoffmann Foundation supports the emergence and expansion of projects that address global problems in today's societies. The Weidenfeld-Hoffmann Scholarships 2024 at Oxford is an initiative of the Weidenfeld-Hoffmann Trust. It has produced highly influential personalities around the world.
Fully Funded University of Oxford Weidenfeld Hoffmann Scholarships in UK 2024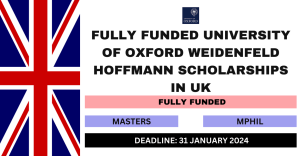 DEADLINE
31 January 2024
STUDY IN
United Kingdom
PROVIDER
70
STUDY LEVEL
Mphil , Masters , Postgraduate
SUBJECTS
Subjects offered by the university
FUNDING TYPE
Fully Funded Scholarships
Scholarship Eligibility
The eligibility criteria for the Fully Funded University of Oxford Weidenfeld Hoffmann Scholarships in UK are:
1. You must apply to the University of Oxford for a new graduate studies program.
2. Students presently enrolled at Oxford University are not eligible to apply.
3. Candidates must reside in the listed countries only to be eligible for this Oxford Weidenfeld Hoffmann Scholarships and Leadership Program 2024. After completing their degree, students must return to their home country.
4. Successful applicants must desire to help the global community through their chosen profession.
5. Candidates should be able to exhibit the link between their subject of study and long-term career objectives and how they envision their professional contribution to improving their home country.
6. Weidenfeld-Hoffman scholars from Oxford University are also eligible to apply.
Scholarship Benefits
The benefits of the Fully Funded University of Oxford Weidenfeld Hoffmann Scholarships in UK are:
1. The scholarship will pay for all university and college expenses.
2. Candidates from emerging and low-economic countries are encouraged to apply.
3. Students will receive a 100% fee waiver.
4. They will also receive a living cost of £17,668 (Euros).
5. The candidate's award will be valid for the duration of fee liability for the agreed-upon course.
6. Candidates can learn about European culture and its history.
7. An opportunity to study for free in the UK.
Others
Offered Courses
Civil Law
Business Administration
Magister Juris
Public Administration and Policy
African Studies
Biodiversity, Conservation, and Management
Comparative Social Policy
Computer Science
Contemporary Chinese Studies
Development Studies
Diplomatic Studies
Economics for Development
Education (Comparative and International Education)
Education (Higher Education)
Energy Systems
Environmental Change and Management
Evidence-Based Social Intervention and Policy Evaluation
Financial Economics
MSc Global Governance and Diplomacy
Global Health Science
MSc International Health and Tropical Medicine
Islamic Studies and History
Korean Studies
Healthcare
Latin American Studies
Law and Finance
Mathematical Modeling and Scientific Computing
Migration Studies
Modern Middle Eastern Studies
Modern South Asian Studies
Nature, Society, and Environmental Governance
Refugee and Forced Migration Studies
Social Science of the Internet
Sustainability, Enterprise, and the Environment
Water Science, Policy and Management
I hope you find this article helpful.