Youth Hackathon For Green Low-Carbon Agriculture 2023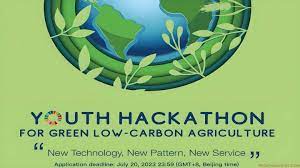 You are cordially invited to submit your application for the 2023 Youth Hackathon for Green Low-Carbon Agriculture (#YouthforGLCA) competition by July 20th, 2023. The #YouthforGLCA aims to bring forth the creativity and problem-solving nature of young people to provide solutions for global agricultural green development, as well as agricultural carbon emissions reduction and carbon sequestration by adopting innovative and inclusive methods with the sense of "New Technology, New Pattern, and New Service."
The #YouthforGLCA is a joint effort of the Food and Agriculture Organization of the United Nations (FAO) China Office, the Department of International Cooperation of the Chinese Academy of Agricultural Sciences (CAAS), the Center for International Agricultural Research of CAAS, and the Young Professionals for Agricultural Development (YPARD). In the previous year, the 2022 Youth Hackathon for Reducing Food Loss and Waste was organized, which garnered participation from 21 countries and received an impressive influx of creative proposals. Following three rounds of rigorous selection, a total of 15 teams from 8 countries successfully advanced to the final stage.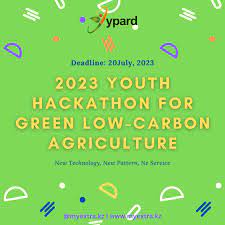 The #YouthforGLCA is open to all young professionals. Team members would ideally be between 18 and 40 years old, of any nationality, with participating economies across the world. The #YouthforGLCA will be divided into three stages to achieve practical and feasible innovative solutions: preliminary selection, training session, and final competition.
Preliminary Selection

Participating teams set their topics, build their teams and submit all application materials.
The committee will evaluate the applications and shortlist them in accordance with the theme.

Training Session
The organizers will provide training to shortlisted teams, including public and customized training.
Final Competition
The Final Competition will be conducted online and offline due to epidemic-prevention measures. Each team should have a complete and refined presentation and be able to defend their proposal, to participate in the final competition. The award ceremony will be in China around the last week of October 2023.
Application materials and other details can be accessed by scanning the QR code. Please complete the application as a team, and send the requested materials to ciar@caas.cn (cc to ypardchina@outlook.com) with the title "Submission: 2023 Youth Hackathon Competition" by July 20th, 2023, 23:59 (GMT+8, Beijing Time). Inclusivity within the team is strongly encouraged, aiming to provide equal opportunities for everyone, including women, to assume key roles.
Awards and Benefits for the Participants
A generous cash prize and a certificate provided by the FAO and CAAS;
Comprehensive experience in an independent innovation and entrepreneurship activity along with partners who share the same values;
Networking with other teams, UN agencies, CAAS, and partners in the field for future collaboration;
Feedback and support from industry experts and mentors and gaining valuable insight and ideas on strategic thinking on sustainable agriculture and carbon mitigation under the new paradigm;
Inspiring workspace where perspectives from different cultural backgrounds are welcomed; and
Referral to pursuing educational opportunities for graduate or Ph.D. degrees in CAAS, and preferential access to internships within the Center for International Agricultural Research (CIAR).
Complete the application as a team and send the requested material to ciar@caas.cn(ypardchina@outlook.com) with the title: "Submission 2023 Youth Hackathon Competition". The application deadline is July 20th, 2023.
I hope you find this article helpful as well as interesting.