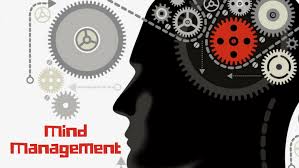 The truth about life is that it is sweet but it is not easy. There are so many things that are required to make life enjoyable and fun to live. One such is what is called Mind Management.
If you are constantly overwhelmed with activities like study, job, children, spouse, and common house chores, then this article is for you.
To start, I need you to reflect on how your day went at work, school, or elsewhere. Was it stressful, fun, inspiring, disappointing, mind-blowing, or a complete mess?
Whatever your answer is, let it be clear you have the greater percentage of making your experience what it is for each moment, and in different situations.
Life doesn't give you what you deserve but what you demand. The sooner you discover you are the architect of the outcome of each day of your life, the better.
Whether your life will become pitiful or inspiring to others has a lot to do with your mind management. 
What Is The Human Mind?
The mind is the subconscious part of the human. It is neither part of the body nor the spirit, but rather the soul, which connects with the heart.
It comprises our perception, subconscious, will, and judgment.
What Is Mind Management?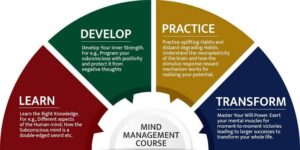 There are 101 definitions of mind management but for this writing, I will pick the following definitions.
Mind management is the ability to control what you allow into your consciousness. 
It is the ability to be aware of things based on desire, and belief.
Mind management is the right administration of one's thinking faculties to achieve specific desired results.
Mind management is making decisions to respond to events as it happens on the go.
Recommended:
10 Smart Ways To Improve Your Life In 2023
Why You Should Learn Mind Management?
The state of the mind is the bedrock of life.
The mind is the production department of your life.

What you can conceive, you can achieve. You have the power to become what you see in your mind's eye. 

The mind is flexible. It can stretch, and become more productive as you want it to be.

Mind management plays an essential role in the growth and results you can achieve in any given activity. 
What oxygen is to breathing, is what great mind management is to succeed in life.
It is what you do with your mind that reflects in your attitude, which eventually shows up in the results you get. 
10 Mind Management Tricks To Get Tasks Done 
1. Build A Possibility Mindset 
Let your action and words be focused on possibilities, not impossibilities. Whichever point you are in life, maybe you are a high flyer, trying to get ahead or miss your path completely, just be focused on getting better. 
Quit the worrying, blaming game, or excuses. Acknowledge what you did well and wrong, and keep pulling upwards, never looking down or behind except to see what you have covered in a space of time. 
2. See The Finished Work Before You Start 
Each day comes with a specific project. While some projects are continuous, until it's completed, others are short term lasting for a day or more. 
Here, mind management requires you to envisage the finished work in your mind to birth the real-life thing into existence. i.e, if you intend to publish a book, see the published copy already as you constantly work to achieve the finished work.
3. Begin A Task With The Most Challenging Part For You 
Start with the most difficult side of a task. This helps you to channel your initial strength or effort to get the task past the difficult stage. 
4. Even When There Is No Hope, Hope On Still 
Hope deferred is not hope denied. Stick to what you want to achieve, until it is done. Do not quit except, you have tolled the wrong path.
5. Exercise Your Mind Daily By Reading Useful Relevant Contents 
What you continuously pay attention to soon becomes your experience. As you feed your mind with used valuable content, you are more knowledgeable and grow to do what ordinarily should be difficult.
6. Avoid Using Negative Statements 
Negative words work contrary to your goals and aspirations. You don't have to voice ugly or bad moments, instead, rebrand the occurrences with positive statements and stay on it. 
7. Have Someone You Can Pour Your Heart To And Get Quality Help 
There are people we should not feel ashamed or embarrassed when discussing our lights, weaknesses, or poor results. They can be parents, mentors, partners, or even friends. But one thing is required of this set of people, trust, and the ability to proffer a solution or relief.
8. Use Daily Positive Affirmation 
I am a winner, I get my tasks done, I can do all things, I know who I am, etc, these are examples of affirmations. You can create affirmations in any area of your life and speak them to yourself regularly. 
9. Listen To Great Men Speak 
Do you wonder how much it costs to attend conferences and development programs that can change your life forever? Paying to get educated or wisdom to be more profitable with your mind is not a big deal. As much as you can afford, listen to great men and people that have good success in things you desire.
10. Avoid Unproductive Mind Engagement
Lastly, it is easy to destroy than it is easy to build. Building takes time and effort. Mind management building can easily be wasted when you begin to engage your mind in less honorable activities, like pornography, gangsterism, illicit drug use, and other unhealthy lifestyle.
Conclusion
Engage in what can build your mind to gain capacity, productivity, and quality judgment. One of such is reading articles on this blog and sharing them with your friends and loved ones.