2023 Teach A Man To Fish – School Enterprise Challenge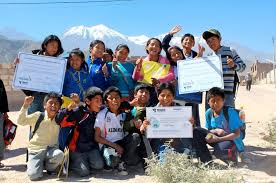 It helps young people all around the world to develop business skills and essential life skills.
The School Enterprise Challenge is an award-winning educational program that is available to any school around the world through a free, all-inclusive online platform.
Teach A Man to Fish is calling for applications for the 2023 School Enterprise Challenge, an award-winning educational program designed to equip young people with the skills to start and manage their own sustainable, profitable businesses.
About the Challenge
Launched in 2011, the School Enterprise Challenge has already enriched the lives of over half a million young people across the globe. The challenge encourages participants to put their profits back into their businesses, contributing to their schools, communities, or a social cause. As a learning platform, it allows students to develop essential life skills and understand the intricacies of running a business.
The challenge is absolutely free, and registered participants have access to educational resources, detailed lesson plans, and a growing global network of schools.
Program Structure
The School Enterprise Challenge is divided into three steps and 14 lessons:
Step 1: Business Idea – Lessons 1, 2, 3, and 4
Step 2: Business Plan – Lessons 5, 6, 7, 8, and 9
Step 3: Annual Report – Lessons 10, 11, 12, 13, and 14
Benefits and Prizes
This year's challenge offers a whopping total of 26 prizes, each ranging from $180 up to $5,000, with a total pool of $20,000!
Beyond the monetary rewards, teams can earn Bronze, Silver, or Gold awards based on their submission quality.
The challenge also provides invaluable experiential learning opportunities. Students gain practical experience in running a real business, thereby developing entrepreneurial skills and key life skills. Teachers, on the other hand, can learn about business dynamics, enliven academic subjects with real-world examples, develop new teaching techniques, and enhance their own CVs.
Once a school registers for the challenge, it joins a global network of schools committed to preparing its students for the real world. Registrants can look forward to networking and career development opportunities for teachers, creativity-stimulating mini-competitions for students, certificates for teachers, students, and principals, and a chance to win a share of $20,000 in prizes.
Eligibility
The challenge is open to all pre-primary schools, primary schools, secondary schools, and technical/vocational colleges worldwide. Please note that universities are not eligible for this program.
How to Apply
The application process for the School Enterprise Challenge is straightforward and adaptable, with a plethora of resources and support available to kickstart your journey. The program can be tailored to meet the unique needs and interests of your students.
To apply, a teacher must register their school for the challenge. Students are encouraged to let their teachers know about this incredible opportunity, gather a team, and commence their entrepreneurial adventure.
In summary, the School Enterprise Challenge offers an extraordinary opportunity for students to experience the real world of business and entrepreneurship, thereby fostering vital life skills. For more information, visit the School Enterprise Challenge website.
I hope you find this article helpful.