If you want to help a company reach its goals, improve its products and meet its client's needs, consider becoming a business analyst. You can pursue this profession through a wide variety of career paths. The skills are general but how they are used varies depending on the industry, company, services and projects. In this article, we explain what a business analyst is, explore what their career path qualifications and provide you with a list of seven business analyst career paths to consider.
Key takeaways:
Business analysts are responsible for helping to improve the performance of operations and procedures, reduce costs and identify inefficiencies.

Essentially every type of company, organization and government body employs business analysts.
What is a business analyst?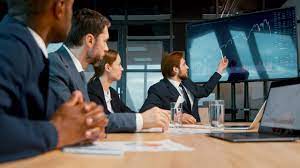 Business analysts are professionals who review an organization's business practices and processes and develop ways to improve them. Primarily working on project teams, business analysts typically have the following duties:
Find opportunities for improvement regarding business operations and processes

Work alongside project managers, stakeholders, system architects and developers

Analyze and solve business problems using technical solutions

Create system documentation and user manuals

Work on multiple projects at once, reevaluating priorities and deadlines

Understand an organization's processes as they relate to a project's goals

Document business processes to determine the problem a project aims to solve

Gather, record and evaluate a company's needs and requirements

Meet with customers and users

Prototype and model both products and processes
What does a business analyst career path involve?
The career path for a business analyst requires a certain level of education, training and work experience. Here's what a business analyst career path includes:
Education
Business analysts often need a bachelor's degree to enter the field in an entry-level position. Employers seek candidates with a degree in some type of business discipline such as business analytics, business information systems, business administration, logistics, statistics, sociology, political science or finance.
Employers hiring for more advanced positions often look for candidates with a Master of Business Administration (MBA) degree Keep in mind that you don't necessarily need a master's degree to advance in this field. Sufficient experience, specialized knowledge or solid performance may qualify you for a business analyst position. Certifications
Apart from a formal degree, you can complete training or pursue a certification to improve your skills and increase your earning potential. Certification examples include:
Some business analyst positions may require you to complete a training program or require you to receive relevant certifications.
Experience
Many aspiring business analysts enter the field in an entry-level business role as it relates to their undergraduate degree. An entry position, such as a consultant role, can provide you with a better understanding of internal business operations, which helps with analysis and the improvement of business processes. Your time in an entry-level position also allows you to focus on the areas you're most interested in while helping you develop your skills in those areas.
After you've obtained sufficient experience, you may become a junior business analyst. With even more experience and expertise, you might advance into more senior-level positions. Senior analysts lead a team of professionals working on a complicated project. Top-qualifying or well-performing business analysts may advance to high-level management positions, leadership positions or may even decide to start their own consultancy.
7 business analyst career paths
There are several job opportunities to pursue on your way to becoming a business analyst. Here are some avenues you might pursue in your business analyst career:
1. Data analyst
National average salary: $66,284 per year
Primary duties: A data analyst collects and organizes data to find useful information, inform conclusions or help with decision-making. They analyze data with various statistical techniques, create and implement databases, maintain data systems and look for trends in large data sets.
2. Network analyst
National average salary: $75,181 per year
Primary duties: Network analysts handle the installation, layout and maintenance of a company's computer network. They help optimize information technology operations, analyze network requirements and configure hardware and software.
3. Test analyst
National average salary: $82,123 per year
Primary duties: Test analysts assess computer hardware or software to ensure its functionality before they are put on the market. They help with the development process, create test plans, execute tests and analyze the results.
4. Business consultant
National average salary: $75,083 per year
Primary duties: Business consultants provide professional advice in areas such as finance, management and security. They help improve a company's business operations by identifying weaknesses and offering solutions for improvement.
5. Project manager
National average salary: $76,846 per year
Primary duties: Project managers oversee the daily governance of a particular enterprise. They handle activity and resource planning, ensure customer satisfaction, analyze and help mitigate project risk and monitor a project's overall progress.
6. Portfolio manager
National average salary: $81,959 per year
Primary duties: Portfolio managers make investment decisions and oversee activities for their clients. They create and manage investment allocations, provide their clients with advice and guidance regarding investment opportunities and help them avoid risk.
7. Quantitative analyst
National average salary: $102,995 per year
Primary duties: A quantitative analyst assists companies with their various business decisions. They research and evaluate market trends, create and implement quantitative models, manage portfolio risk and help reduce any transaction costs or market impacts.
FAQs about business analyst career paths
Here are some frequently asked questions about the business analyst profession and potential career paths:
What is the work environment like for a business analyst?
Business analysts typically work in office settings. However, some travel may be required to gather business details or meet with clients or company personnel.
What is a business analyst's average salary?
Business analysts make a national average salary of $82,033 per year. Your own salary as a business analyst may vary based on factors like your geographic location, experience level and employer.
What skills do business analysts need?
Business analysts need to exhibit a strong attention to detail and have a wide variety of skills, including communication, problem-solving, critical-thinking, computer, mathematics, and writing skills.
I hope you find this article helpful.