Effective teams often have a unique set of characteristics that help ensure their success by contributing to increased productivity. Regardless of your position or industry, you might find yourself working on a team and affecting its efficiency directly. Understanding what makes a team successful can help you learn valuable skills that allow you to make positive contributions in collaborative work environments.
In this article, we provide a detailed list of seven characteristics of effective teams and discuss some tips to ensure success within a team.
Benefits of an effective team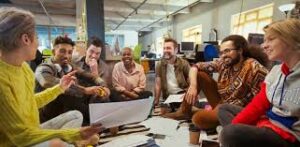 Effective teamwork often provides many benefits to the entire team and the organization. An effective team may work together to facilitate idea generation and creativity, approaching problems with unique solutions.
Team members might feel empowered to take innovative approaches when developing solutions. They can learn new skills, methods and knowledge from one another when working in effective teams.
Teamwork often improves productivity and contributes to improved business results. By working in effective teams, employees may experience an increased sense of motivation. They can recognize their contributions and feel a level of responsibility for a company's success. Successful teams help relieve the stress that individuals might feel when working alone or as part of an ineffective group.
7 characteristics of effective teams
Here are some common characteristics of successful teams:
1. Clear leadership
Successful teams usually have effective leadership, where one or several members act as team leaders. This helps unify the entire team to work toward the same goals. Effective leaders often provide guidance, motivation and focus.
They may offer encouragement when the team encounters a challenge. A team might decide to rotate its leadership regularly, offering each member the chance to guide the group's work. Shared leadership can provide a sense of common responsibility and accountability, possibly improving a team's performance.
2. Defined goals
Before working on their tasks, an effective team may first establish their goals. The team might work together to identify common objectives that align with a company's organizational goals.
Team members may find it easier to commit to a project's goals when they find them meaningful. They can create plans for how to accomplish these goals, assigning roles and making schedules.
Successful teams often determine how they can measure their success and evaluate the outcomes of a project. This helps team members understand what they're working toward and know when they've completed a task. A team might review their goals regularly to determine if they require any adjustments.
3. Assigned roles
When each team member has an assigned role, they can make effective contributions to their group and help ensure its success. The team leader might designate these roles, or the entire team may work together to best understand each other's skills and expertise and assign roles accordingly.
The team might determine specific roles depending on its overall goals. For example, a team may have different roles if its objective is to launch a marketing campaign, compared to the goal of developing a new product.
A leader might determine the required roles before assembling a team. This allows them to find team members who fit best with the designated roles. A team's roles might change throughout the lifetime of a project. Effective teams often reevaluate roles once a leader assembles the group to ensure each member can fulfill the expectations of their roles.
4. Open communication
A team with open communication allows members to discuss their ideas and feel that their input matters. Successful teams often welcome diverse thoughts and opinions that help them solve problems and complete tasks in creative ways.
Effective communication also involves active listening, where members make a conscious effort to hear their teammates' ideas and reflect before responding to them. This allows a team to share its knowledge, experiment with new ideas and work together to develop effective plans.
5. Collaboration
Effective teams rely on collaboration to complete their tasks and accomplish collective goals. Collaboration involves seeking help when problems arise and sharing suggestions with one another.
Team members may collaborate continuously throughout a project's lifetime to ensure they're working on the right tasks and contributing to the planned outcomes. Collaborative work helps encourage innovation through the exchange of ideas and the collective expertise of a team.
6. Trust
Teams that have trust between members often accomplish their goals because they believe in the work process of a project. Trust contributes to open communication, problem solving and collaboration. A successful team might rely on team-building exercises to increase trust between its members.
7. Conflict resolution
Successful teams usually have effective methods for resolving any conflicts that may arise. During a disagreement, members may speak to one another calmly, respect each other's ideas and focus on finding a compromise.
This helps them listen to differences in opinion and find resolutions that satisfy the needs of the entire group. Effective teams often view disputes as a way to improve their decision-making and problem-solving strategies.
Tips for ensuring effectiveness within a team
You can use these tips to ensure effectiveness within your team:
Make decisions together: Reaching decisions by consensus can help ensure effectiveness within a team. This allows everyone to be in agreement on important decisions and can improve their level of commitment to their work.

Provide constructive criticism: Having clear processes for giving and receiving criticism often contributes to the success of a team. A team might ensure that it focuses feedback on addressing problems, providing methods to improve work operations and accomplishing a project's overall goals.

Celebrate successes together: A team that celebrates its successes together can inspire motivation in its members. Recognizing members for individual and collective successes can help keep teams engaged in their tasks and see the direct results of their work.
I hope you find this articl helpful.