In the contemporary world, the pursuit of higher education is considered a monumental achievement, symbolizing one's dedication, knowledge, and expertise in a particular field of study. Earning a degree certificate is not just a personal accomplishment but also a recognized credential that holds significance in various spheres of life, from career advancement to social status.
7 Ways To Spot A Fake Degree Certificate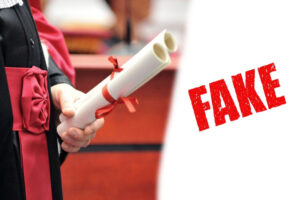 However, in this age of technology and information accessibility, the ease of counterfeiting has made fake degree certificates a concerning issue. The fraudulent presentation of counterfeit degree certificates poses a significant threat to the integrity of academic qualifications and the trustworthiness of individuals in society. To address this pressing concern, it is crucial to know what an original degree certificate looks like and learn to distinguish it from a fake one.
What Is A Degree Certificate?
A degree certificate is an official document issued by an educational institution, such as a university or college, to a student upon successful completion of a degree program. It serves as proof that the recipient has earned a specific academic degree.
With a degree certificate, students can choose a specific career path. Completing a degree also requires students to take generalized classes in addition to their chosen major, which may include courses like mathematics or science. Some students may choose to further their education with a graduate degree, either a master's or a Ph.D.
What Information Is Typically Found On A Degree Certificate?
A degree certificate usually includes the recipient's name, the degree title, date of award, signatures of authorized officials, the institution's logo or seal, and sometimes additional details about the recipient's academic program or major.
READ ALSO: GCSE ENGLISH SPEAKING EXAM
7 Ways To Spot A Fake Degree Certificate
Spotting a fake degree certificate can be challenging, as forgers can be quite sophisticated in their efforts. However, there are several ways to help you identify potential signs of a fake degree certificate:
1. Certificate design
Fraudsters often believe that an ornate, Gothic typeface denotes prestige and tradition, and many of the fake certificates we have encountered use this technique.
In the real university world, this sort of typographical representation became outdated at around the same time as single-gender common rooms and rustication.
By and large, most contemporary fake certificates are modelled on their real-world counterparts. However, there are still many old-school fake certificates in circulation, such as this piece of calligraphy from Canterbury University.
2. Look out for spelling and grammar errors
Pay attention to the text on the certificate. Genuine degree certificates typically have accurate spelling and proper grammar. Errors or inconsistencies may be a red flag.
The use of Latin terminology on a degree certificate should also be a warning sign. Expressions such as 'cum Laude are popular with US universities, whereas UK higher education institutions (HEIs) use 'with honours'.
It has not been practice for UK providers to issue degree certificates in Latin for at least 10 years. Contemporary certificates are in English. Latin versions are occasionally issued as mementoes but are supplementary to the English version.
3. Check for Watermarks and Security Features
Genuine certificates often have security features like watermarks, holograms, or embossed seals. Tilt the certificate to see if any security features become visible.
If in doubt, double-check the university's website with the emblem on the certificate. Always request to view the genuine certificate rather than a duplicate.
Of course, checking the legitimacy of the certificate with the institution that issued it is the only surefire way to avoid getting duped by a false certificate.
4. University location
Fake university websites usually provide contact information, including a postal address. It's a feature that, if excluded, wouldn't go unnoticed.
Any doubts about the legitimacy of a dubious-looking university site can be allayed instantly by putting the postcode into Street View.
It certainly isn't the ivy-clad, mullion-windowed establishment the certificate promised. Some fake universities are in serviced offices, car parks, and even on traffic roundabouts.
Before you even reach the StreetView stage, inconsistencies or insufficiencies in the address may give the game away. A PO Box or mailing house address, for example, is unlikely to be used by a real university.
5. Contact the Institution
Reach out to the institution directly to verify the degree and the recipient's graduation. Use official contact information from the institution's website rather than relying on contact details provided on the certificate.
6. Check for Graduation Date
Ensure that the graduation date aligns with the expected time frame for the specific degree program. Unusually short completion times may raise suspicion.
7. University authentication
The UK has a large and diverse higher education sector and, even within the UK, recruiters don't necessarily know their Queen Marys from their Queen Margarets.
Mergers, name changes, and rebranding have been the norm in the HE sector since the evolution of polytechnics into universities after 1992. For example, the University of North London merged with London Guildhall University (formerly the City of London Polytechnic) in 2002, to form London Metropolitan University.
Hedd's university authentication database provides a family tree for all degree-awarding bodies. For example, from the site: 'Bell College of Technology was a UK government-recognised body that gave awards between 1972 and 2007. Its qualifications are verified by the University of the West of Scotland.'
Is It Possible To Verify The Authenticity Of A Degree Certificate Online?
Some institutions and employers offer online verification services to confirm the authenticity of degree certificates. You may need to provide certain information from the certificate to use this service.
I hope you find this article helpful.