Remote team management involves supervising individuals who work outside of the office and might never meet in person. A manager with a remote team works to establish strong communication and to build teamwork among individuals who might never meet in person. Understanding ways to manage remote teams can help you become a better leader and achieve success by leading a more productive team.
In this article, we discuss why remote team management is important and provide best practices and tips to help you in managing a remote team.
Why is remote team management important?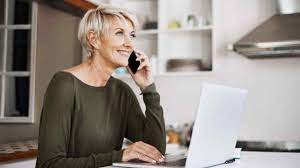 Remote team management is important because it can help you retain quality employees, address potential performance issues and have a successful team. Proper remote team management can keep people focused on a common goal and encourage them to work together.
Managers face different challenges trying to figure out how to manage remote teams. For example, sometimes employees work in different time zones or on different schedules. Good management can help facilitate communication and foster a positive culture among individuals working in physical isolation.
Best practices for managing remote teams
Here are some best practices to help you manage a remote team:
1. Set clear goals
Setting clear expectations for your team can help them understand what success is in the job and how they can achieve it. If your hope is for someone to reach a production goal by a certain date, articulate that goal to them.
For example, if a salesperson is behind in a given month but is doing well toward their overall yearly goal, let them know that the overall goal matters most. Most people genuinely want to be successful in their jobs, and understanding how to achieve that success can be motivating.
2. Meet regularly
Regular communication with your team can help resolve potential issues early on. If you manage a remote team, a good best practice is to schedule a regular one-on-one with team members.
An official one-on-one meeting can create a more formal meeting to discuss performance goals or feedback for the employee. Although you might communicate throughout the regular workweek, setting aside time for a more constructive conversation can be a good approach.
3. Define roles
Defining someone's role helps them fully understand their responsibilities. If someone understands their role and the role of other team members, they know who to go to when they have a question in a specific business area. By defining roles, you can help facilitate good communication among team members and limit the number of questions they have for you.
4. Delegate responsibilities
A good manager uses the resources at their disposal to achieve success. As a manager, delegating can help you accomplish more and help your team be more productive. When you manage a team member remotely don't hesitate to delegate them responsibilities such as taking a leadership role on a project. A remote employee is as capable as an in-office worker. Also, delegating allows you to better gauge their performance and gives them a chance to demonstrate their potential.
5. Create a routine
A routine can help people manage their remote workday. Even if someone works remotely, that doesn't mean there can't be a rhythm to the workweek. For example, perhaps you share a productivity report every Monday, hold one-on-one meetings with team members on Tuesday and have a production deadline every Wednesday. The team members have a framework of what happens every week and understand how it impacts their day-to-day responsibilities, helping them plan their remote work schedule.
6. Use tools
A remote team relies on a variety of tools to succeed. Some tools help employees communicate, such as messaging and chat programs. Companies also use these tools for fun activities and to share praise.
Other tools allow employees to do their jobs by tracking production, providing them with assignments and giving them feedback. If you're going to manage a team remotely, make sure you have the tools to do so and that they have the tools to do their jobs.
7. Trust your team
Trusting an employee usually means allowing them to take ownership of a task and complete it. With remote employees, it means that and more. Someone working remotely doesn't want to feel like their manager doesn't trust them to put in a full day or fulfill their responsibilities. Treat the remote workers the same way you treat office employees and trust them to complete their assignments and approach their job professionally.
8. Create a schedule
A schedule can be helpful if you have remote team members working in different time zones. Although some flexibility and freedom come with working remotely, it's a good idea to have people be on simultaneously.
Creating a schedule that takes into account time differences can help ensure team members are together at least part of the day. This can also help you schedule training and meetings because the overlapping schedule provides an availability guide for all employees.
Tips for managing teams remotely
Here are some tips to help in managing a team remotely:
Provide feedback
When someone works alone every day, they might feel a bit isolated from the rest of the team. Providing a person with feedback helps keep them included in what's going on. It also gives them some insight into their performance.
For example, if a person receives mild criticism but never hears praise or how their supervisor thinks they're doing, they might believe they're doing poorly. You can avoid this by letting someone know how they're doing overall and that you're happy with their work.
Always follow through
If you supervise a team of remote employees and say you're going to do something, be sure to follow through. If something comes up and there is a delay, let them know. A little communication can go a long way.
Treat the same
Make an effort to treat your remote employees the same way you treat your office employees. No likes feeling left out. One way to avoid this is to include remote employees in office activities.
For example, if there is an HR meeting regarding benefits, schedule a zoom with HR for the remote employees. If there is a Friday fun trivia contest, allow the remote employees to participate.
I hope you fidn this article helpful.