The most effective meetings occur when members are comfortable and engaged. Icebreakers can help attendees feel more comfortable by introducing them to the other group members, promoting collaboration and encouraging contributions. You can use corporate icebreakers that are well-planned, intentional and entertaining to boost your team's confidence and get them more involved. In this article, we explore a few top corporate icebreakers that your team may enjoy.
What are corporate icebreakers?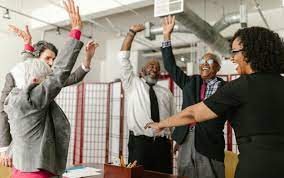 Corporate icebreakers are entertaining games, quizzes or activities that encourage team members to get to know one another. They can increase the comfort level of each team member when interacting with other employees and allow team members to practice their creative and decision-making skills. Icebreakers also enable team members to quickly get to know how to effectively work with one another.
Corporate icebreakers are useful in the following types of teams:
Teams of employees from different departments

A team with new members

A team with a new leader

Teams who are tasked with overcoming a challenge quickly

Following a team conflict
Office icebreakers to try with your team
When choosing corporate icebreakers for your next event or meeting, consider the personalities of your team members, the skills they could develop together and the goals of your meeting. Here are a few popular corporate icebreakers that your team is likely to enjoy:
M&M game

Office charades

The problem-solving game

Company trivia

Things in common

Conflict resolution

The human web

Who are you?
1. M&M game
In this convenient game, all you need is a bag of M&Ms and a list of questions. Pre-select a "speaking color" and question for each round, and have each team member choose an M&M. The people who chose a "speaking color" for that round share their answer to the question. You might include questions about personal life, career goals or entertainment preferences. This game encourages:
Introductions: The M&M icebreaker allows team members to get to know each other and begin bonding by learning a unique fact they might not have known before.

Removing barriers: This icebreaker activity can also help team members from different departments or backgrounds find commonalities.
2. Office charades
The office charades icebreaker is similar to regular charades, except that you limit the selections to office-relevant topics. Write down a few office items on scraps of paper ahead of time, and allow each team member to draw one out of a bowl. Then, each member will take turns acting out the office item following the traditional rules of charades. This game promotes:
Communication: Office charades can challenge everyone's nonverbal communication skills. The person acting out the action has to find unique ways to demonstrate their office item while guessing teammates have to pay attention to these nonverbal actions.

Engagement: Office charades also encourage engagement among team members safely and entertainingly, increasing their comfort with the team members. Friendly competition and creative techniques to illustrate their office item can convince any team member to join in.
3. The problem-solving game
In the problem-solving game, team members develop solutions to unusual problems. Divide everyone into a few teams, and then have them identify a problem around the office. This might be a printer that constantly breaks or a lunchroom that is too crowded. Then, have each team come up with a unique solution to the problem. This activity encourages:
Creative thinking: This task allows team members to brainstorm without limitation, which can stimulate their creative side and get them to list any possible solutions they can think of. Practicing this skill during a game can then translate to a team's work outside of the activity.

Collaboration: Problem-solving skills in this game also allow team members to brainstorm together, building off one another ideas until a small concept becomes a full, actionable solution.
4. Company trivia
With the company trivia icebreaker, you test the team's knowledge of the company's history. You might ask questions about the founding, executives, goals, mission statement or competitors of the company. Divide everyone into teams, and ask questions with open response, multiple-choice or true-or-false answer options. Designate more difficult questions to be worth more points. The team that earns the most points wins the icebreaker. This icebreaker will encourage:
Teamwork: Company trivia encourages teams to work together to utilize each member's knowledge about the company. Teams also share the common goal to earn the most points and win the icebreaker, which can promote bonding between coworkers.

Engagement with the company: Company trivia educates team members on interesting facts about the place they work, which can instill a sense of pride and belonging.
5. Things in common
For the things-in-common icebreaker, break the group into small teams or pairs of two. Then, encourage each team to come up with as many similarities they share as they can think of. Set a timer, and after the time is up, have each group or pair share their list. You can incorporate the rest of the group into the game by having other teams speak up if they also have certain items in common. This icebreaker promotes:
Communication: Team members are encouraged to communicate with one another to find as many similarities as they can. They may ask each other questions about their personal and family lives outside of work or about personal preferences, all of which can encourage bonding.

Critical thinking: The things in common icebreaker also allows team members to utilize investigation and critical thinking skills. Each team member may take turns interviewing the other in an attempt to gather important information, and they may use critical thinking to find more interesting or specific questions.
6. Conflict resolution
In the conflict resolution icebreaker, the goal is to identify and overcome an issue. Divide the group into two teams, and provide them with an imagined conflict to work through. This imagined conflict might be a topic that each side has a different perspective on or a time-sensitive decision that needs to be made. Allow each team to present their solution or perspective. Allow time for each side to ask follow-up questions and to let each team debate and negotiate. This icebreaker encourages:
Effective negotiation: Team members use problem-solving skills to identify possible solutions and anticipate outcomes, as well as the other side's rebuttal.

Collaboration: This icebreaker empowers team members to work together. It also tests their ability to work with those who understand their perspective and brainstorm with those who don't, which may be important when learning to work together as a group later on.
7. The human web
Using a ball of yarn, have one person hold it and share an interesting fact about themselves. Then, they hand the ball to another team member while holding onto one end of the yarn. That person then shares a fact about themselves related to the fact stated by the previous person, and hands off the ball of yarn again. Team members will continue to hand off the yarn, holding their end of it, while creating a web. This icebreaker encourages:
Teamwork: Maintaining the web may increase in difficulty as more team members are added to it. This exercise can build trust among team members by each person playing an important part in keeping the web's shape intact.

Reflection: The human web icebreaker encourages self-reflection because team members can visually identify the important connection they have with their team and their role within it.
8. Who are you?
Have each team member write down their answer to "Who are you?" on a piece of paper. Collect each response, and place them face down on a table in front of everyone. Have each team member take turns flipping one of the papers, reading the answer aloud, and guessing who it belongs to. Responses can vary from simple character traits, obvious job titles, or hidden talents. This icebreaker encourages:
Community: Team members rely on the information they already have about one another to determine whose answer belongs to whom. Many team members may discover new, interesting facts about their team members, further promoting a sense of camaraderie.

Investigation: Team members use investigative skills to determine which answers and team members are left, narrowing down and connecting the right answer with the right team member. The process of elimination combined with what team members already know about one another helps them develop their critical thinking.
I hope you find this article helpful.