A company's website is sometimes the first interaction a potential customer may have with that organization. To ensure it's a positive experience, it's helpful to create a website that's easy for visitors to navigate, browse, and find the information they are looking for. Understanding the different components of a website can help you craft an engaging, user-friendly site.
In this article, we discuss why knowing about the different parts of a website is important and review some of the different elements of a website.
Why is knowing the different parts of a website important?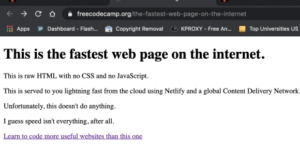 Knowing the different parts of a website is important because it can help you determine which sections to include to create a site that's easy for visitors to navigate. A user-friendly website can attract more potential customers. If they enjoy using the company's website and view it as a reliable source of information, you can help create a stronger relationship with customers and increase your retention rates.
Well-made websites also make it simple for visitors to learn more about a company's details, like its location, hours and contact information, which makes it easier to contact the business if a customer wants to try or purchase a product or service. Knowing about general website elements can also offer the following benefits:
Working with contractors: If you don't want to create a website on your own, you can hire a contract professional to make one for you. Knowing about website parts can help you communicate your needs more clearly.

Traffic generation: Having a user-friendly website may encourage more users to visit it.

Company reputation: An organized website that includes all of the essential parts looks professional and is visually appealing. Consumers may then associate your brand with positive professional traits.
8 basic parts of a website
Websites contain essential tools, pages and elements that make them easy for visitors to use, and which can lead to strong engagement rates. Different parts of an optimized website include:
1. Navigation bar
The navigation bar, also known as the menu bar, lists the different pages of the website at the top of the page. It usually lies directly under the page's header for visitors to easily see and access. Make sure you clearly label the links in your navigation menu. Keep these links clean to ensure visitors can easily reach a page without experiencing any loading errors.
When customers press each link on the menu bar, it should quickly take them to their desired destination within the website. Some navigation bars have a drop-down menu that provides additional links to sections within these pages.
2. Slider
The slider operates like a slideshow, allowing certain images to slide and appear from side to side. You can feature your slider anywhere throughout your website. Most companies place theirs on the homepage to replace or accompany a featured image. Since sliders are moving images that rotate regularly, they can initially capture the attention of your audience and make them stay longer on the website to view the transitioning pictures.
3. Featured image
A featured image is a large picture representing a company or product that typically lies at the top of the page. Its main purpose is to capture visitors' attention and set the tone or theme for the rest of the page and website. Most featured images stretch throughout the page's width and can include calls to action or headlines to increase engagement with visitors.
4. Header
The website's header is the section at the top of the page that features the navigation menu and company logo. Keep the header consistent and visible as users navigate throughout your site and visit different pages. This makes it easy for visitors to see the header at all times and click its links at any point. With an easily accessible header, your visitors can more easily locate new pages and browse your site with ease.
5. Content
The content featured on your website is the copy your audience reads to gain additional company information or industry knowledge. While most website content comes from text, it can also refer to other forms you may use to communicate the brand's message, like graphics, videos or audio. The homepage's content typically introduces the company or product and invites visitors to learn more. The content on other pages may be more in-depth on the specific topics. For instance, a product page may explain the features and prices of each product you sell.
6. Footer
The footer serves a similar role to the header, as it remains on each page as you browse the website. This makes it easier for visitors to quickly access the important details of your company. You can find the footer at the bottom of the page displaying the following information:
The company's contact information, like its phone number, email address, location and hours

A sitemap

Social media icons linking to the company's channels

Privacy policy

Terms of use

Copyright and date stamp

Links to other essential pages on your website
7. Blog
The blog is typically a webpage that contains short-form informative content about topics related to your industry. Regularly creating blog posts to feature on your blog page can increase the traffic to your website. Your target audience may search for common industry questions or a solution to the challenge they're facing and may find the answer by reading your blog. If you create well-written, educational and valuable content, your blog and website may rank high on search engines. This can build brand awareness, increase sales leads and establish your company as a trusted thought leader in the industry.
In addition to blog posts, you can also feature long-form content on your website, like white papers or e-books. A white paper provides facts, statistics and explanations on complex industry subjects, while an e-book is a downloadable document containing several pages of valuable content, breaking down subjects into simple chapters. E-books typically feature visually appealing graphics throughout and contain simple terminology to make the content easy and entertaining to read.
8. Landing page
A landing page is a web page visitors use to take a certain action. They may visit a landing page to download a white paper or e-book, sign up for a mailing list, request more information about a product or make a purchase. Try to ensure your landing page clearly explains the page visitors are on and what they're downloading.
The landing page usually contains a form visitors may complete to take their desired action. Most of these forms ask for the visitor's contact information, which you can use to send them future marketing materials or company information.
I hope you find this article helpful.