Medical professionals often specialize in a field that allows them to work with certain types of patients, such as children. Child patients exist on a broad spectrum of developmental stages, each one with its special considerations and requirements. If you're interested in a career as a medical professional who primarily treats young people, it's important to know what your options are. In this article, we discuss what it means to have a career in medicine working with children and look at some career options for job seekers who wish to take this professional path.
What is a career in medicine working with children?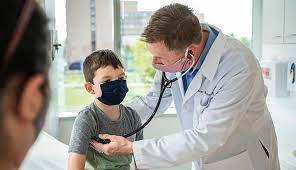 To have a career in medicine working with children means to work in a health field that specializes in treating young patients—those from birth to 18 years old. There are various professional types within this area. Some specialize further by focusing on a specific stage in child development, such as:
Prenatal and perinatal: Prenatal care refers to medical procedures and activities that take place before a child's birth, while perinatal care occurs during the period immediately surrounding delivery. The work of medical professionals at these stages is important for a child's survival, health and future development.

Infant: Infancy is the period from birth to age 1. Infant care involves tracking the health and milestones of infants and educating parents on considerations for optimizing the health and development of very young children.

Toddler and preschooler: The toddler and preschooler stage takes place from ages 1 to 5, a period of numerous developmental milestones. At this stage, medical professionals focus on tracking developmental progress and ensuring children's safety as they grow.

Grade-schooler: A grade-schooler is a child from age 5 to 12, which is when children often show significant growth both physically and mentally. During this period, it's important for children to have regular medical checkups so that medical professionals can monitor for any health or development issues that may start to present.

Adolescent and teenager: The adolescent and teenager years take place from ages 12 to 18, when children undergo the last developmental milestone before transitioning into young adulthood. Children at this stage are more independent and better able to express themselves, and they require medical care that can address their major physical and mental changes.
9 Medical Professions That Involve Work With Children
Child-focused medical professionals work in a variety of specialties. Here are nine medical career options that center on children at various stages of development. For the most up-to-date Indeed or BLS salaries, please click on the links below:
1. Recreational therapist
National average salary: $47,014 per year
Primary duties: A recreational therapist is a health care professional who uses activity-based programs to treat patients with physical or mental issues. They may incorporate a variety of recreational modalities in their treatment programs, including art, music, writing, playacting, dance, athletics, games and casual outdoor activities. These activities can help to reduce anxiety or depression, improve cognitive function, strengthen confidence and social skills and exercise physical coordination. Many recreational therapists specialize in treating very young patients, such as children with developmental delays, cognitive impairments or terminal illnesses.
2. Dietitian
National average salary: $50,363 per year
Primary duties: Dietitians are experts in food and nutrition. They're qualified to counsel people on healthy eating habits and develop eating plans that promote healthy living. Children of different ages often have specific nutritional needs, and a dietitian can guide new parents on how to feed their children to achieve optimal health and avoid particular health conditions. They may also work with families concerned about a child's excess or deficient weight, educating the child on proper eating patterns and helping them to develop a more positive relationship with food.
3. Child life specialist
National average salary: $55,649 per year
Primary duties: A child life specialist is a health care professional who works within a medical setting to help very young patients cope with stressful settings and their reasons for being there. Being hospitalized for an illness or injury can cause anxiety in children, but a child life specialist can help them adjust to the experience. Their primary duties include speaking with young patients to explain procedures and expectations, encouraging self-expression as a coping mechanism, helping children to manage their pain or discomfort, engaging patients in play, providing comfort and communicating with members of the patient's family.
4. Lactation consultant
National average salary: $64,655 per year
Primary duties: A lactation consultant is a neonatal care professional whose specialty is breastfeeding and associated health concerns. Typically working in clinics, hospitals and birthing centers, lactation consultants provide support to new nursing mothers. They're qualified to treat common and serious health problems that may result from nursing, such as inflammation and clogged ducts. In addition, they may offer advice on various topics related to nursing, such as the ideal position for breastfeeding, managing pain associated with breastfeeding and increasing the supply of milk without presenting any hazard to the child.
5. Obstetric sonographer
National average salary: $75,920 per year
Primary duties: An obstetric sonographer, also known as a diagnostic perinatal sonographer, is a specialist in ultrasonography, a medical imaging technique that uses high-frequency sound waves called ultrasound to visualize structures of different densities within the body. A sonographer in obstetrics specifically imagines the reproductive system of a pregnant woman to provide a view of the developing fetus. In the early stages of pregnancy, the obstetric sonographer can determine the expected date of delivery. Later sessions can help to track growth, health and potential birth defects or other health problems.
6. Neonatal nurse
National average salary: $79,849 per year
Primary duties: A neonatal nurse is a registered nurse who specializes in caring for newborn babies, particularly in the first 28 days of life. They perform common nursing duties, such as taking patient histories from accompanying parents, recording vital signs and performing diagnostic tests. To track a newborn's development, they may test the child's cognitive skills and reflexes. Some neonatal nurses work in the neonatal intensive care unit—an emergency unit for babies with serious health issues, such as those born premature, with illnesses or with defects.
7. Speech-language pathologist
National average salary: $80,480 per year
Primary duties: A speech-language pathologist, commonly known as a speech pathologist or speech therapist, is a clinical professional who works with patients with speech or swelling disorders. Their duties include assessing and diagnosing patients' disorders and helping them to overcome these deficiencies. Many such disorders result from developmental delays or birth defects, so speech-language pathologists commonly work with children and families. With such young patients, they often incorporate elements of play into their therapy, which may also include strengthening exercises and sound repetition. Intervention with speech-language pathology in children under 5 years old can result in significant developmental improvements.
8. Child psychologist
National average salary: $95,436 per year
Primary duties: A child psychologist is a mental health professional who works with children and adolescents. Many child psychologists are clinical professionals, who diagnose and treat young people with mental, emotional, behavioral or developmental issues. Others may specialize in areas such as counseling psychology, developmental psychology or school psychology. Regardless of specialty, some of the common duties of child psychologists include speaking with and observing patients, diagnosing disorders, applying various programs for treatment and prescribing medications that may help improve the patient's ability to function normally.
9. Nurse-midwife
National average salary: $111,130 per year
Primary duties: Nurse-midwives specialize in providing prenatal and perinatal care to pregnant women. Many nurse-midwives provide care at patients' homes but also commonly work in clinics, private practices or hospitals. Prenatally, their duties include conducting physical examinations and educating pregnant women on topics such as nutrition and expectations. During childbirth, they help to deliver the baby, respond to emergencies affecting the mother or child and may assist during C-sections. Afterward, they may help to track the newborn's progress and advise the new mother on concerns such as disease prevention and general wellness.
I hope you find this article helpful.