A career as a home health aide can be challenging yet highly rewarding. If you're pursuing a career as a home health aide, it's important to develop your skills to be successful on the job. From having compassion for your patients to administering medications and recording vital signs, home health aide skills require a range of knowledge and expertise.
In this article, we'll explore what home health aide skills are, eight examples of home health aide skills, how you can improve your skills and demonstrate them at work, and how you can highlight these skills when looking for the perfect job.
What are home health aide skills?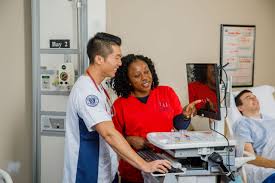 Home health aides work in patients' homes to administer care and treatment and monitor patients' overall health and wellness. These professionals rely on their home health aide skills—a strong mix of medical and technical knowledge and soft skills—to be successful in the role.
Home health aide skills include hard skills specific to the profession, such as medical knowledge, treatment methodologies and patient care techniques, along with soft skills that help them build relationships with patients and colleagues so they can provide exceptional care.
8 examples of home health aide skills
Working as a home health aide requires medical knowledge, compassion and empathy, along with other skills including:
1. Communication
Communication is essential in a home health aide career. These professionals communicate daily with their patients, patients' families and others. Several aspects of communication skills include:
Discussing treatments

Educating patients and families

Listening actively

Communicating in writing

Reading your patients' body language

Asking questions to assess patients' health
2. Interpersonal skills
Compassion, empathy and patience are several interpersonal skills you'll need as a home health aide. Patient care can be highly demanding, especially when caring for patients in their own homes and practicing patience and compassion to understand your patients' perspectives and needs will support your success in the role.
In addition to these traits, a strong empathetic nature is necessary to connect and build rapport with your patients, as is the ability to help your patients solve problems and cope with challenges.
3. Organizational skills
Home health aides must be exceptionally organized in their jobs. From maintaining patient files and medical records to organizing and administering medications and other treatments, you'll need a strong set of organizational skills and attention to detail to be efficient and successful in your career.
4. Time management
As a home health aide, you'll likely be responsible for maintaining appointment schedules and keeping this information organized. In addition to this, staying on track with each appointment and your schedule requires effective time management. Many home health aides work with several different patients, and they rely on strong time management skills to perform their tasks in an orderly manner while still being approachable, flexible and compassionate with their patients.
5. Adaptability
Home health aides are also quite adaptable across different home environments. Since you visit your patients in their homes in this role, you'll need to remain open-minded and adaptable to sudden changes or challenges. For instance, appointment cancellations, sudden illnesses or conflicts with patients or their families will require you to be flexible and willing to work with your clients to the benefit of everyone, especially your patients.
6. Technical skills
Many home health aides may work with common medical equipment, like blood pressure monitors or oxygen machines, and regularly depend on their knowledge and training of these technical aspects of the job. Along with these technical skills, you may also need an understanding of computer applications, such as creating spreadsheets and documents, using scheduling programs and other computer applications.
Additionally, some math is involved with caring for patients in their homes, including measuring medication dosage, recording vital statistics and sometimes medical billing applications.

7. Medical knowledge
The medical knowledge home health aides have usually comes from their education and training. As you enter this profession in the medical field, you'll have the opportunity to build your knowledge of medical applications and patient care methods so you'll be successful in your career. Several medical concepts that are important in this role include:
Checking vital signs

Taking temperature

Changing wound dressings

Attending doctor's appointments with patients

Building your knowledge of pharmaceutical and medical terminology
8. Physical stamina
Caring for patients in their homes requires a great deal of physical stamina. Not only do home health aides administer specialized care to their patients, but they may commonly take on household tasks for their patients, too. Helping patients dress, sit, stand, and move around requires the ability to lift, move and stand throughout the day.
Additionally, many home health aides also help patients with common errands and meal preparation, and you'll want to have the endurance and stamina necessary to perform these types of tasks.
How to improve home health aide skills
Whether you're just getting started on your career path as a home health aide or you've been working in the profession for a while, there are several ways you can further develop and improve your skills. Here are some approaches to take to advance your skill set to succeed in your career:
Continue your education and training
Take additional classes or continue your training in different aspects of home patient care. For instance, attend professional workshops that teach new techniques for administering treatment and care to your patients. Likewise, additional training or education in the field to advance in your role and earn additional credentials are excellent approaches to gaining more knowledge and skill proficiency.

Work with a mentor to learn new skills
Learn from more experienced professionals who have been working in the role for a while. For instance, attend a scheduled appointment with a mentor to learn additional patient care, communication or time management techniques. This approach provides a way for you to ask questions and get additional insight into the profession so you can continue to advance in your career.
Build relationships with your patients
Make an effort to connect with each of your patients and their families. Creating a strong patient-family-health provider relationship is crucial to effectively treating and caring for your patients. Additionally, since home health aides work with patients in their homes, these relationships will be highly advantageous for navigating your patients' routines and environments.
Ask for feedback from patients, families, and colleagues
Ask for feedback from the individuals you work with. This provides valuable insight into your care methods, compassion, and understanding of your patients' needs. You can use this feedback to improve different aspects of your skill set and perform successfully in your job.
Home health aide skills in the workplace
When working in your patients' homes, you can demonstrate your expertise, skills and passion for your work. Here are several ways you can showcase your unique qualifications on the job:
Show your compassion and dedication. Provide exceptional care by helping your patients with their daily functions and remaining calm and patient with their progress. Highlighting strong empathy and compassion will be a benefit to your career success, as your patients and their families will be likely to provide positive feedback about your patient care.

Showcase your organizational skills. Find effective methods for scheduling appointments and meetings and organizing patient records. Using a mobile app, for example, can be effective for keeping your schedule and appointments organized. This way, you're showing that you're motivated to stay on track and measure success in your job.

Communicate effectively. Record and report to physicians and nurses on patient health and listen actively when you receive directions or specific tasks to complete during your sessions with patients. Additionally, take the opportunity to educate and discuss health treatments, medications and other information with your patients and their families. This demonstrates your ability to communicate effectively both in writing and when speaking and listening.

Demonstrate your dedication to advancement. Stay updated on current medical standards, laws, patient care practices and other professional standards you'll need to follow in your career. Likewise, if you choose to take a class or continue your education and medical training, be sure to revise your resume to include your newly developed skill sets.
How to highlight home health aide skills
When entering your career as a home health aide, you can effectively highlight these skills on your resume, in your cover letter and during a job interview:
On a resume
Highlight your home skills on your home health aide resume right away so employers can see your qualifications when they scan your resume. Incorporate some of your strongest skills that match the job description into a professional profile or a "skills" section at the top of your resume. This way, employers will immediately see the credentials that qualify you for the job.
In a cover letter
Similar to your resume, your cover letter should incorporate key skills and qualifications that you have that match the job description. Additionally, give some examples of how your skills will help you succeed in working with patients, so employers can get a sense of how you apply your skills in the workplace.
During an interview
In a home health aide job interview, you'll encounter questions that focus on your medical skills and your soft skills. Give examples of techniques and methods you used in past roles when applying your medical knowledge. In addition to showcasing your hard skills, describe how your compassion, communication and other soft skills helped you achieve success in your past organization and with your patients.
I hope you find this article helpful.