After you finish studying to become a pharmacist, you may apply for roles that allow you to advise others on the medications and usage instructions needed to improve patients' health. The tasks you complete and the amount of interaction you have with customers can vary depending on the type of pharmacy that employs you. Carefully consider the benefits of working in different pharmacy environments to find one that fits your preferences, career goals, and skill set. In this article, we review the various types of pharmacies you can work in as you pursue a full-time pharmaceutical career.
Why is it important to know the types of pharmacies?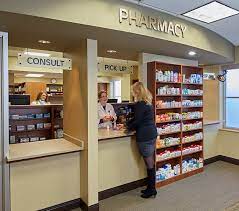 It's important to know the different types of pharmacies because it helps you better understand the environment you'd like to work in, the people you want to interact with, and the tasks you want to complete. The types of responsibilities you have typically depend on the pharmacy that employs you.
For instance, some pharmacies involve working closely with others on a daily basis, while others require you to spend time in a laboratory studying the effects certain medications have on human health. By reviewing the opportunities and tasks offered to you at each type of pharmacy, you can find one that's well-suited to your skills, abilities, and interests. From there, you can start your role at a pharmacy that you can excel in as you develop your strengths and further your career.
9 types of pharmacies
The pharmacy you choose to work at can depend on the specialty you may have studied in school or intend to pursue as a full-time career. Common types of pharmacies you can work at after graduation include:
1. Hospital pharmacy
Those who work in hospital pharmacies typically specialize in outpatient or inpatient pharmaceutical services. They may also specialize in an area of pharmacotherapy. In hospital pharmacies, you may manage medications prescribed for patients within the medical facility. This can be a great location to work in if you're interested in collaborating with other medical professionals, like physicians, nurses, and other pharmacists, to make sure you're providing accurate medications and instructions to patients.
2. Clinic pharmacy
A clinic pharmacy takes place within a medical clinic, allowing you to directly administer medications to patients who recently received a prescription from the physician during their appointment. This allows patients to conveniently and efficiently pick up their prescription right after getting the diagnosis for their condition and learning about their treatment plan. A major benefit of clinic pharmacies is you can easily meet with the physician to discuss their prescription and dosage instructions to avoid any miscommunications or mistakes between yourself, the physician, and the patient.
3. Industrial Pharmacy
As an industrial pharmacist, you may represent a specific pharmaceutical company, educating others on the features of certain medications and describing their benefits. When working in an industrial pharmacy, you can receive direct involvement in the research, packaging, production, marketing, and quality control stages of the drug creation process. From there, you can study and discover the advantages of using the company's medication and advocate for health benefits consumers can receive when purchasing these products.
4. Retail pharmacy
These types of pharmacies are typically the most common, as you can often find them in the pharmacy department of drug, grocery or retail stores. When working at a retail pharmacy, you may regularly interact with customers who pick up prescriptions or ask to learn more about the effects of certain medications, making it a great option if you'd like to develop your customer service abilities.
The daily tasks within a retail pharmacy normally consist of preparing prescriptions and educating others on taking vitamins, supplements or over-the-counter medications. Since retail pharmacies exist in a wide variety of locations, you typically have a strong chance of finding and getting a job at one.
5. Home care pharmacy
When working in a home care pharmacy, you can care for people suffering from a medical condition that doesn't allow them to leave their homes, like critically ill or elderly patients. You can work closely with physicians and nurses to understand which medications they prescribe to patients. Once you gather the necessary medications and dosages, you may travel to the patients' homes to give them their prescriptions and educate the individual or their family on the effects of the medication, dosage amounts and instructions for taking it.
Since most employers prefer their home care pharmacists to take their time with each customer, they typically see the same patients regularly and work with them for long periods at a time. This makes it a great option if you're compassionate and prefer to build lasting relationships and connections with customers.
6. Assisted living pharmacy
If you have an interest in geriatric health conditions, you may excel in an assisted living pharmacy. When working here, you can serve senior citizens by providing their prescribed medications and carefully describing their dosages or instructions. Some patients you work with may live independently in assisted living units, which can require you to interact with them daily. Others can involve communicating with the patient's caregivers or family members if they require more assistance to care for themselves and their health.
7. Mail-order pharmacy
This type of pharmacy can be the ideal choice for pharmacists who prefer to work independently, as you have little to no direct contact with customers. In mail-order pharmacies, employees receive the orders for prescriptions sent by clinics, hospitals, and other facilities. They typically read these orders and locate the medication and its dosage amount for shipment. This can allow you to follow a regular and ongoing schedule, which can be ideal if you prefer a predictable and structured daily routine.
8. Regulatory pharmacy
Also considered a government pharmacy, the regulatory pharmacy involves making the rules and regulations listed on medications in order to safely consume them. If you're interested in testing different medications to understand how to regulate them to keep patients safe, this could be a great pharmacy for you. Many employees working in regulatory pharmacy settings often work for public health organizations and regulatory health boards.
9. Research pharmacy
Professionals who work at a research pharmacy spend most of their time in the lab developing new medications for public use. They often experiment on new products to see how they may affect humans and determine which ingredients provide the most positive, lasting outcomes. Many research pharmacists regularly test these products to understand their potential negative interactions with other products or medications and determine the side effects they can have on people. Consider working in this environment if you enjoy conducting experiments and researching products that could benefit patients.
I hope ou find this article helpful.