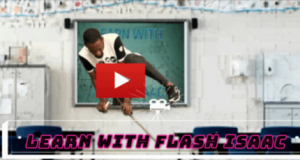 Learn English, Mathematics, Sciences, And Social Science Subjects For Free. Follow FlashLearners YouTube For Videos Notifications.
Latest Videos
Choose Subjects
Choose Exams
Subscribe to Flashlearners Youtube Channel to Get Notifications When New Videos are released. Subscription is Absolutely Free. Simply Subscribe and Start Learning.
Search Topics On YouTube by Adding Flashlearners To your Search. E.g Flashlearners Simultaneous Equations, Flashlearners Jamb Tutorials, Flashlearners Waec App Learning, etc.
Thanks for Watching Flashlearners Videos by FlashIsaac. Flashlearners App and Flashlearners Videos Download are also available. Feel free to share this good news with others and don't fail to let me know how you feel by commenting below.