If you work as a teacher, spending your summer working outside of the school system may help you enhance your skills and increase your knowledge. With access to technology, it's possible to get an online job that allows you to work wherever you want and offers a flexible schedule. Learning more about the online jobs available to teachers during the summer can help you determine which is best for your particular skill set and interests.
In this article, we discuss the benefits of online jobs for teachers in the summer and share eight online summer jobs you can consider.
Benefits of summertime online jobs for teachers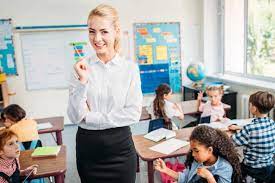 Most teachers get a few months off from teaching every summer to prepare for a new school year and spend time with their families. Pursuing an online job during this time may be helpful for teachers who want to make a little extra money but desire a less rigorous work schedule than what they experience during a typical school year. Here are some of the primary benefits of choosing to work online for the summer as a teacher:
Possibility of finding new passions: Having a job during the summer can let you explore other interests you enjoy but haven't acted on during the school year. You might find you enjoy the skills you use during your summer job and decide to continue to work part-time when the school year begins.

Potential to earn an additional income: An online job can provide additional income during the summer. You can use this income for a vacation, put it in your savings or retirement fund or use it to improve your classroom.

Ability to learn new skills: Summer jobs are a great chance to learn new skills. Since you likely already have an array of skills as a teacher, like public speaking, listening and multitasking, you can begin to develop proficiencies in areas outside a classroom setting.

Ability to stay busy: If you enjoy keeping busy during your time off, having an online job can ensure you always have tasks to do. It can help you stay accountable while earning an income.

Chance to explore other careers: During the summer, you have additional time to explore different careers through various online jobs. You can explore a wide variety of career fields without making a full-time commitment, allowing you an opportunity to determine if you're ready to make a career change.

Opportunity to keep a consistent schedule: Having an online summer job can help you optimize your schedule and routine so you can become more prepared for when it's time to begin the new school year. Planning your outline out each day can help you stay productive and accomplish more household tasks.
Online jobs for teachers in the summer
Teachers can choose from various jobs to pursue during the summer months. If you're interested in working from home, here's a list of eight online jobs to consider as a teacher. For the most up-to-date salary information from Indeed, click the salary links.
1. Virtual receptionist
National average salary: $15.48 per hour
Primary duties: Virtual receptionists represent multiple businesses at once and answer calls using their computers. Their typical daily responsibilities include rerouting and directing calls, responding to callers' questions, and noting their reason for calling. They might also schedule appointments for other business professionals, deliver messages, send emails to customers or clients and relay messages.
2. Transcriptionist
National average salary: $18.89 per hour
Primary duties: A transcriptionist is a professional who listens to recorded audio or video content and types everything they hear so that people can read the audio in written format. Different transcription jobs are available, such as general, business, legal, audio and online transcription. Responsibilities of transcriptions include completing transcriptions quickly and adhering to confidentiality guidelines set by employers. The audio files a transcriptionist may listen to include focus groups for market research, virtual meetings, interviews or phone calls.
3. Blogger
National average salary: $19.59 per hour
Primary duties: A blogger is a professional who writes and edits content for both professional and personal blogs. Popular blog topics include travel, food, careers, weddings, photography, beauty and cars. Some daily responsibilities include formulating new ideas for their posts, researching different topics to write more accurate content, writing and editing blog posts and posting the work by an agreed-upon deadline. Bloggers may also promote blog posts using advertisements and educate others about their interests.
4. Online ESL instructor
National average salary: $21.98 per hour
Primary duties: Online ESL instructors teach the English language to students of all ages living in other countries. Educators teaching younger children may focus their lessons and curriculum on basic English, such as nouns and verbs. For older students who already speak English, an online ESL instructor might focus on improving their existing skills by more interactive virtual lessons. Some responsibilities of an ESL instructor include planning and delivering lessons and helping students improve their reading, speaking and listening.
5. Content writer
National average salary: $22.59 per hour
Primary duties: A content writer is a professional who creates content for viewers on various platforms such as social media, blogs and websites. This content can be in the form of log posts on websites or it might consist of posting pictures and captions for brands on social media. Other responsibilities include researching topics related to the industry you're creating content for, recommending new topics to clients based on their needs, measuring the web traffic of the content you create and monitoring engagement on social networks.
6. Online tutor
National average salary: $23.94 per hour
Primary duties: An online tutor is a professional who works with students of varying ages to help them solve problems and review educational materials. An online tutor might assist a student's learning process during a virtual tutoring session through visual presentations, discussions, practice quizzes, and various online tools and resources. The typical duties of an online tutor include teaching and answering questions related to the content, tailoring the curriculum to each student's specific needs, replying to student messages, assessing students' progress, and grading student work for later review.
7. Proofreader
National average salary: $24 95 per hour
Primary duties: A proofreader is a professional who reads and edits various written content, such as articles and manuscripts. Typical job duties include correcting grammar and punctuation, consulting with other proofreaders, meeting deadlines and performing basic research related to an assignment. Proofreaders might also check the formatting of written documents to ensure that they include all elements and provide the required emphasis.
8. Freelance writer
National average salary: $25.39 per hour
Primary duties: A freelance writer is a professional who writes various pieces for their clients, such as short stories, blog posts, journal articles and personal essays. Their responsibilities might include researching and gathering information on topics specific to what they are working on, writing, editing and proofreading their work and adhering to strict deadlines agreed upon by the freelancer and the client. Freelance writers can be self-employed or work for a company.
I hope you find this article helpful.