Biologists have many potential positions related to the oil industry. The government heavily regulates the industry and the expertise of biologists in the study of wildlife and their habitats helps the industry comply with those regulations. If you are considering a career in biology, the oil industry is a sector where your work is valued and can help protect the environment.
In this article, we discuss what a biology degree is, what skills you learn with a biology degree and how those skills are put to use in the oil industry.
What is a biology degree?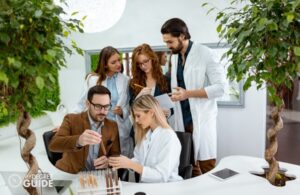 A four-year biology bachelor's degree focuses on the study of living organisms and their habitats. Students learn how to conduct species surveys and habitat evaluations. Depending on the student's specializations, the coursework can include human anatomy, molecular biology, marine biology, ecology and evolutionary biology and biochemistry classes.
What skills do biology degree graduates have?
Some of the skills a successful biology student develops include:
Laboratory and fieldwork investigations: A biologist learns how to conduct fieldwork, collecting samples and data from the environment and examining it in a laboratory. Fieldwork training also involves learning how to observe wildlife and marine life to conduct evaluations and species surveys.

Communication skills: Biology students learn how to record the data they collect and write reports or studies. Courses teach students how to write clear reports and effective ways to deliver findings through public speaking.

Statistical analysis: Biologists often work with data, analyzing samples collected or recorded data based on observations. Statistical analysis helps the biologist recognize significant trends such as a decline in water quality or estimating a species population in a habitat.

Technical knowledge: Biologists have various equipment they use to conduct fieldwork and a biology degree teaches students how to use it. Some examples of the equipment biologists become well-versed in using include microscopes, volumetric flasks, and hot plates.
What are the jobs in the oil industry you can get with a biology degree?
Biologists have many roles within the oil industry, primarily involving compliance with environmental regulations. The oil industry hires biologists when planning projects such as a pipeline to conduct surveys and to help plan mitigation for any potential adverse effects on habitats.
Some biologists work to monitor ongoing operations within the oil industry to assess any impact on wildlife, water and wetlands areas. Biologists work in nearly every aspect of the industry, including oil platforms and how the platform's operation affects marine life.
Biologists sometimes work directly for the oil industry as compliance officers and work for federal and state regulatory agencies conducting inspections. Consulting firms are another potential option for biologists who provide services on a contract basis.
8 biology jobs in the oil industry
Here is a list of eight potential career paths in the oil industry for someone with a biology degree:
1. Biology Science Technician
National average salary: $50,719 per year
Primary duties: A biology scientist technician sometimes specializes in wetlands and habitats, helping to identify wetlands that deserve protection or need mitigation due to development.
The biologist might work for a private company or state and federal environmental authorities. The biologist conducts species surveys, creates environmental reports, and might create plans to protect wetlands or suggestions to lessen the development impact on wetlands.
2. Hazmat Technician
National average salary: $52,750 per year
Primary duties: A hazmat technician might ensure the proper disposal of dangerous chemicals and materials. Another potential role is planning the cleanup of areas contaminated with dangerous substances.
The hazmat technician follows strict protocols in the cleanup and disposal of any hazardous materials and also is responsible for the safety of those working with the dangerous materials.
3. Protected species observer
National average salary: $65,254 per year
Primary duties: Protected species observers primarily work with oil rigs or drillships. They observe marine life for any potentially harmful impact during seismic operations. Protected species observers might work directly for an oil or gas company, or they could work for a company as a consultant brought in during operations where there is a risk to protected species.
4. Senior Wildlife Biologist
National average salary: $69,072 per year
Primary duties: A senior wildlife biologist focuses on animal habitats and the impact of oil and gas projects on that habitat. A senior wildlife biologist might create work plans for oil and gas projects or contribute to a design that considers animal habitats.
For example, the biologist might develop a conservation plan that addresses a local eagle population, attempting to minimize the potential negative impact on their habitat. The senior wildlife biologist also ensures that companies follow federal and state regulations, acting as a compliance officer.
5. Environmental Manager
National average salary: $79,441 per year
Primary duties: Environmental managers act as compliance officers for oil and gas companies. An environmental manager knows federal and state environmental laws and ensures that the oil and gas companies' projects are following them. They write reports, make recommendations and generally work to ensure companies follow the law.
6. Environmental Scientist
National average salary: $64,916 per year
Primary duties: Environmental scientists conduct environmental impact studies related to planning oil and gas line projects. Environmental scientists might suggest alternatives if a project might cause a significant adverse impact on a habitat or wildlife species. An environmental scientist's work involves a level of fieldwork, gathering on-site data and office work, writing reports, and making recommendations.
7. Project biologist
National average salary: $80,651 per year
Primary duties: A project biologist conducts inspections of environmental areas during projects such as oil pipelines. A project biologist collects data from wetlands, ecological areas and construction areas.
The project biologist writes reports and issues permits related to the work and its impact on the environment. The project biologist might work for an oil and gas company seeking to comply with federal environmental regulations, or they might work for the federal government.
8. On-call biologist
National average salary: $80,651 per year
Primary duties: An on-call biologist assists with enforcement measures on an assignment basis. The on-call biologist works for a company that provides services on a consultancy basis, usually to federal or state agencies.
An on-call biologist might conduct species surveys, vegetation assessments and avian surveys and evaluate habitats and environments. The on-call biologist writes reports and assessments and participates in permitting and compliance inspections.
I hope you find this article helpful.