Many people who enjoy nature and working with animals choose to get degrees in wildlife management. This field contains many jobs that involve working with wildlife and protecting the natural environment. If you're interested in this industry and pursuing this degree, you can choose from a variety of job options after you graduate. In this article, we explain several jobs you can get with a wildlife management degree.
8 wildlife management degree jobs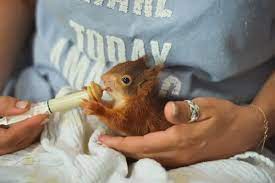 Here's a list of jobs you can get with a wildlife management degree:
1. Veterinary technician
National average salary: $30,297 per year
Primary duties: Veterinary technicians provide medical care to animals at veterinary clinics. They often perform tasks like administering medication, completing diagnostic tests, recording medical information and preparing animals for procedures. They also assist veterinarians in performing medical procedures. Additionally, veterinary technicians may educate pet owners on animal health and how to administer medication.
2. Zookeeper
National average salary: $32,483 per year
Primary duties: Zookeepers are wildlife professionals who provide care to zoo animals. They ensure the animals receive the right food and medical care. They may train animals, and they often make decisions about what items to include in their enclosures. These professionals can specialize in a certain type of animal or provide care to the entire zoo. Zookeepers can also answer questions from zoo visitors and give presentations.
3. Park ranger
National average salary: $35,819 per year
Primary duties: Park rangers are responsible for protecting visitors and wildlife at state and national parks. They use their knowledge of wildlife to educate visitors. Sometimes, they work as law enforcement officers in parks.
4. Wildlife rehabilitator
National average salary: $45,150 per year
Primary duties: Wildlife rehabilitators care for wild animals so they can return to their natural habitats. They assess animals to find injuries or illnesses, often collaborating with veterinarians to provide care. Once an animal is ready to return to the wild, wildlife rehabilitators slowly reintroduce them and monitor their progress. These professionals usually work in zoos or animal rehabilitation centers.
5. Forester
National average salary: $59,867 per year
Primary duties: Foresters are responsible for taking actions to conserve and rehabilitate forest land. They often plant new trees and other plant life, and they work to prevent forest fires. They also inspect wildlife habitats and preserve them. Foresters can work for government agencies, and many also work for timber companies.
6. Environmental scientist
National average salary: $62,495 per year
Primary duties: Environmental scientists use their skills and knowledge to protect the environment. They often advise people who make policies related to the natural environment. They also collect environmental samples and analyze them in laboratories, and they may inspect natural areas to enforce regulations. These professionals may specialize in a certain area of environmental science, including wildlife preservation.
7. Wildlife biologist
National average salary: $69,213 per year
Primary duties: Wildlife biologists study animals and their ecosystems. They use their knowledge of biology to help preserve wildlife. Often, these professionals travel to a variety of locations to observe animals, and they may work collaboratively with other scientists and wildlife professionals. They collect data and conduct experiments to draw conclusions, and they often present their results to policymakers.
8. Natural resource technician
National average salary: $73,482 per year
Primary duties: Natural resource technicians are responsible for working with the government to take measures to preserve wildlife and natural environments. They can also be responsible for forest management and monitoring the quality of natural resources in the area. They often perform inspections in natural ecosystems.
Tips for getting a job in wildlife
Here are some tips you can use to find a job with a wildlife management degree:
Take volunteer positions
One tip for getting a wildlife job is to gain experience through volunteering. You can find a variety of volunteer positions that allow you to become familiar with animals and nature. You might be able to work under the supervision of professionals in the job you want.
Become a member of a professional organization
You can also join professional wildlife associations to build a professional network. These organizations often host events that allow you to meet other professionals and learn from experts. They can also host professional development opportunities to help you advance your career.
Attend industry events
Attending industry events is another great way to learn more about your field and meet other wildlife professionals. Events like seminars and conferences can give you the opportunity to learn from experienced professionals in your field. You can also connect with other individuals at these events to build your network.
Search for government jobs
Another tip for finding jobs in wildlife is to use government job boards. Many institutions that employ wildlife professionals are connected to the government, so you might find jobs that interest you on government job boards. You can submit your applications to these jobs online.
Create a resume
Creating a resume is a great way to showcase your qualifications as a wildlife professional. Your resume can include:
Your name and contact information: You can list your name and contact information at the top of your resume so potential employers know how to connect with you.

Professional summary statement: Your professional summary statement can highlight the top qualifications that make you equipped to work in the wildlife field. You can also describe what types of jobs you're looking for.

Work history: It's important to describe your professional experience, which can include internships and volunteer work. This can show that you have tangible experience working in the wildlife field.

Education: Be sure to add your wildlife management degree in the education section of your resume.

Certifications: If you have any certifications related to wildlife management, you can add these in another section.

Skills: It's also important to include your skills on your resume. You can create a bulleted list that contains any skills related to wildlife management.
I hope you find this article helpful.