The economy of Jefferson City, the capital of Missouri, largely depends on employers in the health care, manufacturing, tourism, retail, education, and government sectors. Some of the best-paying jobs in the city exist within these fields. If you're interested in earning a good living in Jefferson City, Missouri, it's important to know what professions to consider. In this article, we provide in-depth information about some of the highest-paying jobs in Missouri's capital city, including salary information and duties, and look at numerous other well-paying job titles in the city.
15 highest-paying jobs in Jefferson City, Missouri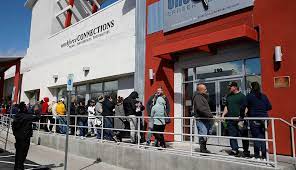 These are the 15 highest-paying job titles in Jefferson City, Missouri. For the most up-to-date salaries, please click on the links below:
1. Software developer
Average salary: $93,940 per year
Primary duties: A software developer is a technology professional who helps to create applications for computers or mobile devices. They commonly work in teams with other developers. Together, they determine the needs of a client or prospective user and create code for the various components of a program that can meet those needs. They also test the software they create to ensure that it meets specifications and later maintain the software by correcting errors. In addition, they may create documentation for users or other developers for troubleshooting or future reference.
2. Civil engineer
Average salary: $94,361 per year
Primary duties: A civil engineer is a professional who devises, designs and supervises infrastructure and public construction projects, such as roads, bridges, water supply and sewage treatment systems, tunnels and buildings. The job involves significant planning, including an analysis of land to understand construction requirements, estimations of costs and predictions of potential hazards and obstacles. They also strive to comply with applicable laws and regulations, minimize the environmental impact of projects and complete projects on time and within budget.
3. Financial analyst
Average salary: $96,410 per year
Primary duties: A financial analyst is a finance professional who helps guide the financial activities of an organization or individual via the analysis of current and historical economic data. They assess investment vehicles such as stocks and bonds and make recommendations based on their findings. They also track trends in business and the economy, analyze the financial health of the entities they work with and create reports to convey information to their clients.
4. Industrial production manager
Average salary: $96,910 per year
Primary duties: An industrial production manager is responsible for the operations and efficiency of a manufacturing organization or an area thereof. Their primary duties include determining ways to optimize the organization's resources, ensuring timely production and making sure that the production team meets its goals while staying within budget. Additional duties may include analyzing data to measure performance, reporting production data to senior management, evaluating the condition of production machinery, devising ways to improve productivity and efficiency and addressing production problems. They also work closely with managers from other departments to identify and prevent bottlenecks and other slowdowns.
5. Nurse practitioner
Average salary: $100,590 per year
Primary duties: A nurse practitioner is a medical professional who carries out many of the same duties as a medical doctor. They're a type of advanced practice registered nurse, meaning they've received postgraduate education and training in their field. They perform a range of duties relating to patient diagnosis and treatment, including taking medical histories, performing physical examinations, accessing and updating medical records, ordering diagnostic tests and analyzing their results and determining treatment options. Additional duties include educating patients about their health and working with other medical professionals to optimize care plans.
6. Lawyer
Average salary: $104,980 per year
Primary duties: A lawyer is a legal professional who represents individuals or organizations in legal disputes or advises them on matters relating to law. There are various types of lawyers, with some specializing in particular fields of law or working with specific clients. Some of the common duties across these types include educating clients about laws and regulations, presenting arguments on behalf of clients in court or meetings, preparing and filing documents, researching legal topics of interest to the client or relevant to their legal issues and recommending legal actions to clients.
7. Transportation, storage and distribution Manager
Average salary: $105,290 per year
Primary duties: A transportation, storage and distribution manager supervises activities and employees associated with an organization's logistics. The primary duties include developing safety and security protocols, ensuring maintenance of vehicles and facilities and assigning duties related to receiving, storing and shipping. The job also entails ensuring compliance with applicable laws and regulations and working with other departments to improve operational efficiency.
8. Computer and information systems manager
Average salary: $105,830 per year
Primary duties: A computer and information systems manager is in charge of an organization's information technology department. Also commonly known as IT managers, they determine the organization's technology needs, set its IT goals and oversee its activities relating to computing, computer networks and IT infrastructure. Additional duties include securing the organization's network and its electronic files, recommending upgrades to the organization's hardware and software and directing the installation of new computer components.
9. Financial manager
Average salary: $110,010 per year
Primary duties: A financial manager is a finance professional who oversees an organization's financial health. Some of their most important responsibilities are developing the organization's long-term financial goals, analyzing financial data and recommending strategies for increasing revenue and profits. Other responsibilities include creating financial reports and forecasts, ensuring compliance with finance-related regulations, determining ways to reduce expenditures and overseeing the work of other finance professionals in the organization.
10. Dentist
Average salary: $110,340 per year
Primary duties: A dentist is a medical professional who diagnoses and treats conditions of the teeth and gums. They examine patients' mouths for signs of damage, decay or disease. On finding evidence of oral care issues, they may perform operations such as cleaning teeth, removing teeth, filling cavities or removing infected pulp. In addition to these duties, dentists also educate their patients on aspects of proper oral care, such as brushing and flossing.
11. Pharmacist
Average salary: $130,730 per year
Primary duties: A pharmacist is a health care professional who fills prescriptions and educates patients on the proper use of medications. They often receive prescriptions from doctors electronically, by phone or by fax, or else the patients themselves submit their prescription slips. They may discuss potential contraindications and side effects of the prescription drug and provide instructions concerning dosage and timing with patients. Additional duties of the job include conducting health screenings and administering vaccinations.
12. Psychologist
Average salary: $133,640 per year
Primary duties: A psychologist is a mental health care professional who treats patients with cognitive, emotional or behavioral problems. Clinical, counseling and school psychologists, in particular, have high earning potential in Jefferson City. Some of the common responsibilities across these specialties include observing and speaking with patients, diagnosing their problems, helping them to understand their problems and using various approaches to treat them.
13. Sales manager
Average salary: $135,420 per year
Primary duties: A sales manager is a business professional who manages a company's sales team. Their primary duties include examining sales statistics and determining the team's objectives and sales goals. In support of or in addition to these duties, they analyze customer feedback or preferences to guide sales efforts, devise pricing plans, develop training programs for sales team members and assign roles and execute strategies to obtain leads and conversions.
14. Chief executive officer
Average salary: $172,350 per year
Primary duties: Commonly known as a CEO, a chief executive officer is responsible for the direction and overall success of a company. As the highest-ranking member of the organization, they oversee all of its operations, execute policies and strategies and make decisions to help realize the company's goals. They also strive to achieve the results desired by the board of directors, a group of members who represent shareholders.
15. Physician
Average salary: $206,540 per year
Primary duties: A physician is a medical practitioner who examines, diagnoses and treats patients, primarily for physical conditions. There are various types of physicians, as many in the field specialize in particular areas, such as pediatrics, family medicine, emergency medicine, internal medicine, cardiology, ophthalmology and dermatology. Across specialties, some of the common duties are taking patient histories, ordering and interpreting diagnostic tests, educating patients about their health, recommending treatments and prescribing medications. Many physicians also perform surgeries.
43 other high-paying jobs in Jefferson City, MO
The following are 43 more job titles that offer average annual salaries above $60,000 in Jefferson City:
Web developer: $60,007 per year

Technical education teacher: $60,730 per year

Industrial machinery mechanic: $61,677 per year

Paralegal: $61,741 per year

Occupational health and safety specialist: $61,810 per year

Sales representative: $62,050 per year

Brickmason: $63,290 per year

Registered nurse: $63,560 per year

Installation, maintenance, and repair worker: $64,380 per year

Telecommunications equipment installer and repairer: $67,620 per year

Construction and extraction supervisor: $68,200 per year

Financial services sales agent: $68,230 per year

Non-retail sales supervisor: $68,340 per year

Public relations specialist: $69,300 per year

Mechanic supervisor: $68,947 per year

Sheet metal worker: $69,331 per year

Electrical power-line installer and repairer: $69,690 per year

Loan officer: $71,340 per year

Cost estimator: $71,490 per year

Construction manager: $73,040 per year

Conservation scientist: $74,090 per year

Database administrator: $74,610 per year

Occupational therapist: $76,660 per year

Speech-language pathologist: $77,110 per year

Dental hygienist: $77,733 per year

Computer programmer: $77,790 per year

Project management specialist: $77,790 per year

Management analyst: $78,670 per year

Industrial engineer: $79,890 per year

Information security analyst: $80,170 per year

Computer network architect: $82,490 per year

Accountant: $82,950 per year

Logistician: $84,310 per year

Physical therapist: $84,500 per year

Human resources manager: $85,190 per year

Personal service manager: $85,900 per year

Mechanical engineer: $85,910 per year

Veterinarian: $86,646 per year

Computer systems analyst: $87,260 per year

Operations manager: $88,980 per year

Personal financial adviser: $89,420 per year

Education administrator: $91,440 per year

Medical manager: $93,620 per year
30 other jobs in Jefferson City, MO
The following jobs offer average annual salaries under $60,000 but also pay well:
Patrol officer: $48,758 per year

Insurance sales agent: $49,430 per year

Civil drafter: $49,530 per year

Construction laborer: $49,750 per year

Claims adjuster: $49,903 per year

Production clerk: $50,420 per year

Operating engineer: $50,500 per year

Telecommunications line installer and repairer: $50,590 per year

Guidance counselor: $51,069 per year

Protective service supervisor: $51,090 per year

Event planner: $51,310 per year

Market research analyst: $51,670 per year

Concrete finisher: $52,900 per year

Mental health and substance abuse social worker: $53,002 per year

Chef: $53,850 per year

Dietitian: $53,860 per year

Postal service mail carrier: $54,250 per year

Transportation and material moving supervisor: $54,384 per year

Training and development specialist: $54,840 per year

Administrative support supervisor: $54,870 per year

Electrician: $54,990 per year

Mobile heavy equipment mechanic: $55,280 per year

Environmental engineer: $55,307 per year

Computer user support specialist: $55,670 per year

Plumber: $56,090 per year

Human resources specialist: $56,980 per year

Real estate sales agent: $57,231 per year

Social and community service manager: $58,120 per year

Service sales representative: $58,360 per year

Production supervisor: $59,480 per year
I hope you find this article helpful.