Content marketing has emerged in recent years as a popular way for brands to approach their target audiences. Brands can partner with influencers, or people who have large followings on various forms of social media, to gain access to their audience. If you're interested in content marketing partnerships between brands and influencers, you can learn about brand ambassadors. In this article, we discuss what a brand ambassador does and the pros and cons of being an ambassador.
What does a brand ambassador do?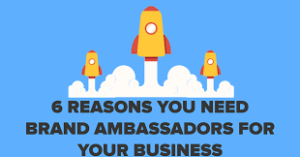 A brand ambassador helps brands connect with their target audience. Brand ambassadors usually have a social media following predating their ambassadorship. Brands reach out to popular influencers to contract them to use the company's products on social media sites. The intention is to market the products to the ambassador's fans, so they buy the product after seeing it on their social media feed. A brand pays the ambassador for advertising products in their posts or videos following the stipulations laid out by the brand, such as a required minimum number of new posts per month.
A brand ambassador typically has the following criteria:
A similar audience to the brand

A social media aesthetic that complements the brand

Similar values and goals as the brand

A large following on social media

No affiliations with the brand's competitors
Pros of being a brand ambassador
Being a brand ambassador can feel like an honor because it means your following is big enough to attract attention from marketers. Here are eight other reasons to become a brand ambassador:
1. Product discounts
A key aspect of becoming a brand ambassador is showing the products on your various social media channels, and to do so, you need products to display. The brand can give you discounts to encourage you to buy and use their products. Brand ambassadors can also receive codes to share with their followers to encourage them to buy the brand. These codes can increase traffic on your channels and can have additional benefits like:
Compensating you for every referral

Increasing discounts

Showing your value to the brand
2. Free swag
Free swag is merchandise the brand sends ambassadors at no cost. Brands may send their ambassadors free swag, expecting them to showcase it on their channels. In this circumstance, the exposure to the brand ambassador's audience is payment for the merchandise. Swag is a big perk if you're a fan of the brand and interested in acquiring its products. In addition to the brand's products, you may receive branded items to wear or display that aren't the company's typical merchandise, like:
T-shirts

Mugs

Hats

Tote bags

Buttons

Discontinued items
3. Special offers
Brands can offer special offers to their ambassadors to incentivize them to promote the brand. For instance, a company might offer a free vacation to the ambassador with the most video views. Brands might also give ambassadors special discounts for their birthdays or other holidays.
4. Events
Brands can put on special events for their ambassadors that encourage them to attend, take photos or videos, and share their experiences on their social media channels. Events can be exciting networking opportunities for brand ambassadors, and they can also be opportunities to have fun with people with similar interests. These events can give ambassadors branded content that can last for weeks to fulfill their job requirements easily.
5. Features
Becoming a brand ambassador can increase the influence of the ambassador and the brand. Brands can feature ambassadors on their social media platforms or television and print advertisements, increasing the brand ambassador's popularity. The company may choose an ambassador who has successfully promoted the brand or randomly select an ambassador to feature.
6. Sponsorships
Brand ambassadorships can lead to more lucrative deals with the brand, like sponsorships. Sponsorships are like brand ambassadorships, except they can also include higher monetary compensation and more prominent placement to promote the brand. For example, athletes often have brand sponsors, and they appear in their commercials or on their packaging to show the athlete's endorsement of the product. A company may also sponsor an event or charity that works with the ambassador.
7. Exclusive products
A brand may develop exclusive products for its brand ambassadors or let them experience products before releasing them to the public. Having the chance to use these products first can be exciting, especially if the products are innovative. Exclusive products can promote the image of an ambassador having exclusive access or a close relationship with the brand, which can increase the ambassador's status and credibility among followers.
8. Product development
If an ambassador works closely with a brand, they may develop a strong relationship where the brand asks for feedback or wants to collaborate on a product with the ambassador. Examples of this would be when brand ambassadors have products named after themselves or have versions of the product they help design. Involving the brand ambassador in product development can help strengthen the relationship between the brand and the ambassador because it makes the ambassador feel like a valued member of the business.
Cons of being a brand ambassador
Here is a list of five cons you might encounter as a brand ambassador:
1. Limits opportunities
Being a brand ambassador for a brand can limit the opportunities to partner with other brands. Brands sometimes require exclusivity in their contracts to prevent their ambassadors from promoting competing brands. However, many brand ambassadors work with various brands from different industries, so ambassadors can still work with an array of products. For example, one person can work with one brand that makes coffee and another that sells makeup.
2. Risks your reputation
Brand ambassadors recommend products, essentially saying they approve of the company and its products. This can have negative consequences if the brand becomes involved in a scandal or turns out to have unethical practices. However, brand ambassadors can research the brand before they agree to work together to ensure that their production, marketing and business practices align with the ambassador's ethics. Brand ambassadors can avoid unwanted partnerships by being thorough in this research and transparent about their ethics with their followers.
3. Seems inauthentic
Brand ambassadors are often promoting products on their social media channels, which some followers may not like. If an influencer is famous for talking about something other than new products, their audience may become tired of all the branded content. However, a brand ambassador can prioritize a balance of branded content and authentic content that initially attracted their followers, which can protect the ambassador's image and keep their followers happy. Also, audiences may not notice an abundance of branded content if it's exciting and aligns with the ambassador's usual content.
4. Offers underwhelming perks
Sometimes brands may promise more perks than they deliver, which can frustrate the ambassador. Avoiding unmet expectations is another reason it's essential to research the brand before becoming an ambassador. Ambassadors can have more satisfying relationships with brands if they're actual users and appreciators of the brand since that record of trust can ensure the company follows through on its promises.
5. Influences your content
To protect their brand, companies may ask for control over the content the ambassador produces, which can have undue influence over their ability to maintain their brand or promote their ideals. Every brand ambassador relationship may require some compromise, but an ambassador might have a more satisfying relationship with a brand that shares their ideals.
I hope you find this article helpful.