People often need help with organizing their finances and having a safe, accessible place to store their money. Bank tellers are finance professionals who oversee these transactions, answer questions and provide quality customer service. If you're interested in becoming a bank teller, it's important to understand what the role requires. In this article, we detail a bank teller's responsibilities and qualifications and discuss some advantages and disadvantages of the position.
What does a bank teller do?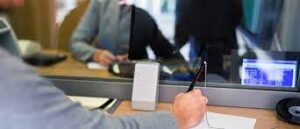 A bank teller helps patrons complete their account transactions and acts as a representative of a bank's core values. This involves answering questions, withdrawing and depositing money into customer accounts and helping customers sign up for debit and credit cards. Some other bank teller responsibilities include:
Greeting customers and asking them how you can help them

Presenting a professional image by maintaining an organized kiosk

Cashing checks and helping customers with cashier's checks and money orders

Signing customers up for checking and savings accounts

Encouraging customers to sign up for products and services, like a credit card

Answering phone calls and emails from customers or businesses

Balancing the cash drawer and keeping accurate records of daily transactions

Staying updated on international exchange rates to help customers exchange foreign currency
Qualifications to be a bank teller
If you're interested in being a bank teller, here are some common qualifications:
Education
You can get a position as a bank teller with a high school diploma or GED. However, if you want to advance to higher-level positions within a bank, consider pursuing a bachelor's degree in business, economics or finance. These courses can teach you the basics of accounting, help you understand the market you work in and show you how to assess the risk of a loan. An associate degree in relevant fields may be a faster alternative to a bachelor's degree since most associate programs take about two years to complete.
Experience
Hiring managers might look for candidates who have experience interacting with customers, paying close attention to detail, making decisions in a fast-paced setting and using mathematics in the workplace. Successful bank tellers often have experience honing their communication skills to increase customer satisfaction and keep them patronizing the same bank. Ideal candidates might also have experience handling money, using accounting software and recording data on spreadsheets.
Skills
These are some useful skills bank tellers can develop through experience and on-the-job training:
Communication: The ability to problem solve, resolve conflicts and actively listen can help a bank teller increase sales and collaborate with their team. Tellers who want to strengthen their communication skills outside the workplace might consider volunteering or joining a club.

Technology: Bank tellers often have strong typing skills and the ability to record data efficiently. Many banks connect their cash drawers to a computer, so tellers become proficient with logging transactions through a bank's private software.

Sales: Part of the bank teller position involves advertising a bank's products and services, such as certificates of deposit and loans. Bank tellers who want to improve their selling skills often attend company-funded training seminars or study in their free time.

Cash handling: Bank tellers may handle large cash transactions quickly and accurately. This means understanding a bank's cash handling policies, balancing ledgers and helping customers prepare their taxes.
4 pros of being a bank teller
Here are four positive aspects of working as a bank teller:
1. Entry-level position
Many banks train their bank tellers for around a month, which makes the position more approachable to entry-level candidates. Your direct manager or senior bank teller often conducts this training, so they're also easily available for questions long after you finish training. Because most towns and cities also have a bank nearby, entry-level candidates might apply in person.
2. Salary and benefits
As a bank teller, you get a competitive salary. You also might receive discounts at local businesses, stock options, tuition assistance and special financing on loans and mortgages. Employee benefits can include private health care, dental and vision insurance, a 401(k) retirement plan, paid holidays and paid vacations.
3. Transferable skills
Many of the skills you learn as a bank teller could be useful if you decide to switch roles. For example, any money handling, data entry and selling skills you learn could help you get a position as a personal banker or office manager. What you learn about credit reports or mortgage financing may also help you organize your finances.
4. Consistent schedule
Since banks have regular business hours, you can expect to have nights and most weekends off work. If you want even more control over your work hours, consider working at a bank inside a retail store or grocer. These banks might offer night and weekend shifts or part-time positions.
4 cons of being a bank teller
Here are four cons of being a bank teller:
1. Unpredictable workflow
Depending on the bank you work for, you might experience days with very few customers. Some bank tellers use these days to work on lower-priority projects and creative ideas to improve workflow by collaborating with other tellers. Conversely, some days can be quite busy, which means you have to pay closer attention to details and ensure you record every transaction accurately.
2. Handling important transactions
A primary responsibility for bank tellers is limiting transaction errors. Even a minor error could be the difference between someone's account holding a positive amount or overdrafting. Accounts that contain large amounts of money leave even fewer opportunities for error. So it's important to remember your training, ask your managers questions if you suspect you made an error and consistently study money-handling protocol.
3. Quotas
Bank tellers often have a quota they're encouraged to reach, either by referring customers to a bank's services or convincing potential customers to sign up. Tellers have to balance performing selling strategies while helping existing customers with their financial needs in a quick, friendly manner. While some customers may decline, there's still an opportunity to market to customers at different stages of their buyer journeys and understand what motivates people to make a purchase.
4. Conflict resolution
Sometimes, people may have issues at the bank you work for, and you might act as a representative for the bank. In this situation, it's the teller's responsibility to identify the challenge being faced by the customer, empathize with their situation, apologize for the inconvenience, and offer them a solution. Following this process can help customers feel heard, and your quality service might make them more likely to continue patronizing your bank.
I hope you find this article helpful.