Pursuing higher education can help you develop the knowledge and skills you need to access new opportunities, jumpstart your career and succeed as a professional. Many candidates pursue their degrees on a part-time basis to accommodate their existing professional and family responsibilities. If you're considering enrolling as a part-time college or university student, it may be helpful for you to consider the various advantages and disadvantages of doing so. In this article, we explain what a part-time student is and outline the pros and cons of this enrollment status to help you decide whether this path is right for you.
What is a part-time student?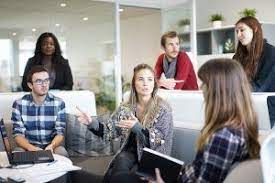 Part-time students are those who enroll in their post-secondary or graduate studies on a basis less than full-time. Typically, part-time students take 12 or fewer credit hours—the equivalent of four classes—per semester. Therefore, part-time students spend less time in the classroom than their counterparts who enroll full-time and may have the flexibility to pursue other opportunities outside of their education.
Colleges and universities often consider part-time students as nontraditional enrollees, as they may pursue their education in adulthood or while maintaining responsibilities related to their families or parenting. In addition, part-time students commonly live off-campus and commute to their classes throughout the week. With this, part-time students don't always engage as heavily in campus culture as traditional, full-time students typically do.
4 pros of being a part-time student
There are various advantages to being a part-time student. Here are some pros to consider:
1. Flexible schedule
Enrolling as a part-time student may afford you a certain level of flexibility in your scheduling as you pursue your education. With a flexible schedule, you might be able to continue working in a professional role or maintain other responsibilities. For example, if you care for a family member or are a parent, having a flexible schedule can allow you enough time to focus on fulfilling your familial duties while earning your degree. In addition, a part-time schedule can help you slow the pace of your degree program, giving you ample time to focus on succeeding in your coursework.
2. Lower tuition costs per semester
Part-time students typically assume less of an upfront financial burden than full-time students because they enroll in fewer classes per semester. Therefore, enrolling as a part-time student can allow you to pay incrementally for your education and spread out any related costs over a longer duration of time. This payment schedule may make your education more affordable in the long term, especially if you continue working in a professional capacity during your studies and earn money to put toward your tuition and fees.
3. Ability to work
As mentioned above, part-time students typically have schedules that are flexible enough to allow them time to take part in additional opportunities, such as part-time jobs, internships and fellowships. Through these opportunities, part-time students can earn money and gain a solid foundation of experience in the career field they hope to pursue post-graduation. Having the ability to work a paid job and build up a portfolio of experience may give part-time students a competitive advantage over their full-time counterparts during job searches.
4. Adaptability and time management
Part-time students often develop effective time management skills and adapt easily to their careers post-graduation because they frequently navigate various outside responsibilities while pursuing their studies. Therefore, because part-time students may be able to gain valuable life experience as they earn their degrees, they may be more successful in transitioning to a career. This is a significant advantage to consider, as many graduates of full-time programs find it challenging to acclimate to working in professional environments that have different expectations than a college or university.
4 cons of being a part-time student
While there are many advantages to being a part-time student, you may experience some disadvantages by enrolling on a basis less than full-time. Here are some cons of being a part-time student to consider:
1. Financial aid eligibility
It's common for colleges and universities to restrict part-time students' access to financial aid resources like scholarships, grants and loans. Often, only full-time students are eligible for these resources as the amount of aid a student receives correlates to the cost of their attendance, which is lower for part-time students. With this, while part-time students may save money on tuition costs per semester, their education may be more expensive overall due to a lack of financial aid eligibility.
2. Fewer social opportunities
Since part-time students rarely live on campus and commute to attend their classes, they may not engage as frequently in social opportunities with their peers. In addition, many colleges and universities gear opportunities for social engagement toward full-time students. With a lack of engagement, part-time students may not feel supported in their studies or connected to a community, which may lead to higher rates of attrition overall.
3. Program availability
Not all programs of study are available on a part-time basis, and this may limit your educational options upon enrollment. For instance, many programs in nursing require students to enroll full-time so they can focus on their studies and complete their coursework in a specific time frame. Depending on what you want to study, you may need to enroll as a full-time student or travel to a different college or university to find a part-time program that works for your needs.
4. Length of studies
Part-time students take fewer classes per semester than full-time students, which can prolong the length of their studies significantly. For instance, part-time students pursuing a degree that typically takes four years to earn may spend an additional two to three years in school. This time commitment can be challenging for some students to navigate, especially those hoping to jumpstart their careers.
I hope you find this article helpful.