When you apply for a police job, securing an interview typically means that the hiring team has identified you as a strong candidate. Whether you have a little or a lot of experience with job interviews, preparing beforehand can help you get the job you want. By preparing for a police interview, you can ensure that you're prepared to answer questions and demonstrate your experience effectively. In this article, we discuss successful police interview prep and provide eight helpful tips.
Why is it important to prepare for an interview for police jobs?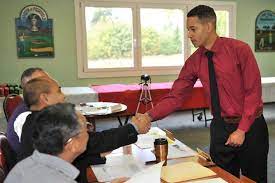 If you want to join your local police department, then a successful job interview is critical. To prepare for an interview, you can research the types of questions you're likely to receive and plan the best possible answers. By following police job interview tips, you have a better chance of making a good impression and getting a job offer.
8 Interview tips for police jobs
Here are eight ways to help you get ready for a police job interview:
1. Know the keywords
Before going into any interview, it's essential to know the keywords or the specific qualifications the position requires. If you submitted a resume and a cover letter as part of your application, then there's a good chance that you already made a list of the keywords.
Because several weeks or months can pass between the application and the interview, it's helpful to review the keywords before meeting with the hiring team. Then you can be sure to reiterate and explain the most important qualifications throughout the interview to convey your strong position as a candidate.
2. Make a mental list of your skills and experience
After familiarizing yourself with the keywords and the job description, review your resume. Whether you've worked in law enforcement for a few years or a few months, it's easy to forget the details of your prior experience. By rereading your resume, you can remind yourself of specific accomplishments that are particularly relevant to the job.
To ensure that you can remember the most important points during your interview, make a list of your qualifications and commit it to memory. Focus on a few of the most important jobs you've held and a few of the most essential skills you've developed.
3. Review common interview questions
To convey your qualifications effectively, you have to know when to mention certain jobs or skills. One of the best ways to accomplish this task is to read through common police interview questions and plan out your answers.
Before your interview, think about how to answer general interview questions about your strengths and weaknesses, using your past experience as examples. Then you're your answers to more specific questions about your background and what you enjoy about the field as well as in-depth questions about how you solve problems or handle conflict.
4. Elaborate on your answers
If you're nervous about your job interview, you might be tempted to provide the briefest possible answers. However, it's important to remember that your police interview is your opportunity to introduce yourself to the hiring team and make the best possible impression. That means more detailed answers are often better.
As you plan out your answers, try adding at least one or two extra details to each response. For example, when explaining your responsibilities in your most recent role, explain how your work contributed to your team's efforts or a specific goal you achieved.
5. Have a positive approach
If you're eager to leave your current job, then you might be inclined to complain about the aspects you don't like. For example, you might be tempted to say something negative about the role, your supervisor or the organization.
Even if you think the hiring manager would agree with your negative statements, do your best to maintain a positive outlook throughout the interview. When you embrace positivity, you can communicate other important soft skills, such as teamwork, adaptability and motivation.
6. Anticipate the participants
In some cases, the answers you provide might differ based on who participates in the interview. For example, you might focus more on keywords and emphasize a wide range of skills if you need with a member of the human resources team. In contrast, you might offer higher-level explanations if you meet with the police chief or another potential colleague.
Before the interview, attempt to confirm who will be present for the interview. Consider asking the hiring manager directly or researching prior candidates' interview experiences online. If you can't be sure who the participants will be, think about how you might change your responses based on the knowledge level of the attendees.
7. Plan to avoid failure
When you interview for a job, you always want to do your best to impress the hiring team. However, aiming to do your best isn't always helpful for setting a concrete goal.
It's also helpful to think about ways you'll know you didn't do well – and then avoid taking those actions. For example, failing to express your skills and experience effectively could prevent you from getting the job. To prevent this situation from happening, carefully plan how to illustrate your qualifications successfully.
If you're worried about providing the right responses to ethical questions, review some of the more in-depth police interview questions. Then plan thoughtful responses in advance so you can avoid second-guessing your answers during the interview.
8. Prepare to discuss your future
In many cases, a job interview is about much more than the role in question. Hiring managers often want to know if you can grow into more advanced positions or if you can contribute to the organization for a longer period.
To express your interest in a longer-term commitment, prepare to discuss your future goals in the interview. When you talk about your professional goals, mention your interest in developing leadership skills or qualifying for higher-level jobs.
I hope you find this article helpful.