Counselors are professionals whose responsibility is typically to help others. Many different types of counselors operate in a variety of industries, which means that there are several career paths to choose from if you're interested in becoming a counselor. Working as a counselor might be ideal for you if you want to help people in need through your job or if you have excellent communication and interpersonal skills. In this article, we consider what a counselor is and explore a list of eight types of counselors and what they do.
What is a counselor?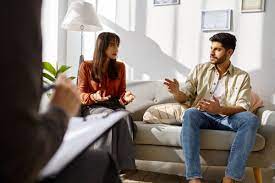 A counselor is a professional who offers guidance to clients about areas of their lives they hope to improve. Counselors can work with individuals, families or other groups and can help their clients navigate a wide variety of circumstances, depending on the area they specialize in. Many counselors use similar processes that involve assessing their clients' needs, establishing goals and plans for achieving them and monitoring client progress to determine what next steps might be most beneficial.
Some counselors who specialize in fields related to mental health might also guide their clients through therapy or therapeutic exercises and refer them to specialists when necessary.
8 types of counselors
Here are eight different types of counselors:
1. Guidance counselor
Guidance counselors typically work in schools and provide support to students throughout the school year. This can involve meeting with students, parents and school staff to evaluate student progress, helping students choose their classes and offering emotional support to students during challenging circumstances. While certification is often optional for guidance counselors, many apply for certification in different areas of counseling, such as the Bullying Prevention Specialist certification or the Students with Special Needs Specialist certification. Here are a few topics that a guidance counselor might address:
Abnormal behavior

Academic progress

Compliance to school regulations

Planning for college

Searching for jobs
2. Mental health counselor
Mental health counselors specialize in providing support to clients who experience mental health disorders and conditions that can affect their daily lives. Many mental health counselors use therapeutic practices and activities to help their clients navigate challenges and develop healthy routines that can improve the way they live. There are a few different choices for certification for mental health counselors, but one common option is the Certified Clinical Mental Health Counselor (CCMHC) certificate from the National Board for Certified Counselors. Here are some responsibilities mental health counselors can have:
Diagnosing mental health disorders

Creating plans for treatment

Identifying behaviors that need improvement

Researching a client's social surroundings

Referring specialists when necessary
3. Adoption counselor
An adoption counselor helps to support children who are going through the adoption process. They do this by communicating with birth parents, foster families and adoptive parents to find the best possible placements for children in the foster care system. While certification is often optional for adoption counselors, it can be common for them to complete certificate programs like Training for Adoption Competency (TAC) to gain more expertise and knowledge about how to contribute to the adoption process effectively. Here are some tasks that an adoption counselor might perform:
Interview potential adoptive parents

Facilitate meetings between children and potential adoptive parents

Monitor children's conditions in foster homes to ensure their safety

Keep detailed records of children's medical and adoption history

Unite adoptees with birth parents
4. Speech therapist
A speech therapist helps clients who experience challenges with speech and who have language or swallowing disorders. They can also work with clients who have medical conditions resulting from events like surgery, brain injury and other types of accidents. Speech therapists can lead clients through speech exercises, create plans for therapy and monitor their progress. Most speech therapists gain certification to highlight their credentials, and many pursue the Certificate of Clinical Competence in Speech-Language Pathology (CCC-SLP). Here are some areas in which a speech therapist might support clients:
Controlling vocal cords and breathing

Regaining abilities to swallow and speak aloud

Reducing the effect of a stutter

Living with speech and language disorders

Modifying accents
5. Trauma counselor
Trauma counselors specialize in helping clients who experience traumatic events that can impact their physical or emotional well-being. This can involve supporting customers as they process traumatic events, providing therapy, and creating treatment plans. As mental health professionals, most trauma counselors earn certifications to enhance their credentials, like the Certified Clinical Trauma Professional (CCTP) certificate. Here are some responsibilities that a trauma counselor might have:
Assessing clients' needs through discussion and observation

Developing therapeutic methods for treatment

Referring clients to specialists

Using eye movement desensitization and reprocessing (EMDR)
6. Marriage counselor
A marriage counselor primarily works with married couples to help them navigate the challenges they experience within their marriage. This typically involves observing how couples behave and interact with each other and additional members of the family to identify areas they might be able to improve to create a happier, healthier life at home. Many marriage counselors pursue a graduate degree and certification, such as the Certificate in Couple and Family Counseling (CFC), before they enter the field. Here are a few subjects that a marriage counselor might discuss with their clients:
Mental health conditions

Family goals

Fidelity

Challenges with communication

Domestic violence

Fertility
7. Rehabilitation counselor
Rehabilitation counselors specialize in working with people who have disabilities that can affect their ability to complete certain tasks. Some rehabilitation counselors focus on clients with a specific disability, such as blindness, spinal cord industry or psychiatric disability. Most rehabilitation counselors pursue the Certified Rehabilitation Counselor (CRC) certification after they complete their education, as the program provides training in how to support people with different types of disabilities. Here are some areas that a rehabilitation counselor can help their clients with:
Finding a job

Regaining mobility

Learning to perform daily tasks

Completing job training programs

Developing routines to promote a healthy lifestyle
8. Admissions counselor
An admissions counselor typically works for a particular college or university and provides support to students who are applying to their institution. Much of an admissions counselor's job can involve meeting with students and helping them determine whether a certain college might be the best fit for them. While certification is often optional for admissions counselors, it can be common for admissions counselors to pursue certification anyway to strengthen their credentials. One certification that many admissions counselors obtain is the College Admission Counseling and Career Guidance certificate. Here are a few duties that an admissions counselor might perform:
Recruit new students.

Conduct interviews with students who might be interested in their college.

Develop new recruitment procedures.

Take part in admission decisions.
I hope you find this article helpful.