If you have an artistic profession, your job may require a variety of instruments or tools. Drawing tools, in particular, can help you excel in any creative profession that requires some sort of etching or drawing talent. Learning the various types of drawing tools you can use may help you improve your skills and overall technique. In this article, we list the various drawing tools that artistic professionals use and answer frequently asked questions about drawing professions.
8 drawing tools for artistic professions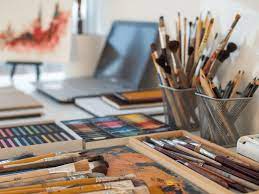 As an artistic professional, you often use an assortment of drawing instruments and tools to complete your duties. Thanks to the wide variety of drawing tools available, you can always expand your skills and learn new techniques. Here are common drawing tools for many artistic careers:
1. Pens
Many drawing professions require an assortment of pens. You can find pens in several colors and styles, ensuring you find the ones suited to your unique project. If you're new to drawing, consider using a brush-tip pen that features a flexible brush. The harder you press on the brush, the more ink lands on the page and the thicker the lines you produce.
2. Pencils
Drawing professionals often use pencils to create different types of artwork. You can purchase pencils with different ranges of hardness, going from 10H to 12B. While H represents the level of hardness, B represents the graphite's blackness or softness. Hard leads create light and precise lines that may smudge. In contrast, a soft lead creates a darker and heavier line. As a new designer, it helps to use pencils somewhere in the middle range so they're not too hard, but not too soft.
3. Pencil sharpener
When using a pencil, it helps to have a sharpener nearby. You can use nearly any type of sharpener that you normally would for a regular pencil. For example, you can use an electric pencil sharpener that buzzes when in use or a manual pencil sharpener where you twist the pencil by hand to sharpen its tip. While some manual sharpeners collect pencil shavings, others don't.
4. Paper
To draw, you're required to have some type of paper. As a new artist, consider using any type of paper. Once you gain some experience, consider working with different toned or textured papers. To keep your work organized and in one place, invest in a blank notebook rather than loose sheets. A notebook can help you track your progress and growth more easily, too.
5. Ruler
This drawing tool lets you measure different things as you draw. A ruler also helps you create straight lines and shapes more easily. Often used by carpenters or masons, a ruler also helps with any artistic profession that involves drawing.
6. Stencil
A stencil provides you with a template to create different shapes, images, patterns or text. To use a stencil, place it on a drawing surface and color inside and outside of the stencil's boundaries. Thanks to a stencil's designed gaps, the pigment reaches certain parts of the surface. This results in a particular image or pattern.
7. Pencil case or pouch
Consider purchasing a pencil case or pouch to store your writing instruments. This type of container can keep your writing utensils in one place. For example, a pencil case or pouch may prevent you from losing any pens or pencils, whether by mistake or to your friends, roommates or family members. It also makes it easier for you to travel with your drawing instruments.
8. Drawing compass
A drawing compass is a technical drawing instrument that lets you draw circles or arcs on different materials like paper. While one compass leg has a sharp and pointy part at the end, the other leg has a pencil or pen attached. When you move the compass legs together or apart, it changes the size of the circle or arc you create.
Frequently asked questions about drawing professions
If you're interested in drawing for a living, it's important to learn about the jobs you can pursue. Here are some common questions and answers about professions that involve drawing:
Which artistic careers use drawing tools?
Here are some artistic professionals who use drawing tools during their day-to-day duties:
Illustrator: An illustrator is an artist who creates 2D images for different clients in varying industries. They may create illustrations for children's books, magazines or advertisements.

Graphic designer: A graphic designer is a visual communication artist who combines images and typography to create a design. They typically work by hand and transfer their work to graphic design software for final adjustments.

Cartoonist: A cartoonist draws cartoons and comics. They may also help with the creation of a cartoon idea, plot or story.

Animator: Animators use a series of images to create animations found in media, such as a television show or movie. They create character sketches, storyboards and design sets.

Calligrapher: These professionals use a writing instrument, such as a pen or marker, to create ornamental penmanship known as calligraphy.
How much money can you make by drawing?
Here are some of the different salaries for professions that involve drawing:
Animator: $41,669 per year

Illustrator: $48,907 per year

Graphic designer: $51,325 per year
Keep in mind that your salary may vary for each of these positions. For example, your salary may fluctuate based on your geographic location, your level of expertise and your employer. Some drawing professionals may also work freelance and set their rates. Typically, the more experience you have, the higher you can set your rates. If you work for an employer full-time, you often receive employee benefits such as health insurance, paid time off, and sick leave.
What are the job requirements for jobs that involve drawing?
Since you can pursue a wide variety of drawing careers, the job requirements for each can greatly vary. While drawing professions don't often require formal education, some schooling can help improve your candidacy. Typically, employers prefer an associate's or bachelor's degree for illustrator, sketch artist or cartoonist professions.
I hope you find this article helpful.