If you enjoy reading, writing and analyzing written work, you might consider studying English. English degrees are available at a variety of levels, and the programs generally incorporate different disciplines that can prepare you for a career in fields such as education, publishing, journalism and media. If you are interested in pursuing studies in English, understanding the differences between different English degrees can help you choose the right program for you.
In this article, we review the different levels and types of English degrees, identify the steps needed to complete an English degree and offer helpful tips for choosing one.
What is an English degree?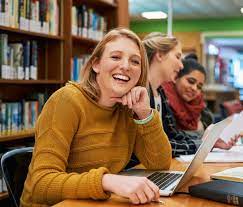 An English degree is an academic diploma that students earn after studying a discipline related to language or literature. If you choose to pursue an English degree, you might take classes that develop your skills in writing, editing and reading comprehension and analysis. The levels of degrees available in this field include:
Associate degree in English
An associate degree in English typically requires two years of full-time study in classes that develop fundamental skills like public speaking, writing and communication. Some associate degree programs in English allow you to complete your coursework online or at a time that's convenient for you. Many students with associate degrees choose to pursue a bachelor's degree in a more specialized field or apply their comprehension and communication skills in the workforce as English tutors, content writers or administrative assistants.
Bachelor's degree in English
Generally, it takes four years to earn a bachelor's degree in English. These full-time programs offer students the opportunity to specialize in areas like linguistics, literature or creative writing. While pursuing a bachelor's degree, you may have the opportunity to gain practical experience in the field by participating in writing workshops, writing for student publications and completing capstone projects. Students can also earn a bachelor's degree in preparation for completing an advanced degree, such as a Master of Arts in literature or writing.
Students earning a bachelor's degree in English will develop skills in writing, editing, analysis, public speaking and research. They will also improve their critical thinking skills and build a diverse knowledge of global issues and perspectives. A bachelor's degree in English can qualify you for a career in fields such as education, academia, publishing, journalism or marketing. The skills gained can also be applied in a variety of jobs including those in law, politics, business or human resources.
Master's degree in English
Master's degrees require the prior completion of a four-year bachelor's degree program. Typically, these graduate degrees are two-year programs, although the time required to complete them can vary depending on the institution and course load. Graduate curriculums aim to improve your writing, analysis and reading comprehension skills and broaden your knowledge of literary periods and works through experiencing diverse forms of media, including digital media. Some master's degrees in English focus on language while others focus on literature. While pursuing a master's degree in English, you might also assist professors, help guide undergraduate students and apply for opportunities to publish your writing.
The two primary master's degree types for students studying English include the Master of Arts (MA) degree and the Master of Fine Arts (MFA) degree. MA programs typically offer a more comprehensive, academic approach to the field and might emphasize literary theory, history and criticism. Such a program can be beneficial if you hope to pursue a career in teaching or academia. MFA programs are typically smaller and more competitive but can be preferable if you want to improve your writing skills and specialize in poetry, fiction, nonfiction writing or a specific genre.
Doctorate in English
If you want to acquire advanced skills in critical analysis and are interested in completing independent research, you might consider completing a doctorate in English. A doctorate program in English usually requires that students first complete a Master of Arts degree, along with some teaching, writing or research experience. Many programs also ask students to have expertise in a foreign language. Doctorate programs in English typically take four to seven years to complete and include a combination of teaching and research.
This might be an appropriate degree if you're interested in teaching English at the university level and continuing to perform research or analysis in the field. Doctorate degrees usually include the completion of a thesis, which is a scholarly essay that requires detailed research on a specific topic, as well as an oral exam. English theses may address topics related to specific literary movements or authors. 8 types of English degrees
There are many disciplines you can choose to study when pursuing an English degree, depending on your career goals, professional strengths, and personal interests. During your undergraduate studies, you could spend your time learning about professional writing or literary analysis and choose to pursue an entirely different field of study during your graduate education. Here are a few different types of English degrees or fields of study that you could pursue:
1. English studies
An English studies degree offers students a broad education and addresses fundamental concepts of the English language like literature, composition and critical thinking. Students who earn a degree in English studies might go on to apply for jobs as journalists, editors or marketers. Many schools offer both associate degrees and bachelor's degrees in English studies. You could also supplement an English studies degree with a more advanced degree in a discipline like law or education.
2. Creative writing
When earning a creative writing degree, students typically choose a concentration like poetry, fiction or creative nonfiction. These programs can help students prepare for a career as professional writers, authors, poets, screenwriters or creative writing teachers. While completing the program, you might have the opportunity to share your work with your peers in workshops and gain feedback from your professors. You can typically choose to pursue either an undergraduate or a graduate degree in creative writing.
3. Linguistics
Students in linguistics programs explore the structure and history of words and spend time studying the influence of culture on language and the importance of language in society. Their studies might include grammar, etymology, foreign languages and semantics. A linguistics degree can provide the skills necessary to work as a linguist, translator, teacher, researcher, librarian or speech pathologist. Linguistics degrees are available for both undergraduate and graduate students, and some doctorate programs are also available.
4. English education
If you're interested in teaching English at a secondary or collegiate level, a university degree in English education might be the best fit. English education programs typically combine traditional English coursework in literature, rhetoric and composition with courses on different teaching methods. You'll also explore various classroom management techniques and learn how to educate students in English and promote their general development.
This degree type can prepare graduates to become teachers, tutors, professors, writers or marketers. Working as a professor typically requires an additional graduate degree in English.
5. Rhetoric
Students who study rhetoric learn to use language and logic to construct effective written and oral arguments in various situations for different audiences. Rhetoric programs typically include classes in analysis, ethics and grammar and style. Students also learn how to apply these principles to jobs that require a high degree of communication and explore subjects like politics, culture and the relation of media to broader society.
A degree in rhetoric can qualify you for a career as a speechwriter, journalist, lawyer, professor or political analyst. This degree type is typically available at the graduate level.
6. Literature
Literature majors read books, poems and texts critically, meaning they review them to better understand their role in history and their purpose at the time of their publication. Students of literature might study various literary movements, compare texts from different cultures and countries, analyze stylistic choices and write literary criticism. Some programs require students to choose an area of focus, like British literature, Eastern literature or contemporary fiction.
Students who earn a degree in literature can go on to pursue careers as professors, historians, critics or librarians. You can earn a master's degree in literature or an undergraduate degree with a literature concentration at many institutions. Some universities also offer doctorate degrees in literature or literary analysis.
7. Language composition
Students in a language composition degree program learn to write at a professional level in a wide variety of styles, genres and mediums. Courses may address topics like business writing, rhetoric, proofreading, scientific writing and writing for marketing or advertising. Students in these programs read texts to gain a deeper understanding of which elements make them effective and praiseworthy.
These programs might prepare you for a career as a grant writer, technical writer, copywriter or editor. Language composition is an option for a major in many bachelor's degree programs, and the area of study is also frequently available as a master's degree and doctorate.
8. Teaching English to speakers of other languages (TESOL)
If you're interested in educating students who are learning English for the first time, you might choose to complete a TESOL degree. A TESOL degree program teaches students how speakers develop their English knowledge and how to support intercultural communication. Students also practice developing different teaching techniques and research applied linguistics.
This degree can prepare you to teach English in a secondary or collegiate environment, as well as in schools or online platforms that educate young students in early grade levels. TESOL is typically only available as a master's degree, but some institutions might offer undergraduate classes on teaching English as a new language.
How to earn an English degree
If you're interested in completing an English degree, here are four important steps to take:
1. Complete your high school education
To pursue a degree in English, you must first earn a high school diploma or an equivalent credential to meet the requirements for college or university entrance. While completing high school, consider taking courses that can prepare you for your university studies, such as Advanced Placement (AP) English. Many high schools also offer elective classes in topics like creative writing, public speaking and composition.
Work on improving your understanding of language, advancing your vocabulary and developing strong research skills. This can help you if you need to take an English language proficiency exam. Having impressive grades in your high school English classes may also help you secure a spot in a competitive collegiate English program.
2. Research universities and programs
Before deciding which university to attend, it might be helpful to research your options. While a wide range of institutions offer English majors, the programs might differ in their approach. Assess the curriculum, instructors and extracurricular activities at the programs you're considering to determine if they align with your goals. In addition, research the specializations and resources they offer to English majors.
For example, if you want to become a novelist, you could search for universities that have peer-led workshops or that publish a student literary journal. If you're interested in linguistics, search for universities that employ faculty specializing in linguistics. It might be helpful to create a short list of the colleges and universities that interest you and meet with the faculty directly to discuss the opportunities they provide in the field of English.
3. Submit your applications
Next, prepare an application for each of the schools you're interested in attending. Remember to proofread your application materials carefully to ensure they're organized, well-written and free of errors. Requirements can vary depending on the school and degree program you're applying for, but it's generally necessary to submit your academic transcripts, test scores and letters of recommendation. Some programs might also require a personal essay, so be prepared to write about why you've chosen to study English and which aspects of the field interest you most and why.
4. Enroll in courses
Once you've chosen a university to attend and have been accepted as a student, you can declare an English major and enroll. Many schools have academic advisers who can help you understand the requirements of your chosen degree program and select the right courses each semester. To further your skills, you might consider participating in academic extracurricular activities. For example, you could write for a school publication, compete on the speech and debate team or volunteer as a writing tutor.
Tips for choosing a type of English degree
Here are some tips that might help you decide between the different degree programs:
Think about your desired career
An English degree can qualify you to work in a range of fields, including teaching, content writing, research and screenwriting. Consider your long-term career aspirations when choosing a degree and research the programs most relevant to the roles you want. For example, if you want to work as an English teacher, English education might be a good major to choose during your undergraduate years. Alternatively, you could double major in education and English or major in education and earn an English minor.
Consider your goals
Individuals with English degrees can pursue a wide variety of careers, and identifying your overarching career goals can help you choose what to study. If you hope to write books, poems or plays, a bachelor's degree in creative writing may help you learn how to better structure your stories and develop a unique voice. If your goal is to work as an English professor, it might be worthwhile to pursue a graduate or doctorate in the specialized field you hope to teach. Research the curriculum carefully to determine if it aligns with your interests.
Identify the learning environment you want
When choosing between degree programs, it's beneficial to think about your preferred educational environment. Some programs might emphasize writing and refining written materials, like an MFA in creative writing. Other programs offer a more comprehensive education with a liberal arts concentration. You can also consider aspects like the size of each program and the meeting place, such as whether the program takes place on campus or online.
If you'd rather take courses in disciplines other than just English, like film, law or political science, you might benefit from a more generalized degree program.
Determine your preferred timeline
Consider how many years you plan to dedicate to your education before entering the workforce. Since English degree programs can range in length from two years to over seven years, it's important to choose one that matches your career plans. It might be helpful to establish a ten-year plan to define your timeline and goals. You might also consider earning an English degree and working for a few years before deciding whether to complete further education.
I hope you find this article helpful.