If you're interested in pursuing a career that combines elements of health and science, you might enjoy a job as a geneticist. Employers typically require candidates to have at least a master's degree in genetics or a related field, and there are many degree specializations you can choose from. Discovering a degree program that suits your interests and goals may help you find a fulfilling job in genetics. In this article, we explain what a master's in genetics is and list eight types of master's in genetics degrees you can consider when researching graduate programs.
What is a master's in genetics?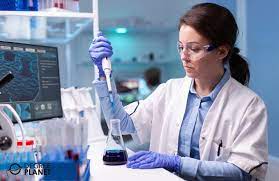 A master's in genetics is a specialized graduate degree that allows candidates to pursue a career as a geneticist or work in another role in genetics. These Master of Science (MS) degrees explore genetics and its applications comprehensively, and some programs focus on a specific area within the field. To qualify for a master's in genetics program, candidates first complete a Bachelor of Science (BS) degree in biology, chemistry or a related science discipline. Candidates may pursue a Ph.D. or medical degree in genetics after earning a master's degree, depending on their specific career path.
8 master's degrees in genetics
If you're interested in a job in genetics and already have a relevant bachelor's degree, many colleges and universities offer master's degrees in genetics for you to consider. Here are eight types of genetics master's degrees you may earn to help you start your career in the field:
1. Genetics
A Master of Science in genetics is a broad educational program that focuses on many aspects of the field. It explores different approaches and applications of genetics, or the study of genes and heredity. Students learn how people pass traits to their offspring through DNA and how it can affect their appearance, behavior and health. These master's degree programs usually offer students the option to pursue a specialization within the field based on the areas of genetics that interest them. These specializations allow you to pursue a degree that focuses on a specific subject, such as health care or research.
2. Genetic counseling
A master's degree in genetic counseling prepares a candidate for a career as a genetic counselor. These medical professionals perform tests and evaluations to determine if their patients or their patients' families may be at risk for certain genetic conditions. These conditions may include physical or psychological disorders, and genetic counselors inform patients of their predisposition for these disorders to help them prepare for or prevent them. Genetic counselors often work in a medical setting, particularly with pregnant patients, so they usually complete academic work and clinical rotations to complete this degree program.
3. Human genetics
Human genetics is a master's degree program that focuses on the study of genetic material and how it affects individuals, families and society. Candidates in human genetics master's degree programs usually study genes from different perspectives, such as scientific, medical and public health. They may learn about the history of genetics and how the discipline has changed as new technology emerges, the role genes have in physical and mental health, ethical standards for studying and researching human genetic material and the effect of genes on social and public health issues.
4. Genetics and genomics
Students in genetics and genomics master's degree programs focus their studies on genomes, which are complete sets of DNA. Genomics is an emerging area within the field that allows researchers to explore the structure of DNA, identify how its structure affects health and development, determine how it reacts to outside factors and map the location of specific genes in DNA to identify genetic concerns. Students who pursue this master's degree may choose one or more areas to study, such as human, animal, bacterial or statistical genetics and genomics.
5. Molecular, cellular, and developmental biology (MCDB)
A master's degree program in molecular, cellular and developmental biology (MCDB) gives graduate students a broad area of expertise within the biological sciences. These programs typically include a curriculum that focuses on microbiological concepts like cellular, molecular and developmental biology, which includes genetics. Students may study in a classroom, laboratory or clinical setting, depending on the topic. Students who earn a master's degree in MCDB may use it as a foundation for a doctoral degree in genetics.
6. Computational and quantitative genetics (CCQG)
Computational and quantitative genetics (CCQC) is a master's degree program that focuses on using statistical and computational sciences to improve gene mapping processes. Students learn about how to develop tools that make gene mapping more comprehensive and intuitive, which may allow scientists to create new treatments for genetic conditions like epilepsy and mental health conditions. Graduates can become medical geneticists and may find a job in a healthcare facility, pharmaceutical company or biotechnology laboratory.
7. Genome Bioinformatics
A Master of Science in Genome Bioinformatics (MSGB) is a master's degree program that focuses on using data to develop tools and resources for studying genomes. A combination of biology and computer science, this degree program gives students knowledge and an educational background in studying, annotating and understanding genomic data and how it affects human lives. Earning a master's degree in this field may prepare you for one of many careers in genetics, including positions at research centers, pharmaceutical companies and universities.
8. Genomics and health
A genomics and health master's degree program offers students the opportunity to learn about genetics as they relate to individual, animal and plant health. These programs often include a curriculum that focuses on variations of DNA, their causes and how they relate to a person's overall health. Students pursuing this degree research how chemicals, drugs and environmental factors contribute to disease by affecting genomes. After graduating, candidates may pursue jobs in laboratories or use their genetic research to influence regulations that can protect human and societal health.
I hope you find this article helpful.