Businesses often search for ways to increase productivity, save time and boost sales. Implementing the 80/20 marketing rule can help people achieve these goals. If you're looking to develop a marketing strategy or improve business operations, you can use the 80/20 marketing rule to determine an effective plan and strategy.
In this article, we discuss what the 80/20 rule is in marketing and eight ways you can apply it for an effective campaign or other marketing operations.
Key takeaways:
The 80/20 rule states that 80% of results come from 20% of accounts.

Some experts refer to the 80/20 rule as the Pareto principle named after economist Vilfredo Pareto of Italy, who compared wealth to population.
What is the 80/20 rule of marketing?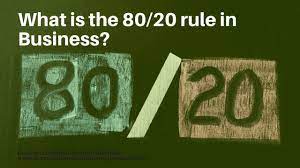 The 80/20 rule, also known as the Pareto principle, is a marketing strategy that says 80% of your results are a product of 20% of your actions. Economist Vilfredo Pareto thought of the idea when he realized approximately 80% of his nation's land belonged to 20% of its population. You can use the 80/20 rule to help develop effective marketing strategies. Here are some common ways to use the 80/20 rule:
80% of results are a product of 20% of time invested.

80% of sales come from 20% of customers.

80% of complaints come from 20% of customers.

80% of global pollution originates from 20% of factories.

80% of online product sales come from 20% of products.

80% of website traffic comes from 20% of keywords used.
You can apply the 80/20 rule in any situation, but it isn't a foundational law to dictate your actions. Some of your results and actions may have higher or lower percentage rates. The 80/20 rule can contribute to your strategies and help with your thought processes, but more reliable business information comes from research, reports and analytics.
8 ways to use the 80/20 rule
Applying the 80/20 rule in a business can help you track sales activities and determine the most important factors to consider. Here are ways you can start implementing the 80/20 rule to improve efficiency, increase sales and grow a business:
1. Find the best customers
The best customers often bring in most of the profits, meaning 80% of sales may come from 20% of customers. Identifying the 20% of customers who purchase most of your products or services can help you develop marketing strategies to attract more like-minded customers. Here are some ways you can discover the best customers:
Identify regular customers. Check the logistics and data of the sales to identify the customers who make frequent or the most recent purchases. Your sales log shows daily, weekly and monthly sales and provides insights that can help you develop new marketing strategies.

Trace how customers found you. Identify the sources that brought the customers to the products or services, whether through social media or targeted advertising. Finding where 20% of the customers come from can help you optimize your strategies to find more customers through the same channels.

Analyze where customers are. Knowing where customers live may make it easier for you to target them. Leveraging point of sales (POS) platforms to see the regions where your customers come from can be a great way to target more customers from more precise locations.
2. Identify profitable products
A company may have a few products that customers love, contributing to 80% of the total sales. Instead of promoting products that don't make big sales, you can focus on improving the top-selling 20% of products or services by launching new updates or improved features to provide customers with better quality to encourage more purchases.
3. Increase website traffic
The 80/20 rule can also work with search engine optimization (SEO) by considering that 80% of the website traffic stems from 20% of keywords used. Specific keywords may bring in more traffic than others. Check your analytics to see which blog posts or social media posts bring in more traffic and which keywords rank high in the search results. When you know which keywords elicit the most traffic, you can focus your efforts on those specific words and look for ways to implement them in marketing content and website design.
4. Invest your time wisely
You can also apply the 80/20 rule to determine the best ways to invest your time. When looking at the company's goals, prioritize the 20% most important to bring in 80% of sales or revenue. Then, you can focus your remaining time on the rest of the goals.
5. Learn to manage costs
You can also use the 80/20 rule to identify the 20% of items responsible for 80% of the company's expenses and reduce costs if possible. By identifying where you spend the most money, you can make smarter budget decisions and increase profits by identifying where you spend the most money. Look for things such as production costs, advertising channels and losses to identify expenses that don't produce benefits to outweigh their costs.
6. Focus on social media content
The 80/20 rule can work with a social media strategy by considering that 80% of the social media sharing may come from 20% of the posts. Discover the 20% of content that interests the audience and serves their needs while also building the brand. Check where the comments, likes and shares come from by using a social analytics tracker and create similar content to continue attracting a similar audience.
7. Watch where traffic comes from
All websites receive traffic from many sources, but it's important to find the 20% of sources from which 80% of traffic comes. Instead of monitoring all the traffic channels, focus on five to 10 traffic channels that bring in the most referrals and concentrate on the posts' quality. Creating a strong media presence on a channel that targets the business' primary audience can increase sales and brand recognition more efficiently.
8. Develop quality software
20% of software development efforts may contribute to 80% of program functionality. Spending hours in programming can be time-consuming and costly, but applying the 80/20 rule to new software development can help you focus on the features that provide quality functionality to users. Effective software or a site can also increase customer satisfaction and improve the company's revenue and reputation.
I hope you find this article helpful.