Finding a mentor can be a great way to advance in your career because they can help you identify areas of improvement and offer you support. Meeting regularly with your mentor can allow you to ask them various questions about your work and their career, which can be a valuable source of information. Understanding what types of questions to use during these meetings can help you ask more effective ones that lead you to achieve career success.
In this article, we provide 80 questions you can ask a mentor and provide tips you can use to optimize your relationship with your mentor.
10 questions about success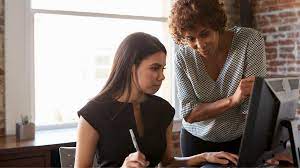 A mentor can be a useful resource to ask about how to overcome obstacles you may encounter, and they can provide tips on how you can avoid these situations. Here are 10 questions to ask about success:
What decision gave you the most success in your career?

What strategies do you find effective for finding success in this industry?

How do you identify people you can build a relationship with to be more successful?

Where can I find networking opportunities?

Can you identify one change you've made in your career that brought a lot of success?

What strategies can I use when pursuing my career goals?

What qualities can I develop to give myself an advantage over my peers?

How quickly can people get promotions to advance at this company?

What does being successful look like at this stage of my career?

Can you describe how you know you've succeeded in your career?
10 questions about skills
One goal you may have when working with your mentor may be to develop and improve your skill sets. There might be technical skills they can teach you, or you can request resources and tips from your mentor if you have a specific skill you want to improve.
Here are 10 questions to ask your mentor about developing skills:
What skills do you consider my strengths?

What areas do you think I can improve upon?

Can you assess my abilities and give feedback on how to exhibit leadership qualities?

Do you feel I'm strategic in my communication?

What methods can I use to share my ideas more effectively?

Which skills can I develop to become better at negotiating?

What skills can I develop to become better at leading employees?

What techniques do you use to be an effective public speaker?

Do you have templates you use to help plan and organize your tasks?

What skills can I develop to advance in my career more quickly?
10 questions about career goals
A mentor can be especially helpful in guiding you toward your career goals. You can develop your career goals and create a plan to achieve them with your mentor.
Here are 10 questions you can ask about career goals:
How do you suggest I ask for a raise?

Can we practice a conversation I might have with my manager to receive a pay increase?

What signs might indicate I should change career paths?

What criteria do you use to ensure you set the right priorities for yourself?

Are there additional responsibilities I can volunteer for to help me advance my career?

If I change my career, is there another area in this field you think may be good for me?

How can I create a plan for career advancement, and what steps should I include?

How has taking risks helped you in your career?

What key aspects should I include in my career goals?

Do you have tips on how to create and track progress on goals?
10 questions about overcoming challenges
It's useful to have access to a professional who has experience managing challenging situations. You can learn what steps to take and how to navigate situations professionally.
Here are 10 questions to ask your mentor about overcoming these situations:
Do you have book recommendations for having challenging conversations with colleagues?

What may stop me from progressing to the next stage of my career?

What strategies do you use to resolve conflicts with coworkers?

How do you approach a project when you have little experience with the related tasks?

If you disagree with a manager about how to perform a task, how do you proceed?

How do you manage stress and fatigue at work?

Are you able to achieve a work-life balance in this career, and what methods do you use to obtain this?

How can I approach asking for additional responsibility?

When have you made a mistake at work, and what steps did you take to correct it?

How can I ask my manager for more independence at work?
10 questions about leadership
Being a mentor is a leadership position, so your mentor can offer advice about being a leader in the workplace, including necessary qualities and best practices. Your mentor also may help guide you in decision-making if you manage a team.
Here are 10 questions to ask about leadership:
What are the key aspects of creating and leading team-building activities?

Which methodology do you recommend for project management?

What project management tools do you find useful for tracking progress and individual goals?

How can I motivate a team after working on a project for a long time?

How can I delegate tasks and distribute a fair workload?

What are fun icebreakers I can do with my new team to help facilitate better collaboration?

What methods do you find useful for establishing and encouraging communication on a team?

When evaluating my team's performance, how can I provide constructive feedback?

How can I invite others to give their input and show I value their opinions?

Do you have tips on how to monitor and guide a team remotely?
10 questions about innovation
Being innovative may help you advance more quickly in your career, and a mentor may provide tips on how to be creative in the workplace. You also can learn about how to develop and discover innovative ideas.
Here are 10 questions about innovation:
Where do you look for inspiration?

What innovation are you most proud to have been a part of in your career?

Are there techniques you use to challenge your way of thinking?

How can I encourage my team to be innovative?

What areas of this company would you seek to innovate?

Is there a process you undergo when you need to innovate?

How can I pitch my ideas to business executives?

What technological trends should I learn more about?

Do you have brainstorming techniques you can teach me?

How does this organization accept change?
10 questions about professional relationships
Through networking and building relationships at work, you can advance your career opportunities. Asking your mentor questions about how to build and maintain relationships can help you understand how to better apply your skills.
Here are 10 questions to ask your mentor about relationships:
Did you have a mentor, and how did their mentoring affect you?

Do you stay in contact with the people you've mentored?

Which professional relationship is most important to you?

How do you maintain relationships with your network contacts?

When you meet someone new, what's one thing you share with them?

What can I do to improve my interpersonal skills?

Do you have tips on how to be more comfortable and outgoing with colleagues?

How do you build a positive relationship with your manager?

What's my reputation at this company?

What techniques do you think are important when forming relationships with team members?
10 questions about your mentor's experience
Learning about your mentor's work experience may help you determine your career goals and help form a meaningful relationship with them.
Here are 10 questions you can ask about your mentor's experience:
What made you decide to be a mentor?

What goals do you still want to accomplish in your career?

What's the best career advice you've received?

What's your favorite thing about your career?

Have you ever applied for a job without being qualified, and what did you learn from that?

Is there something about working in this field that you find challenging?

Do you have any daily routines you feel contribute to your success?

Is there anything I can do to help this relationship be successful and mutually beneficial?

Do you have any outside learning recommendations for people in this field?

Is your current position where you imagined you'd be, and can you explain how you accomplished this?
Tips for working with a mentor
Here are some ways you can improve and maintain a positive relationship with a mentor:
Be honest. Being open about the challenges or concerns you have with your career can help your mentor provide you with more specific, useful feedback. They may have encountered some of the same feelings you have, so being honest is important in helping you succeed.

Listen to their advice. Showing you're actively listening to what they're saying and taking any actions they suggest can help you build a better relationship with your mentor. This can show them you value their opinion and trust them, which may allow them to provide you with more personalized advice.

Take notes. Keeping a record of what you talk about can help you remember important information they tell you, especially if they're giving you advice on a job search that includes names and phone numbers. You also can bring notes into a meeting to help organize your thoughts and what you want to discuss.

Set clear goals. Establishing specific career goals you want to achieve can help your meetings with your mentor be more focused and direct. This also can allow them to create more specific plans to help you achieve success.

Seek responsibilities. Because mentors often have more professional experience and may be in leadership roles, they may have less time than you to organize and plan meetings. Being proactive about scheduling meetings with them can help show them you value their time and are serious about the relationship.

Give detailed feedback. If your mentor gives you advice that you follow, consider telling them what happened and how their advice helped you. This can help them better understand what type of advice you best respond to, which can allow them to give you more effective tips in the future.
I hope you find this article helpful.