Managers, supervisors, and leaders often go by several different titles, even within the same industry. When you're looking for a position that appropriately aligns with your skill set and experience, it's important to know what titles to look for. Knowing the most common job titles in your industry is a great way to set your job search up for success. In this article, we explain what a management role is and provide a list of 84 managerial job titles for different industries and roles.
What is a management role?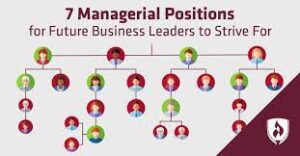 A management role is a position that requires industry education experience and supervisory skills. In most cases, managers are mid-level employees who have experience working in the industry and have developed important leadership skills like:
Organization: Managers oversee industry-related tasks and a group of employees, often simultaneously. Organization is vital to ensure everyone on their team, including themselves, meets their objectives.

Communication: One of the hallmarks of a managerial position is regular communication with team members to ensure they have the tools and resources they need to complete their assigned tasks.

Decision-making: Often, managers must make decisions for their team effectively and efficiently.

Problem-solving: If team members face internal conflict or need assistance overcoming a challenge, it's often the manager who helps solve the problem.

Collaboration: Managers usually work with their team and with other managers to ensure everyone is meeting their objectives.

Delegation: One of a manager's duties is often to delegate tasks and assignments to their team members.

Motivation: Excellent managers ensure their employees are motivated and incentivized to maintain high levels of productivity and reach individual and team goals.
Management job titles
Different industries have various job titles they like to use for managerial positions. Review this list, divided by industry, to see the most common management job titles for separate fields and the general education requirements for each sector:
Administration
Administrative managerial roles can vary in scope and title depending on the specific needs of each company. However, these roles usually require some advanced business training and knowledge. Most administrative managers have a bachelor's degree in business or a related field, while others go on to earn master's degrees, often a Master's in Business Administration, or MBA. Other administrative managerial titles include:
Office Manager

Facilities manager

Account executive

Branch manager

Risk manager

Program Manager

Administrative director

Business Administrator
Software and IT
Managers in the software, computer, and IT sector often manage a team of employees in addition to handling IT and other technological tasks. Those working in supervisory roles in the IT sector should have a bachelor's degree at a minimum in a field like information technology, computer science or management information systems. Some software and IT managers earn advanced degrees, like master's degrees, to increase their expertise. Common management job titles for this sector include:
IT manager

IS supervisor

IT director

IS manager

Project manager

MIS director

Director of application development

Director of computing services

Technical services manager
Construction
Managers in the field of building and construction usually perform tasks like delegation and oversight rather than direct construction tasks. Nonetheless, they're well-trained and experienced in building and construction practices. Most construction managers have a bachelor's degree at a minimum, often in engineering or building science. Some, particularly those focused in engineering, may have master's degrees. Typical management job titles for the construction industry include:
Project manager

Civil engineer

Foreman

Project Executive

Construction area manager

General contractor manager

Project Superintendent
Food services
Food services managers and supervisors often deftly perform two major responsibilities—managing staff and participating in food preparation, packaging or dispersal. The specific duties for a food services manager depend on the type of company for which they work and their customer base. Usually, working as a food service manager does not require post-secondary education like a bachelor's degree. Many food services managers gain on-the-job experience and are promoted to supervisory positions, while others attend culinary institutions to develop cooking-specific skills. A few of the most common managerial roles in the food services industry are:
Restaurant manager

General manager

Food and beverage director

Wait, staff manager,

Kitchen manager

Banquet manager

Catering manager

Food service manager

Food service supervisor

Food service director
Healthcare
There are typically two types of managers in the healthcare sector—administrative managers and medical managers. Administrative managers handle tasks like paperwork and scheduling, while medical managers have medical training and often meet directly with patients to discuss their health. For the administrative side, most managerial roles should have a bachelor's degree in health care management or a related field. Some earn master's and even doctoral degrees in fields like public health or business administration.
On the medical side, nurses, doctors and surgeons in all specialties can assume managerial roles in addition to their medical duties. Most nurses in managerial positions have master's degrees in nursing, while all medical doctors must have doctorate degrees to practice. Common job titles for both administrative and medical managers include:
Medical administrator

Program manager

Chief of Surgery

Chief physician

Charge nurse

Practice administrator

Nursing director

Nursing manager

Health information management director

Health manager
Marketing and advertising
Managers in the marketing and advertising sector usually pair supervisory duties with client outreach and campaign oversight. Most managers in this field have a bachelor's degree in marketing, advertising, communications or a related field, while others earn a master's degree in marketing. Common managerial job titles for this industry include:
Marketing director

Marketing Manager

Marketing communications manager

Advertising manager

Product Manager

Brand manager

Promotions manager

SEO manager

Account supervisor

Content marketing manager

Digital marketing manager

Business development manager

Communications director

Commercial lines manager

Public relations director
Sales
Sales managers might devote most of their time to overseeing a staff of salespeople, while others might balance supervisory duties with traditional sales duties, depending on the needs of their company. Most sales managers have a bachelor's degree in business administration, marketing or a related field. A few might be promoted to the position with no post-secondary education, while others have master's degrees. A few of the most typical job titles for managers in the sales sector include:
Sales manager

Store manager

Account manager

Area sales manager

Outside sales manager

Market development manager

Direct sales manager

Sales director

Sales supervisor
Training and development
The training and development sector, also sometimes called human resources, provides opportunities for several different managers. Most companies prefer their training and development managers to have a bachelor's degree at a minimum, preferably in a field like business administration, human resources or a related field. Some companies look for candidates with a master's degree in a similar area. A few of the most common job titles for this sector include:
Human resources director

Human resources manager

Learning manager

Director of learning

Development manager

Education and development manager

Training manager
Executive
Executive roles are usually the highest-ranking employees in a company. Depending on the industry in which they work and their field of expertise, they might have advanced degrees like a bachelor's or master's in business administration or a related field, or they might have been promoted into the position after gaining years of experience. The most common executive-level roles include:
President

Vice president

Chief executive officer

Chief financial officer

Chief marketing officer

Chief operating officer

Chief information officer

Chief product officer

Chief data officer
I hope you find this article helpful.