Understanding how you feel about certain values can help you identify companies and other organizations that have similar beliefs and systems. These different types of values typically correspond to various aspects of your personal and professional life. Those interested in finding a fulfilling role and career can benefit from clearly identifying their core values for each area of life.
In this article, we provide a list of 84 different values and help you identify the types of values that are most important to you as an employee and a person.
Why is understanding the types of values important?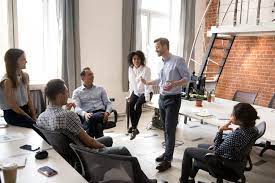 Understanding the different types of values can be useful in learning more about yourself and identifying the kinds of organizations you choose to be involved with. You may find it helpful to divide individual values into categories to facilitate comparisons between and determine the most significant values for your belief systems. These categories can help you understand the aspects of life and work that are the most essential to you and can increase your ability to find a fulfilling position or career.
84 types of values
You can categorize the values that people hold by the places and situations in which they're the most useful. Here are 84 types of values:
Behavioral values
Behavioral values reflect the standards to which you hold yourself and others. To determine your behavioral values, consider the personality traits that you appreciate in yourself and others. The aspects you value in yourself and others may provide you with insight into your behavioral values. Some common behavioral values include:
1. Independence
2. Commitment
3. Consistency
4. Authenticity
5. Honesty
6. Bravery
7. Loyalty
8. Kindness
9. Reliability
10. Spontaneity
11. Compassion
12. Enthusiasm
13. Respect
14. Pragmatism
15. Frugality
When applying for a new position, consider which of your behavioral values appear most important to hiring managers, and highlight those in your cover letter and interview. Some of your behavioral values may make you a great employee for the right company.
Interpersonal values
Interpersonal values reflect how you interact with those around you, whether they be your friends, family, colleagues or supervisors. Hiring managers may be interested in your interpersonal values because they indicate the type of role you will take in the organization and how you might work as part of a team. To determine your interpersonal values, consider your preferred communication style and how you like to be treated at work and home. Some common interpersonal values include:
16. Trust
17. Humility
18. Politeness
19. Leadership
20. Recognition
21. Tolerance
22. Openness
23. Diversity
24. Positivity
25. Candor
26. Connectedness
27. Collaboration
28. Generosity
29. Communication
30. Humor
31. Accessibility
Interpersonal values let you know what to expect from others. It might be easier, for example, to work on a team of people who share your interpersonal values, since it can boost morale and make work an overall more pleasant experience.
Social values
Social values reflect your beliefs and understanding about how people should be treated, in and out of the workplace. To determine your social values, consider the news stories you follow and the social causes you support. You might find that the global and social values that you consider the most important have a significant impact on how you interact with people daily. Some common social values include:
32. Responsibility
33. Accountability
34. Environmentalism
35. Equality
36. Diversity
37. Globalism
38. Fairness
39. Objectivity
40. Localism
41. Merit
42. Citizenship
43. Freedom
44. Justice
45. Patriotism
46. Altruism
47. Stewardship
48. Respect
49. Equity
While a company may not ask about your specific social values, you may ask about theirs to ensure that they align with your own. This is especially true if you think that working for a company that shares your social values will make a more positive work environment for you and increase your productivity.
Business Values
Your business values may be the most important type of values to a potential employer, just as a company's business values might tell you the most about the type of environment in which you'd be working. To determine your business values, consider what others admire you for or consider the qualities that you most admire in your colleagues and supervisors. Often, business values include those characteristics that you recognize and appreciate in others and try to emulate. Some common business values include:
50. Innovation
51. Competition
52. Leadership
53. Creativity
54. Passion
55. Growth
56. Resilience
57. Change
58. Improvement
59. Collaboration
60. Excellence
61. Flexibility
62. Transparency
63. Quality
64. Service
65. Ownership
66. Expertise
Business values may not emerge, or even feel important, in other aspects of your life outside of work. However, business values are among the most important types of values for job seekers to know and understand. They define your identity as an employee and usually also define a company's identity and brand.
Cultural values
Cultural values define what it feels like to work for a specific company. Therefore, it's important that you find work within a company whose cultural values align with your own. To determine your cultural values, consider what you liked or disliked about previous places of employment. Examining your preferences for the way you feel while at work can help to reveal your cultural values. Some common cultural values include:
67. Inclusion
68. Fun
69. Balance
70. Empowerment
71. Development
72. Family
73. Openness
74. Equality
75. Teamwork
76. Professionalism
77. Selflessness
78. Productivity
79. Efficiency
80. Comfort
81. Celebration
82. Accountability
83. Connection
84. Motivation
In an interview, you may ask about the company's cultural values because these are the values that reflect the working conditions. Pay particular attention to how the company describes its cultural values so that you can find a job where you can thrive. Aligning yourself with a company with similar values can increase your ability to grow and enjoy your career.
Tips on identifying and using your core values
Here are some methods for identifying and using your core values you can implement:
Prioritize your values
Once you have determined what your values are, take a moment to prioritize them. For example, you might value honesty, creativity, improvement, growth and teamwork. However, you may need to determine which of those is non-negotiable for you. For example, you might find that creativity is less important to you than honesty. It doesn't mean that you don't value creativity in yourself or others; it simply means that you don't value it as much as honesty.
Look for companies with values that match yours
An organization's core values may be clearly defined on its website or you may infer its core values based on the work that it does. Doing a bit of research into the background of a company before applying for an open position or participating in the interview process can help you determine the core values of the organization and decide if they align with your own. Finding an organization with similar values can help you find a cultural fit and improve your overall job satisfaction.
For example, if you value environmental stewardship, you may find it working for a company that uses green production techniques to be motivating. Likewise, if you prefer working a flexible schedule, a company that values work-life balance might be the right fit for you.
I hope you find this article helpful.