Many companies use email marketing to advertise products and contact potential customers. The subject lines of these marketing and sales messages can affect how successful they are at boosting revenue. If you're a sales or marketing professional, learning how to craft an effective subject line for a sales email can help you in your daily work.
In this article, we explain why sales email subject lines are important and share 85 examples of subject lines for sales emails, sorted into categories.
Why are email subject lines for sales important?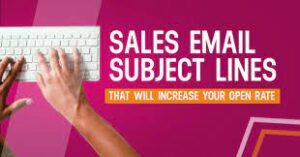 Email can be a powerful sales and marketing channel, and the email's subject line is your first chance to make an impression on your target audience. Potential customers might receive many emails from companies every day, so an effective subject line can convince them to open your email. Effective subject lines are typically brief, but they contain enough information to interest the reader in the message's contents. Depending on the purpose of your sales email, it can also prepare them to take a specific action, like clicking a link or using a coupon code.
85 email subject lines for sales by category
Here are 85 subject lines for sales emails, organized into categories:
Personalized greetings
People may be more likely to open emails that use their name, business or some other personal fact in the subject line. If your marketing team has access to a customer or lead database, you can add the recipients' names to the subject lines of the emails you send. Many email marketing tools allow you to upload a spreadsheet of contacts, so the program can address them individually. Here are 12 examples of personalized email subject lines:
1. A special deal just for you, [name]!
2. Hi, [name]! We've got a quick question for you
3. We just missed you, [name]
4. Time to say goodbye to these deals, [name]
5. [Name], we can help you achieve your goals
6. We've picked these products just for you, [name]
7. Time's running out, [name]!
8. We need your help, [name]
9. Don't forget these items, [name]!
10. Ready to reach your goals, [name]?
11. We've missed your business, [name!]
12. This sale is perfect for you, [name]
Questions
Asking a question can pique your audience's interest and motivate them to open the email. If you're planning on using a question in an email subject line, be brief while still including information that relates to the reader's goals or interests. You might use information from prior customer interactions, like surveys and past purchases, to customize the email. You can also add their name or other personal information if you have it. Here are 13 examples of sales email subject lines that use questions:
13. Ready to get started with [product]?
14. Still thinking about [goal]?
15. Can we help you?
16. Did you find what you needed?
17. Can we make your work easier?
18. How can we help you?
19. Are you looking for a new [product or service]?
20. Can we schedule a meeting to discuss your [product or service] needs?
21. Did you forget something in your shopping cart?
22. How do you feel about saving money on [product or service]?
23. How can we win your business?
24. What are you looking for in a [product or service]?
25. Have you ever thought about [company name]?
Connections
Using information from previous marketing and sales interactions, you might identify common connections between the company and your target audience. For example, a tutoring company might get email addresses from parents at a certain school who attended a fundraiser. Mentioning a common connection, like a neighborhood, industry group, social cause or mutual acquaintance, can encourage your reader to open your sales email. Here are 12 examples of sales email subject lines that mention a connection to the reader:
26. [Mutual acquaintance] suggested I reach out
27. Missed you at [industry event]!
28. A special sale for [neighborhood] residents
29. Can we meet at [industry event]?
30. We're supporting [common cause] this month with a special sale
31. [School] parents, don't miss out!
32. Support your local [town] business this month
33. Do you know [mutual acquaintance]?
34. We enjoyed seeing you at [industry event]!
35. Special rates for [industry group] members
36. We've created this product for [industry] businesses just like yours
37. Here's a little gift for our [town] neighbors
Urgency
Creating a sense of urgency can increase your email open rates, especially if you use this tactic rarely. You might use this technique in the last days of a semi-annual sale or to increase sales of a limited-edition item. If you send this email several days after sending a more personalized email, you might persuade customers to make a final purchase decision quickly. Here are 12 examples of email subject lines for sales that use urgency to attract customers:
38. One week left!
39. The fiscal quarter is ending
40. There are only [number] spots left for [event]!
41. Don't miss out on this special event
42. You have [number] of limited-number items in your cart
43. Don't forget about your cart items!
44. Our biggest sale ends tomorrow
45. Just [number] more hours until our semi-annual sale ends!
46. Act now to secure your limited-edition [item]
47. We're almost sold out!
48. You've got until midnight before these deals disappear
49. These unique items are almost gone!
Benefits
Some sales email subject lines describe specific benefits that the product or service can provide. These benefits might depend on the industry and the type of customer but often include increased revenue, easier work, better relationships or savings. By describing the benefits in the subject line, you can engage your audience's curiosity, since they may be interested in the specific benefit you're offering. Here are 12 examples of sales subject lines that describe benefits:
50. Ready to see 20% higher sales?
51. I can save you eight hours of work this week
52. We can make your job 18% easier
53. Open me to learn how to make your [task] easier
54. Looking for a new [product] to improve your life?
55. Do you want to increase your lead pool by 15% in one week?
56. Revolutionize your task management with one click
57. Save time and money with [service or product]
58. Who doesn't want to save time on paperwork?
59. Automation with [product] makes your workday easier
60. Save time for the things that matter with [product]
61. We're here to streamline your work processes
Offers
While many sales emails simply describe the sale and link customers to the company's landing page, others contain discount codes, coupons or other promotional offers. If you're sending an email that contains one of these cost-saving tools, mentioning it in the subject line can make your audience more likely to open the email to find out how much money they might save. Here are 12 examples of email subject lines that contain references to promotional offers:
62. Your 10% coupon waits inside
63. Don't miss out on this exclusive offer
64. Get your discount code now
65. A special offer just for you, [name]
66. Save 15% on [product] with this special code
67. Special bonus gift inside!
68. This isn't just any email, [name]! It's a present for you
69. Get your special offer with just a click
70. Buy one [product] and get one free with this coupon
71. Open me for a special gift
72. There's a mystery gift in this message – click here to find out more!
73. Save even more with your personalized referral code
Follow-up messages
While many email campaigns focus on a specific promotion, others might target certain groups of sales leads. At many companies, potential customers who have had at least one interaction with a sales representative have their own marketing segment, separate from brand-new leads. By using the information in the company's customer relationship management software, you can craft an email subject line that relates to customers' previous contacts with the company. Here are 12 examples of subject lines for sales emails that follow up on a previous contact:
74. [Name], I found that resource you wanted
75. Following up on our previous call
76. Here are some products that I think you might like
77. We're here for you!
78. Your customized product recommendations
79. Are you still looking for [product or service]?
80. Let's talk about your [product or service] needs!
81. Still thinking about [product or service]?
82. We want to hear from you!
83. We've created this resource just for you, [name]
84. One more chance to save before we close your account, [name]
85. [Number] ways to get started with [company]
I hope you find this article helpful.