Becoming a teacher isn't the only way to help students succeed. Many people pursue careers in educational leadership that involve administrative tasks like creating curricula and hiring staff. The benefits of these positions include high earning potential and the personal satisfaction of supporting students and teachers. In this article, we discuss nine educational leadership benefits to help you decide whether this field is right for you.
What is educational leadership?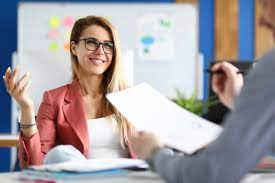 Educational leadership is a professional field that involves the management of a school's daily functions. They may hire teachers, establish curricula, and monitor the organization's budget. Other responsibilities include disciplining students and communicating with families. You can enter this field by obtaining a master's or doctoral degree in educational leadership. Professionals may pursue various careers that involve school administration, though many become deans, principals, or instructional designers.
9 benefits of educational leadership
Here are nine benefits of pursuing a career in educational leadership:
1. You have a high earning potential
Many schools recognize the importance of managing staff and developing curricula, so they're willing to pay their educational leaders well. Professionals in this field earn high salaries that help them care for their families and live comfortable styles. You can earn even more when you gain experience and further your education by pursuing a doctoral degree. Here are a few common educational leadership positions and their national average salaries:
Director of Admissions: $60,449 per year

Instructional designer: $64,158 per year

Principal: $79,503 per year

Dean: $82,326 per year

Diversity and inclusion manager: $83,123 per year
2. You have a positive job outlook
Many people feel confident pursuing a career in educational leadership because of the field's positive job outlook. The Bureau of Labor Statistics predicts an 8% increase in the employment of postsecondary education administrators by 2030. The BLS also forecasts an 8% increase in the employment of elementary, middle, and high school principals within this same time frame. As schools continue to recognize the importance of effective management, the demand for educational leaders is likely to increase.
3. You can pursue several career opportunities
Educational leadership is a relatively broad field with several career opportunities. This variety can make it easier to find a job that suits your interests. For instance, you might become a principal to oversee a school's staff and organize events. If you want a more active role in developing curricula, consider becoming an instructional designer or education coordinator. Note that most educational leadership roles come with various responsibilities regardless of their titles. For instance, many deans have duties ranging from recruiting staff to monitoring their school's budget.
4. You can support school staff
One rewarding part of an educational leadership career is your ability to support school staff. Administrators are often responsible for creating a safe working environment for teachers, custodians, and cafeteria employees. They also provide staff with the resources they require to complete their duties. For instance, a principal might find the funds for the custodial team to purchase new supplies. They might also support teachers' disciplinary actions and help them communicate with families.
5. You can help students
Many educational leaders also find their careers rewarding because they can help students from various backgrounds. They recruit licensed teachers and oversee lesson plans to ensure students receive a high-quality education. They also manage extracurricular activities that provide students with enrichment aside from academics. By funding sports programs and organizing clubs, administrators can promote participation and develop skills like communication, teamwork, and self-discipline.
6. You can promote diverse education
Instructional designers, education coordinators, and textbook authors have a role in developing curricula. By choosing the topics that schools teach, they can provide a diverse education that encompasses various cultures. This approach can help enhance learning and prepare students for diverse workplaces. Principals may also help a school develop its curricula by selecting textbooks, creating lesson plans, and gathering input from teachers and families.
7. You can support your community
Aside from managing the daily functions of a school, educational leaders participate in their surrounding communities. This involvement allows them to cultivate positive relationships with families and solicit support for school activities. For instance, a school administrator might solicit donors or organize fundraisers. Other community responsibilities of educational leaders include:
Managing volunteer programs

Helping students obtain internships or job shadowing opportunities

Helping families obtain the necessary school supplies for their children

Petitioning the school board to create new policies

Speaking on behalf of the school at conferences
8. You learn transferable skills
Many people who pursue educational leadership stay in their careers for several years. Positions tend to be rewarding because they pay high salaries, involve various duties, and offer opportunities for advancement. Even though it's common for professionals to commit to this field, you may pursue opportunities outside of educational leadership. Your degree and work experience teach you many transferable skills you can use to succeed in other fields. For instance, your empathy and problem-solving skills might prepare you for a career in human resources. You could even pursue entrepreneurship with your management and budget experience.
9. You get to work with people
Professionals with good interpersonal skills often succeed as educational leaders. They rely on active listening and communication to solve disputes among students, families, and teachers. They also interact with community members, journalists, and school board members to discuss the school's needs and advocate for new policies. Educational leaders communicate with their peers to obtain the field's latest news and incorporate relevant ideas into their lesson plans.
Tips for pursuing a career in educational leadership
Here are some tips for pursuing a career in educational leadership:
Further your education: Most school administration positions require you to have at least a master's degree in educational leadership. If you want to increase your earning potential and advance your career, consider earning a doctorate in educational leadership.

Consider where you want to work: Educational leaders can work at elementary schools, middle schools, high schools, and postsecondary institutions. Consider what age group you want to work with and what duties you want to have, whether they're communicating with families or developing curricula.

Obtain relevant experience: Consider obtaining a job shadowing opportunity or internship where you assist educational leaders. You can gain relevant experience to build your resume and learn more about what type of position you'd like to pursue.
I hope you find this article helpful.