An internship is a great way to gain valuable experience before you enter the workforce. Your ideal opportunity will align with your career goals and interests and will enable you to develop the skills necessary to succeed in your chosen field.
In this article, we explain the importance of internships and provide a list of strategies to help you find the right internship for you.
Why is finding an internship important?
Internships provide students, young professionals, and people changing careers with the opportunity to gain work experience in their desired field. As someone entering the workforce or entering a new industry, having relevant internship experience on your resume can improve your chances of getting a job. An internship that aligns with your professional goals teaches you valuable hard and soft skills that you can use to develop your career. It will also help you learn how to interact with professionals in your field and build a network of contacts.
Here are a few reasons why internships are important: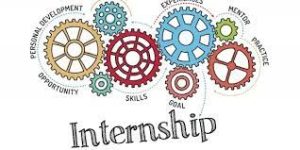 Boost your resume. If you're a recent college graduate or you're switching careers, an internship can elevate your qualifications on a resume.

Meet a career mentor. There's no better time to meet a mentor than at the beginning of your career or new career. An internship could offer you this opportunity.

Land your first job out of college. An internship during the latter part of your education or right after graduation can be the path to your first job.
–Test drive your chosen industry. If you don't have a specific career path yet in mind, an internship can give you the opportunity to test-drive different roles and see where you feel the most energized.
9 ways to find an internship
The following strategies will help you find an internship that's right for you:
1. Determine your career goals and interests
Before you start your search, think about the type of internship you want to pursue. If you have a specific job position in mind, look for an internship within that role's industry. Since internships provide hands-on experience, you'll be able to develop the specific skills necessary for your chosen position.
If you do not have a specific role or career path in mind, think about your interests and the type of work you enjoy. Internships can allow you to test a variety of fields to determine which one fits you best. Once you have your goals and interests outlined, you can then focus on the types of companies where you want to work.
2. Define your requirements
Research opportunities and create a list of your requirements to find an internship that meets your needs. For example, if you're unable to take an unpaid internship, you might be able to find a part-time opportunity.
Other factors to consider are the programs' goals and expectations, the type of responsibilities you'll perform, whether you find the work interesting, and if the internship offers growth potential.
Also, keep in mind that there are benefits to interning at both small and large companies. A small company may offer more hands-on experience, while a large company may offer a program with more clearly defined tasks and goals.
3. Start searching early
Internships can be competitive, so you should start searching and applying as soon as you know what you want and when you'll be available. Some industries or internship programs often also have deadlines for applying. Research early so you don't miss them. For a summer internship, for example, you may need to apply for opportunities six months in advance.
Applying early will demonstrate that you're proactive and also give you more time to consider your options.
4. Reach out to specific companies
If you already know which companies you want to work for, research if they have an internship program and how you can apply. If they don't have one posted, send an email to the department you are interested in working for, attaching your resume and explaining why you want to intern with their team.
Make sure to highlight your enthusiasm for the company and how you can support its mission or goals. Taking this initiative can help impress potential employers and demonstrate your willingness to work.
5. Search online
By [searching for internships on Flashlearners, you can filter your search by location, industry, job title, and even time of year. Use these filters to find an internship that best fits your needs and interests.
6. Use your school or local career services
If you're a college student, check with your school's career center to see if they can connect you with internship opportunities. Often, schools work with both companies and alumni to help students find mentors, internships, and contacts related to their career paths. Local career centers are another option, especially if you are no longer a student. They can point you to available internships and also provide career advice to help you find jobs that best match your qualifications and needs. They can even help you prepare for the application process by performing mock interviews or offering feedback on your resume.
7. Attend career fairs
Local job or internship fairs are a great way to find opportunities and network with potential employers. Prepare an elevator pitch—a brief introduction of yourself—to highlight your value as an intern. You should also print out multiple copies of your resume to have on hand. Meeting and talking with company representatives in person can give you an idea of whether the company is a good fit.
8. Reach out to your network
Review your professional and personal networks to find people with experience in your desired industry. Ask them if they would be willing to speak with you about your career goals. Building these relationships can help connect you with relevant internship opportunities, especially if someone is able to provide a referral.
Even if your network can't currently connect you with a specific internship, they often have valuable advice to offer, such as the steps they took in their career path or which skills they should build to succeed.
9. Use social media
Many companies today have a social media presence, so make sure to follow the ones you are most interested in within your field. Often, they will post about upcoming internship opportunities, along with instructions on how to apply. Their social media presence can also help you get a feeling for their corporate culture which may impact your interest in the organization.
You can engage with company social media accounts, but make sure your posts are completely professional.
I hope you find this article helpeful.