Transportation is vital to many people's daily lives. It allows people to get where they need to be, and it boosts the economy by ensuring goods and materials arrive at specific destinations in a timely fashion. The transportation industry continues to grow, and it includes a wide range of career opportunities for different skill levels, preferred schedules, interests, and abilities.
In this article, we discuss the benefits of careers in transportation and list nine types of transportation careers.
Why do people choose transportation careers?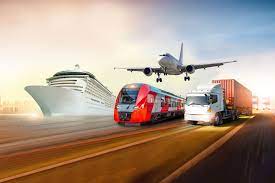 People may choose careers in transportation because they like to try new things, be a part of a team, and experience the real-life effects of their work. Transportation and logistics careers provide the opportunity to work in a dynamic industry that continues to grow. These jobs are often provided in a fast-paced environment with a variety of tasks and new challenges each day. Here are some reasons people choose careers in transportation:
New challenges every day
Careers in transportation require hard work, and every day may present a new challenge. For example, those who work in transportation may manage challenges like inclement weather. In these situations, you might use problem-solving skills to balance safety with efficiency when determining a solution. Navigating this type of challenge may help you feel proud and enjoy high levels of job satisfaction.
Opportunity for growth
Many transportation organizations provide opportunities for you to advance your career. These complex work environments allow you to learn new skills, develop leadership traits, and challenge yourself to seek promotions. For example, you may start your career as a forklift operator, but over time, you may develop skills to become a warehouse supervisor or distribution manager.
Real-life impact of your work
People regularly experience the real-life impact of transportation careers. Anything you purchase requires careful planning, moving, distribution, and transportation to arrive on your doorstep or on the shelf of your favorite store, and that can affect the economy. Choosing a transportation career related to travel also makes a clear real-life impact because you're responsible for the safety of your passengers and others.
Being a part of a team
Careers in transportation and logistics involve complex systems, effective communication, and teamwork. Whether you're a train conductor, forklift operator, or logistics analyst, your actions require the help of and affect other people. It's important for you to enjoy working with others and being a part of a cohesive unit.
Job security
Companies often need to move goods and products, and people typically have places they need to go. This makes the transportation industry a fairly secure industry in which to pursue a career. This industry also offers many opportunities for growth and advancement, potentially strengthening your job security.
Nontraditional schedule
Many careers in transportation require you to work hours outside of traditional business hours. For example, transportation jobs involved with warehouse operations and moving freight may require you to work overnight. Other transportation careers, such as the roles of a truck driver, airline pilot, or water transportation worker, may require you to work long shifts over multiple days away from home.
Develop new skills
Transportation advancements continue to develop, constantly providing you with something new to learn. Many careers also require you to earn specific certifications, and these are opportunities for you to challenge yourself to try different things and master new technical skills.
9 types of transportation careers
Careers in transportation span across many niches. Transportation is a broad industry, and it includes any type of movement of goods, materials, or people from one place to another. Here are nine types of careers in transportation:
1. Truck drivers
Truck drivers transport goods between locations. This can include deliveries from manufacturers to distribution centers and from distribution centers to individual locations. Truck drivers must understand how to operate and maneuver their vehicles safely, and they must also be comfortable driving for long periods of time under strict deadlines.
Here are some jobs for truck drivers:
Flat-bed driver

Delivery driver

CDL driver

Truck driver supervisor
2. Freight and material movement
Material movers handle items such as stock and freight and may help prepare materials for transport or unload them from delivery. Their responsibilities may include carrying materials, wrapping or packaging products, and cleaning equipment. This may be a good entry-level position because while it involves training, it rarely requires formal education.
Some jobs involving moving materials and freight include:
Forklift operator

Materials handler

Package handler

Production scheduler

Expeditor

Logistician

Packaging Engineer
3. Distribution and warehouse operations
Warehouses and distribution centers are an integral part of efficient cargo transportation. These environments combine the expertise of different levels of workers to ensure freight and goods get where they need to be on time. These types of transportation careers require a strong work ethic, careful planning, and the ability to work in busy settings.
Examples of distribution and warehouse operations careers include:
Operations Manager

Estimator

Distribution center manager

Inventory control analyst

Shipping and receiving clerk

Operations security
4. Transportation and logistics
Transportation and logistics jobs involve coordinating and planning the details of transporting cargo from a point of departure to a destination. These are complex networks of workers actually moving items, such as truck drivers, and administrative positions, such as logistics experts. It's a changing field, and technology continues to enhance it.
Some transportation and logistics jobs include:
Logistics analyst

Logistics Specialist

Logistics engineer

Transportation analyst

Import/export clerk

Dispatcher

Account executive
5. Air transportation
Air transportation careers include transporting both people and freight. These careers include every aspect of successful air travel, ranging from various types of pilots to mechanics to airport employees. Education, experience, and certifications vary for each position.
Types of careers in air transportation include:
Commercial pilot

Airline transportation pilot

Air traffic controller

Flight attendant

Gate agent

Operations crew member

Flight Instructor
6. Railroad transportation
Railroad transportation involves transporting freight or people. Railroad positions vary for specific jobs on trains or in rail yards. Many positions only require a high school-level education and include comprehensive on-the-job training.
Examples of railroad transportation careers include:
Conductor

Yardmaster

Locomotive engineer

Rail car repair

Train operator

Railroad brake operator
7. Water transportation
Water transportation careers involve transporting either people or freight. Water transportation workers often have highly specialized responsibilities on the vessel they work on. This industry offers a variety of entry-level positions and other positions that require additional certifications.
Some types of water transportation careers include:
Captain

Deckhand

Marine oiler

Motorboat operator

Marine cargo inspector
8. Public transportation
Public transportation careers include a variety of specialty careers related to safely transporting people. These careers require professionals to follow road safety guidelines and routes with specific timelines for efficient, on-time transport. It's important for public transportation workers to have strong customer service skills.
Examples of public transportation careers include:
Bus driver

Subway operator

Van driver

Taxi driver

Route supervisor

Scheduler

Fleet manager
9. Private transportation
Private transportation careers require the safe transport of people from one destination to another. However, they may have special contracts, such as working for schools or private individuals. It's important for private transportation professionals to be safe, experienced drivers with strong customer service skills.
Types of careers in private transportation include:
Chauffer

School bus driver

Courier driver

Delivery driver
I hope you find this article helpful.