Prosthetists have an important role in the medical field, as they can help people with disabilities and medical conditions regain movement and independence. Becoming a prosthetist can be a rewarding career path for many people interested in medicine and helping others. If you're interested in entering this medical profession, it's useful to gain insight into the pros and cons of the career so you can know what to expect. In this article, we explain several pros and cons related to working as a prosthetist.
What is a Prosthetist?
A prosthetist is a professional who creates devices that help patients with injuries, disabilities, and medical conditions to regain mobility. These professionals often combine their knowledge of medicine and technology to create innovative devices. Some prosthetists may specialize in a specific type of device, such as leg prosthetics, while some may work with a range of devices. Some typical job duties of prosthetists include: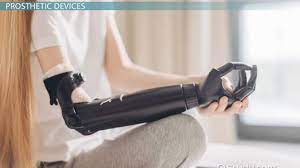 Designing artificial limbs and other medical devices

Using medical equipment and technology

Meeting with patients to determine their needs

Taking patient measurements and molds for devices

Using communication skills to form relationships with patients

Helping patients learn how to use their devices

Using technology to create medical innovations

Collaborating with surgeons and other medical professionals

Supervising junior prosthetists and interns

Staying informed on news and changes in the prosthetics field
6 pros of being a prosthetist
Some benefits of being a prosthetist include:
1. Help people improve their lives
One major benefit of being a prosthetist is the opportunity to help people improve their lives. This career path can be rewarding for many people. Prosthetists can work with many patients facing different challenges that they can help solve. They can form relationships with patients and help them improve their health and quality of life.
2. Innovative new medical technology
Prosthetists can also participate in creating new medical technology. These professionals often collaborate with other medical professionals, including surgeons and neuroscientists, to develop new devices. In this way, prosthetists can contribute to advancing the medical field, which many people find exciting and rewarding.
3. High salary potential
The national average salary for prosthetists is $75,686 per year. Prosthetists with additional training and experience can often increase their salary potential. The institution they work for can also affect how much they make. The high salary potential of this field makes being a prosthetist a lucrative career choice.
4. Variety of work environments
Prosthetists can work in a variety of work environments. Some of these professionals work for organizations like hospitals and other healthcare institutions. They can also work for manufacturing companies to create medical devices. Some prosthetists also work in private practice. This can allow them a more flexible schedule, as they can usually set their own working hours. Working in a private practice can also give them more control over their work, which many of these professionals enjoy.
5. Positive job outlook
According to the Bureau of Labor Statistics, the field of prosthetics is expected to grow 18% by 2030, which is significantly faster than other fields. This is due to senior prosthetists retiring and the need for medical devices for a variety of conditions. The positive job outlook indicates that entry-level prosthetists can find many job openings. This makes entering the field a smart career choice.
6. Wide range of career options
Another benefit of this career path is the wide range of job options you can explore. The prosthetics field includes jobs like:
Prosthetics designer: A prosthetics designer creates artificial limbs that are functional and aesthetically appealing. These professionals use knowledge in design, technology, and medicine to create high-quality devices, including taking patient measurements and molds to make devices that fit each patient.

Animal prosthetist: Animal prosthetists create prosthetic devices for animals and have knowledge and experience working with animals. helping them to create devices that help animals regain mobility. Some animal prosthetists work with pets, while others work with zoo animals or even rehabilitated wild animals.

Medical technologist: A medical technologist is responsible for analyzing patient samples and they use these samples to determine how to develop the best devices for each specific patient. These professionals also use medical equipment and laboratory tools, and they may incorporate new technology and medical practices.

Orthotist: An orthodontist is responsible for creating braces and other devices that help patients recover from injuries and conditions. These professionals use knowledge of medicine, engineering, and anatomy to develop functional devices for each unique patient.
3 cons of being a prosthetist
If you want to become a prosthetist, it's important to be aware of potential drawbacks. You can take steps to prepare for these challenges, and many prosthetists find them worth overcoming to create a rewarding career. Some drawbacks of this field include:
1. Fewer college options
One potential challenge of becoming a prosthetist is that you may have fewer choices of college programs. Although fewer schools offer degrees in prosthetics, you can find high-quality educational options if you're open to attending schools in different locations. Typically, prosthetists also need at least a master's degree to practice. They often complete a medical residency as well.
2. Long certification process
Becoming certified in this profession can also take time. To become certified, you must complete your master's degree and residency. You must also pass three separate exams. Many prosthetists are willing to complete this process to get certified, as this can increase their salary potential and expand their job options.
3. Working alone
Some people find working alone as a prosthetist stressful. If you prefer to work alone, you may enjoy this aspect of the profession. If working independently sounds stressful to you, you can approach this challenge by searching for prosthetist jobs that allow you to work in settings with other professionals. For example, you might choose to work for a healthcare institution with a large prosthetics department.
I hope you find this article helpful.