Paramedics are medical professionals who offer emergency treatment, typically outside of a hospital setting. Regardless of your current background and professional experience, knowing some of the main reasons to become a paramedic can help you decide if it's a good career choice for you. Researching the advantages of working as a paramedic can be an important step in this process. In this article, we discuss what a paramedic is and list some of the most common reasons for becoming one.
What is a paramedic?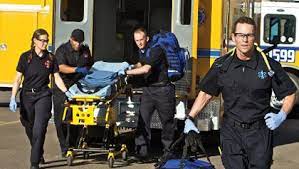 A paramedic is a medical professional who specializes in offering emergency treatment. They usually work on ambulances or at the scene of an accident, and they use their skills and training to stabilize and transport patients to medical care facilities. A doctor usually supervises paramedics remotely via phone, radio, or prewritten instructions.
9 reasons to become a paramedic
If this job interests you, here are nine reasons to consider becoming a paramedic:
1. You usually work under minimum supervision
Although paramedics perform various procedures on patients under the supervision of medical doctors, they rarely have anyone to directly supervise their work while they're in the field. This means that although there are clear standards, rules, and procedures for the role, you might not have a supervisor to directly manage your work. This can provide a sense of independence and autonomy.
2. You can start at an early age
You can start paramedic school at 17 years old and start working at 18. This means that you can start working right after you become an adult, which can save you the time and money you might otherwise spend on education and training. Being able to accumulate work experience and have a steady income at such an early age can help you achieve your long-term goals.
3. You get to help people
Besides the professional aspects of working as a paramedic, the job can also give you the personal satisfaction associated with helping other people. Paramedics constantly help patients in difficult situations and often change people's lives for the better. Helping people daily can also provide you with the incentive to pursue long-term employment as a paramedic, as you can receive a lot of personal satisfaction through seeing the results of your hard work.
4. You can find career stability
There's usually a demand for paramedics in both urban and rural settings, regardless of the economic status of a community. This means that if you pursue a career as a paramedic, you're likely to find relevant job openings. You're also likely to have more employment opportunities in the future, as the total number of paramedic jobs in the U.S. is projected to rise by 11% until 2030, according to the Bureau of Labor Statistics.
5. You may enjoy a good work-life balance
Paramedics may work long shifts, followed by long periods of time off. This potentially gives you the time to pursue hobbies and other personal activities, helping you achieve a healthy work-life balance. You can also sometimes choose your shifts, leading to increased flexibility in your schedule.
6. You can constantly learn
The job of a paramedic usually involves complex situations that require urgent action. Besides reducing work monotony, this also gives you the opportunity to always learn new things and to develop as a professional. Learning from the situations you're exposed to can also help you if you decide to pursue other professions in the medical field.
7. You may discover other career opportunities
If you wish to pursue another career after working for a while as a paramedic, you can use your medical knowledge and experience to change jobs. Some paramedics choose to work as physician assistants or medical assistants, while others choose administrative careers in various healthcare facilities, like hospitals and ambulatory care companies. Some of the soft skills you can gain by working as a paramedic, like teamwork, communication, situational awareness, and mental fortitude, can help improve your success in other fields.
8. You're usually part of a close team of professionals
Paramedics are part of an extended team of medical professionals who handle emergency situations from the time they occur to where everyone involved is safe and in a stable condition. Working in such intense situations typically leads to special bonds and an increased sense of camaraderie. It can also help you form strong personal bonds and friendships with your coworkers.
9. You get plenty of physical exercise
Paramedics typically have highly active workdays with intense physical activity. This means that the job requires the strength and stamina to successfully perform various emergency operations for the duration of their shifts. Working as a paramedic can be a good way to stay physically fit.
Tips for becoming a paramedic
Consider these tips if you're planning on pursuing a career as a paramedic:
Make sure you're ready to pursue paramedic school. Completing paramedic school can take time, but the extra education can benefit your career. You can learn more complex medical procedures and gain a better understanding of techniques you already know.

Maintain a positive attitude. Often, being successful as a paramedic depends on having strong interpersonal and communication skills. Throughout paramedic school, it's usually helpful to maintain a positive attitude and to treat everyone around you with respect.

Explore the field of emergency medical services. When preparing to become a paramedic, it may help to research the entire EMS field. You can follow experts and discover useful information on providing quality emergency care by quickly and correctly assessing the patient, determining the most appropriate treatment, and treating them with compassion.

Accept your mistakes and learn from them. While preparing to work as a paramedic, you may make mistakes. It's important that you maintain a positive attitude and learn from your errors to improve your work.
I hope you find this article helpful.