A career in speech-language pathology can be a lucrative career in the healthcare industry, and there are several certifications to help students prepare. You can, for example, obtain certification in fluency, then work with children with language fluency conditions and help them apply strategies and improve their abilities. Understanding your educational options and choosing the right ones can help you achieve your career goals.
In this article, we discuss what a speech-language pathologist does, nine speech pathology certifications, and how to become a speech-language pathologist.
What does a speech-language pathologist do?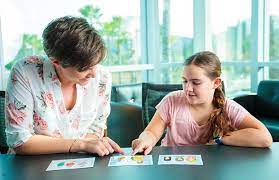 A speech-language pathologist (SLP) or speech therapist works with patients to examine, prevent, diagnose, and treat speech, language development, communication, and swallowing medical conditions. Often, speech pathologists work with patients who have endured trauma, affecting an individual's ability to communicate verbally to overcome their challenges. They can work part-time or full-time in various settings, such as rehabilitation centers, schools, private practices, residential care facilities, hospitals, and medical clinics.
Some types of conditions a speech pathologist may address when working with patients include:
9 speech-language pathology certifications
The speech pathology field has several certification options for students entering the industry that may help improve your potential earnings and job opportunities. Here are some SLP certifications that may help you increase your skill set and better your job performance with clients:
1. Certification of Clinical Competence in Speech-Language Pathology (CCC-SLP)
The American Speech-Language-Hearing Association (ASHA) offers the CCC-SLP credential, which is often the initial certification requirement for becoming licensed and registered as a practicing SLP in your state. The candidate first earns their master's degree in speech-language pathology, finishes their post-graduate fellowship, and submits the necessary documentation attesting their qualifications to obtain their certificate of clinical competence (CCC).
Additionally, this ASHA certification may require you to complete at least 30 continuing education hours every three to five years to renew your CCC-SLP certification. This certification may also require you to do the following:
Adhere to the ASHA code of ethics

Earn at least 21 graduate credits and 27 semester hours of basic sciences

Finish at least 350 hours of clinical practicum with a certified supervisor

Complete 36 weeks of clinical supervision

Pass the national exam
2. Board-Certified Specialist Certification (BCS)
The BCS certification is the initial credential for speech pathologists specializing in one of four specific fields of speech pathology, including child language, fluency, and swallowing conditions. After completing an accredited graduate program and passing the practical exam for speech-language pathology, you can obtain your BCS certification by specializing in one of these four fields with a Clinical Specialty Certification (CSC).
3. Child Language and Language Disorders Certification (BCS-CL)
The BCS-CL certification allows SLPs to work with children and adolescents up to 21 years old with language development conditions. This certification is one of four specialty licenses offered through the American Board of Child Language and Language Disorders. The requirements include possessing your initial CCC-SLP certification and having at least five years of full-time experience working with child language conditions before applying for licensure.
Additionally, candidates also possess 100 hours of intermediate or advanced educational experience in child language. Renewal may follow similar requirements as the CCC-SLP certification because of the ASHA standards.
4. Board-certified specialist in Fluency and Fluency Disorders Certification (BCS-F)
The American Board of Fluency and Fluency Disorders offers the BCS-F for SLPs specializing in the field. Typically, a BCS-F certification enables an SLP to work with adults and children with speech fluency conditions, including stuttering and lisps.
To qualify for the BCS-F certification, it's essential to possess your initial CCC-SLP credential and fulfill your state's educational and clinical fellowship requirements. Renewal for the BCS-F certification may adhere to similar requirements as those for the CCC-SLP certification, including continuing education as part of the requirements for license renewal.
5. Board-Certified Specialist in Swallowing and Swallowing Disorders (BCS-S) certification
The BCS-S allows a board-certified specialist SLP to work with patients with medical swallowing conditions. The course can prepare you for several situations and techniques to implement in therapy sessions with patients. Often, these specialists may work in pediatrics or with adult patients with swallowing disorders related to several medical conditions.
Here are some requirements for this certification:
Have seven and a half intermediate to advanced continuing education units on dysphagia within the last three years

Have at least three years of post-certification clinical work with a dysphagia focus

Advanced clinical or leadership experience with accomplishments related to swallowing-related activities or publications
6. Lee Silverman Voice Treatment (LSVT LOUD) certification
The LSVT LOUD certification is available for SLPs specializing in treating patients with neurological challenges, such as Parkinson's disease. Typically, LSVT-certified SLPs work with patients to improve vocal expression, articulation, swallowing, and neural and muscular functioning. You can also apply the approach and principles of the LSVT program to SLPs who work with patients with speech impairments because of other neurological impairments.
The requirements for this certification include completing a graduate degree in speech pathology and obtaining your CCC-SLP certification. You may also apply for your LSVT certification while completing your clinical fellowship.
7. PROMPT for Restructuring Oral Muscular Phonetic Targets certification
The PROMPT for Restructuring Oral Muscular Phonetic Targets certification offers credentials to SLPs who work with patients to develop and improve their motor, speech, and communication abilities, such as those with apraxia, dysarthria, or speech disorders due to autism spectrum disorder, traumatic brain injury or other conditions. They can use specific techniques, such as integrating numerous words and phrases and focusing on diction, pronunciation, and articulation, to help the patients overcome their challenges.
The PROMPT organization may require you to practice in the field for at least five years, attend workshops, complete practicums, and submit a project to qualify for the certification.
8. Picture Exchange Communication System (PECS)
The PECS certification from the Pyramid Educational Consultants helps you with clients who may have cognitive communication and physical challenges. This certification provides the materials and tools to expand your SLP techniques for working with clients to overcome these obstacles. The course uses an applied behavioral analysis (ABA) approach with evidence-based training methods to improve your communication and instruction strategies for these clients. PECS methods mean using pictures to reinforce positive behaviors and correct errors. The six phases of PECS are:
Learning how to communicate

Understanding how to generalize distance and persistence

Learning picture discrimination

Understanding sentence structure

Learning how to use adjectives, prepositions, and verbs for attributes and language expansion

Understanding responsive requests

Learning about commenting
Here are some requirements to earn this certification:
Applying to the PECS Certified Manager program

Completing PECS manager training

Giving an overview and feedback on PECS implementation

Finishing examinations and self-evaluations for all requirements
9. Certification for Motor Skills for Language Development
You can earn the Certification for Motor Skills for Language Development from PROMPTs for Restructuring Oral Muscular Phonetic Targets, also called the PROMPT Institute. This certification helps you support clients experiencing challenges using their oral motor skills, such as motor control, delays in cognitive abilities, auditory processing conditions, or learning conditions with phonetics.
Additionally, you can help clients with stutters, language formations, or syntax challenges using various treatment approaches learned in this course. The treatment approaches can include a cognitive-linguistic method accompanied by using your empathy skills. To complete this course, you may attend workshops, conduct self-study projects, and perform a practicum.
Please note that none of the companies, institutions, or organizations mentioned in this article are affiliated with Indeed.
How to become a speech-language pathologist in 6 steps
1. Get your undergraduate degree
Obtain a bachelor's degree in communication sciences and disorders (CSD) or a related field. The undergraduate program for speech pathology prepares students for advanced studies when they enter a graduate program. In an undergraduate program, you may learn the basic science of human communications, the biological, physical, social, and linguistic speech approaches, and what happens when human communication experiences impairments.
Alternative degrees you can earn include:
Bachelor's degree in speech-language pathology and audiology

Bachelor's degree in education

Bachelor's degree in linguistics

Bachelor's degree in psychology
2. Complete a master's program in speech-language pathology
After your undergraduate program, enroll in a graduate program accredited through the Council on Academic Accreditation in Audiology and Speech-Language Pathology (CAA) to earn your master's degree. The graduate program may focus on the field of speech-language pathology. In a master's program, graduate students complete clinical hours through an internship to gain field experience and apply their skills in real-world settings. This includes principles and methods of preventing, evaluating, and treating communication and swallowing disorders due to various diseases and disorders.
Here are some courses you may take in graduate school:
Language development

Introduction to speech and hearing science

Phonetics

Introduction to audiology
3. Finish post-graduate clinical training
After obtaining your master's degree in speech-language pathology, complete a post-graduate fellowship or clinical training. You can work directly with patients with speech disorders to further develop your skills, such as applying therapy techniques under the supervision of a certified SLP.
States may require you to complete around 1,000 hours of clinical fellowship.
4. Obtain your CCC-SLP certification
The next step is to take the examination for CCC-SLP. The exam can include topics testing your knowledge and skills that focus on:
Speech evaluation

Diagnoses

Treatments

Foundational principles of speech therapy
Completing your graduate program and clinical fellowship and passing your exam may qualify you for this certification.
5. Apply for your license
To practice as a speech-language pathologist, your state and organization can require you to submit an application and earn your license before hiring you. For example, organizations may prefer you pass the Praxis Two Examination in Speech-Language Pathology by the Educational Testing Service (ETS) and receive a passing score of 162.
After the exam, research your state's speech-language pathology and audiology board license requirements before applying for it.
6. Gain additional certifications
You may further your knowledge and qualifications by obtaining additional speech and language pathology education. For instance, you might pursue your fluency disorder certification to work with patients experiencing challenges with stutters and lisps.
Salary and Job Outlook for a Speech Pathologist
The national average salary for a speech pathologist is $116,376 per year. Earnings can vary based on your education, experience, employer, location, and skills. You may try to negotiate a higher salary by using your certifications as proof of being an ideal candidate for an organization and demonstrating your dedication to the field. For the most up-to-date salary information from Indeed, click on the link provided.
The United States Bureau of Labor Statistics (BLS) projects opportunities for speech-language pathologists to increase by 21% between 2021 and 2031, which is faster than the average job. This means you may see about 14,000 annual job openings.
I hope you find this article helpful.