If you want to find a job that's a good fit for your qualifications, interests, and skills, use a job search strategy to help you achieve your goal. A good job search strategy ensures you're clear on what you want in a new position and that you aren't missing out on quality jobs.
There are several strategies that can support your job search efforts and help you build networking connections, find attractive positions, and ensure you present yourself in an effective manner. In this article, we explore what a job search strategy is and nine strategies you should incorporate into your job search.
What is a job search strategy?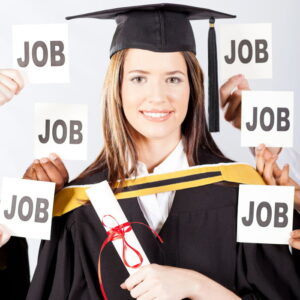 A job search strategy is a strategy that supports your job search efforts from start to finish. These strategies encourage you to establish clear goals as well as identify areas where you can look for quality jobs. Having a good strategy in place ensures your job search is optimized and that you maximize your chance of success. The most effective job search will include several strategies that support your goals and help you stand out from the competition.
9 job search strategies to assist your job search efforts
The following are nine different job search strategies you can incorporate into your job search efforts:
1. Establish clearly defined goals
Before you begin searching for jobs, an important component of a good job search strategy is to be clear about your goals for your next position. Consider what position you want, how much money you want to make, what kind of company culture you would enjoy working in, and what industry you want to work in. All of these questions should be answered before you start looking for a new job to ensure you focus your efforts on finding a position you're ultimately happy with.
2. Keep your presence active on social networking sites
Professional networking sites are a great tool to incorporate into your job search strategy and can act as your unofficial resume to hiring managers and employers. Ensure that all of your experience, skills, and accomplishments are up-to-date on your profile and that they correlate with the position you're interested in.
Other tips for a good online presence include:
A professional photo

Several recommendations from colleagues or previous employers

Ample endorsements

A solid profile summary that clearly states your abilities and career goals
3. Network as much as possible
Networking is an imperative part of a good strategy for job searching. Networking with others in your field or in the field you wish to find a position in can open doors and give you intel on open positions that may not be listed on job sites. Consider connecting with a variety of individuals, including previous coworkers, managers, colleagues, past clients, educators, and partners who you've worked with or learned from. Inquire about open positions in the field you're interested in and don't be afraid to ask for endorsements and recommendations.
4. Get involved with industry events
There are several things you can do online that will support your job search efforts, but in-person activities show your commitment to the industry and willingness to meet new people and introduce yourself to those interested in you. Look into industry events and other industry-related happenings that allow you to interact face-to-face with others. Keep track of everyone you speak with and work to build lasting connections.
5. Use keywords when searching for jobs
When you search for positions using job search engines, be sure to enter relevant keywords that relate to the job you're interested in and the location you wish to work. Keeping your search criteria as specific and narrow as possible will ensure you find only those jobs that relate to your preferences and save you time by eliminating the jobs that don't.
6. Consider contacting previous employers about open positions
If you have previously worked for a company you enjoyed, consider reaching out and inquiring about open positions with that organization. Many companies are willing to hire previous employees because they know they are familiar with the company and job. Plus, rehiring former employees costs employers much less than hiring new employees, so you are already considered a more attractive candidate in many cases.
7. Have your references lined up
Many hiring managers or human resources professionals look into the references a candidate lists on their resume. If your references don't make a strong case as to why you should be considered for the position, this will hurt your efforts and could even result in being eliminated from the hiring manager's consideration. Be sure to speak with your references beforehand and that they are up-to-date on your latest accomplishments and skills and have a recent resume of yours to reference.
8. Work with a recruiter
Working with a recruiter is a great way to find jobs that are catered to your interests. Recruiters will compile your work history, skills, experience, and preferences, and then use that info to find jobs that best match your wants and needs. Plus, recruiters handle most of the job application process and represent you to hiring managers, which is ultimately less work that you have to do.
9. Cater your resume to each position you apply for
It's important to customize your resume to the specific job you're applying for. Be sure to include relevant skills and work experience on your resume and incorporate keywords from the job listing as well. This will help your resume better stand out among candidates and can increase the chances of your resume making it through the applicant tracking system (ATS) with companies who use this technology.