In the sports industry, they often require professionals to help market teams, networks, and players using their creative and analytical skills to generate revenue. If this sounds interesting to you, consider pursuing a marketing job in the sports industry. Understanding the general qualifications for this role can help you determine what's required of you to succeed in a sports marketing position. In this article, we discuss why you may find it beneficial to pursue a sports marketing job, including nine common marketing jobs in the sports industry qualifications for you to consider.
Why pursue a marketing job in the sports industry?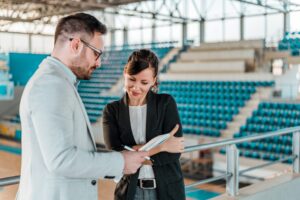 If you enjoy a career in business and sports, you may find it fulfilling to pursue a marketing job in the sports industry. In this role, you can combine your interest in sports with your marketing skills to help generate revenue for a sports team or network. You may also enjoy working with like-minded professionals who enjoy using their skills to help market sports, which can help you expand your network. Additionally, there are several careers you can choose in the sports industry, including:
Public relations

Advertisement

Sales

Market research

Sports agents

Event management

Restaurants and hospitality
9 Marketing jobs in the sports industry qualifications
Here are some qualifications to possess when pursuing a marketing job in the sports industry:
1. Marketing knowledge
Marketing knowledge is an essential qualification for this role. To gain this knowledge, consider pursuing your bachelor's degree in sports marketing, marketing, business, or another related field. The courses you take in school can help equip you with the knowledge and skills required for the workplace. While it may depend on the school you attend and its programs, some courses you take might include global and internet marketing, customer relationship management, and promotional plan development. You may also find it beneficial to consider applying for an internship while you're in school. An internship can provide you with real-world experience.
2. Analytical skills
Analytical skills comprise several professional qualities you can use to help solve challenges and assess data to interpret. In a marketing position, you can use these skills to determine how well a campaign is progressing. With this information, you can make changes to a campaign to help it perform better. You may also use the data from the campaign to add to a report to share with your managers about how well the campaign performed. This skill also allows you to make informed decisions for a company. Here are some examples of analytical skills you may find helpful to develop:
Research

Data analysis

Solve problems
3. Communication skills
Communication skills include your ability to share your thoughts with others effectively, verbally and nonverbally. Your position may require you to speak with other professionals in different departments or if you're part of a marketing team, which makes it important to communicate well. Nonverbal communication incorporates your ability to write in simple terms.
For example, if you're working on a social media campaign, you're using your nonverbal communication skills when crafting the caption and graphic to post. If the users can understand what you're trying to communicate to them without thinking too much about it, you use your communication skills well.
4. Sports knowledge
As a professional working in the sports industry, it's essential to have a vast amount of sports knowledge to be successful. This can include having a basic understanding of how a certain sport operates. For example, if you're working for a sports network, they may require you to know a bit about each sport. If you're working for a football team, it's less important for you to have extensive golf knowledge. You can learn more about sports through researching online, watching games, and attending courses offered by a community college or online organization.
You may also find it beneficial to have some sports knowledge about the history of a sport. This can include how a sport originated and the first players to make history. You can show hiring managers your knowledge of sports through cover letters or during interviews when they ask you situational questions or about your interests in specific sports.
5. A network
A network is a collection of professionals in your industry or similar fields that you can speak with about jobs, skills, and common interests. Networks also help increase your job opportunities. You can build your network by using professional social media networks. On these platforms, you can create an account, and upload your resume and credentials to attract the attention of hiring managers while also forming a network. When you build your network with an excellent reputation, they might be more likely to share your contact information when they hear about an opportunity fit for you.
It's also important to maintain a strong relationship with your network. You can do this by sending them messages on the platform or by inviting them out for coffee to catch up and chat.
6. Creativity
Creativity is an important skill to develop when you're pursuing a role in marketing, especially in the sports industry. You can use your creative skills to help come up with solutions for challenges you may encounter. Additionally, creativity is important when creating campaigns and advertisements. It's important to come up with original ideas that engage the audience and increase revenue for a company. When creating campaigns, you may design the graphics to post on social media or to include in your advertisements. Creating a memorable piece of media can increase consumer loyalty with a sports network, team, or player.
7. Decision-making skills
Strategic decision-making skills in this position to help you prepare strategic plans for campaigns, events, and advertisements. This skill allows you to ensure the sports network, team or player ranks above its competitors. Additionally, you can use your ability to decide to come up with solutions for challenges the team is encountering. You can use this skill combined with your creativity and analysis skills to determine what would be the most beneficial solution and how to complete it quickly.
When you can make a well-informed decision quickly, it can help save time by brainstorming several solutions and more time to work on other tasks.
8. Interpersonal skills
Interpersonal skills are how you interact with others in a social context. This can include paying attention to how others are standing and where they're looking to indicate how they're feeling about you or the subject when speaking to them. You can use interpersonal skills in marketing positions when you're interviewing players, coaches, and sports experts for press releases, interviews, or social media posts. You may find interpersonal skills add to your professionalism because you're able to conduct yourself in a friendly but business manner to get the information you desire by making the other individuals feel comfortable.
Here are some interpersonal skills you may consider developing:
Active listening

Empathy

Reliability

Negotiation

Assertiveness
9. Organizational skills
Organizational skills allow you to ensure you meet deadlines on time and keep track of important meetings and documents. When you're organized, you're able to get your work done efficiently and reduce the amount of stress you feel throughout your workday. This skill can also encourage you to create compelling reports and campaigns to share with your team and managers. You can also organize a social media calendar to help you and your team ensure you're posting on time and consistently each day. This can help increase your engagement and followers, which benefits the sports network, team, or player.
In the sports industry, you may find it beneficial to organize when sports are airing and coordinate it with pregame and post-game interviews. This may also help you organize content around important games to generate engagement from users. If there are multiple games at a time that the network you work for reports on, you can organize and assign different team members to cover each one.
I hope you find this article helpful.