Voice actors, or voice-over artists, are individuals who use their voices to perform various roles and read information. They can find opportunities in a variety of industries, and they may work in studio settings or remote locations. Learning more about these positions could help you determine which career path is right for you.
In this article, we explain voice-over jobs and list nine voice-over jobs you can do from home.
What is a voice-over job?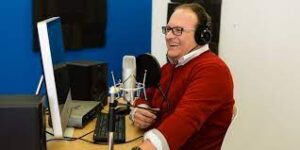 In a voice-over job, a person uses their voice to narrate, perform, or provide dialogue for various types of media productions. They may work in radio, television commercials, animated films, or video games. They use their voice to act out different parts or read information. The national average salary of a voice-over artist is $117,910 per year. The salary can vary depending on your location, experience, and specialty.
How do voice-over jobs from home work?
Voice-over work from home often involves recording voiceovers in a recording studio that's set up in the artist's home. The voice-over artist invests in recording equipment, such as a high-quality microphone, audio interface and recording software, to ensure that their recordings are of the highest quality possible.
Once the artist sets up their home recording studio, they can begin auditioning for voice-over jobs through online platforms or by contacting potential clients directly. They may also receive calls from clients who are familiar with their work. When an artist receives a voice-over job, they use the script and any other instructions from the client to record the voice-over and deliver the files to the client in the requested format.
9 types of voice-over jobs from home
If you're interested in a voice-over job, consider these roles with work-from-home opportunities:
1. Animation voice actor
Animation voice actors use their voices to act as animated characters in television shows and films. Their duties can include reading a script to understand the character, developing the voice, acting out different emotions, and recording the voice. If you want to pursue this role at home, consider developing your acting skills, as this role involves using your voice to show different emotions.
2. Audiobook reader
An audiobook reader is a voice-over artist who reads texts and books aloud and records them for others to listen to. Their duties may include collaborating with a director and author, adjusting their voice for different sections in a book and using recording equipment. They may specialize in a certain genre.
For example, you may specialize in reading children's stories or non-fiction books. Different genres may involve various levels of acting. For example, a children's book reader may use their voice to act out more characters than someone reading an informational text.
To begin this career remotely, consider gaining experience working as a freelance reader. This can be a great way to build your portfolio and develop your skills.
3. Educational video performer
Voice-over artists may find opportunities within the educational field. They may read from electronic learning platforms or videos. Educational videos often contain graphics and sometimes characters. A voice-over actor may read information aloud or play a character role, depending on their specialty.
If you're interested in this role, consider which age group you want to work with. For example, you may read instructional videos to college or graduate students. Alternatively, you could perform character roles on online learning platforms for elementary students. You may develop and use different skills to help you in these unique roles.
For example, you can use visualization techniques to imagine yourself in the learner's position and adjust your delivery accordingly. Work on your clarity and enunciation to ensure viewers can easily understand you. It's also beneficial to acquire vocal techniques such as tone and pacing.
4. Business voice-over artist
Business organizations may hire voice actors for a variety of roles. They can record business messages related to branding. For example, a marketing team might hire a voice-over actor to create an audio greeting on the business website.
In addition to their vocal talents, business voice actors need a strong understanding of business principles and marketing strategies so their performances can align with business objectives. Companies may also hire voice-over actors to read information in an engaging way for instructional training purposes. For example, you may find a role in reading voice-over information for a human resource team.
5. Podcast actor
A voice-over actor may find an opportunity on a podcast. Some voice-over actors begin their own podcasts, while others find freelance or contracted opportunities performing on an established podcast show. Their duties can include recording the introduction, reading informational or entertainment texts and reading advertisements. To get started, you can reach out to podcasters and offer your services as a voice actor. You can also join podcasting communities.
6. Advertisement actor
Voice artists can perform and record audio advertisements for a variety of industries, including radio, internet and television. Their duties include reading a script, adjusting their voice to match the content and collaborating with a director. If you're interested in this role, consider starting with your local radio stations or businesses. To attract more clients, you create a website, social media profiles, and business cards to market your commercial voice-acting services.
7. Phone message voice-actor
Voice-over artists may create phone messages or recordings for a variety of companies. For example, this type of voice artist may record a company's customer service message. When customers first call the number, the voice recording greets them and directs them to other extensions. The responsibilities in this role include reading a script, operating recording equipment, and collaborating with organization leaders regarding the tone and message they want.
8. Video game character
Voice actors may work in the video game industry and create audio recordings for a game's narrative plot. They may read a narration script, act as a character, and collaborate with a team of other actors. Some video game voice-over artists also participate in motion capture sessions to match their vocal performance to a character's movements and actions. In this role, you may specialize in a certain genre. For example, you may work in fantasy games or logic games. The level of acting involved can vary depending on your genre.
9. Informational video voice-over artist
Voice-over artists may work in informational videos as freelancers or contracted employees for a variety of industries. These videos explain concepts to audience members. They often show graphics or information while a voice-over artist speaks. In this role, your duties may include reading a script, explaining a concept clearly and collaborating with the video designer. If you're interested in this role, consider practicing reading aloud in a clear, engaging way.
Requirements for a career in voice-over
To pursue a career in voice-over, there are several requirements and skills that can be helpful or essential.
Industry quality voice: Having an excellent voice with good clarity, diction, tone and enunciation is important for this role.

Acting skills: Additionally, having acting skills and the ability to portray different characters and emotions using your voice can help you progress further in your career and gain roles with more lines.

Technical abilities: You may also have the technical skills required to operate audio equipment, and record and edit audio files.

Portfolio and connections: Building a portfolio and networking with other people in the industry can increase your chances of landing a voice-over job.
Tips for getting a voice-over job from home
If you're interested in beginning a remote voice-over career, consider following these tips:
Build an at-home recording studio
If you want to work remotely, consider building your own at-home studio. This may include:
Microphone: You can use a microphone to help you create high-quality audio recordings.

Computer: A computer or laptop can help you operate the recording software.

Recording software: Some computers come with recording software, or you may explore additional options. You can use these programs to record and format your audio files.

Quiet space: To record your work, consider creating a separate, quiet space. This can help you create effective voice recordings remotely.

Soundproofing materials: This is optional, but soundproofing your recording room using acoustic foam may help you create a quiet environment for your recording.
Develop your skills
The skills they use can vary depending on their specialty. For example, an animation actor may require more acting skills, such as changing their voice to reflect emotions, than an informational business reader. Consider developing some or all of the following skills, depending on your specialty:
Creativity: Voice actors may act and think creatively to represent different characters.

Clarity: Clarity or pronunciation is an essential skill for voice-over artists. Whether you're reading information or acting as a character, consider developing your clarity skills to help you read aloud articulately.

Acting range: Voice actors may play various roles. Developing your acting skills and your ability to show different emotions could help you perform various parts.

Confidence: Confidence can help voice actors speak clearly and perform effectively.

Computer skills: Voice actors who work from home can use computer skills to operate recording software and manage audio files.
Create a demo or portfolio
As you begin your voice-acting career, consider creating a demo or a creative portfolio. A demo is an audio sample that shows your voice-over talents. You may need a demo for a new role in animation or video game acting.
If you're interested in education or business formats, these roles may prefer a portfolio showing your relevant samples. Consider creating a digital portfolio with links to some of your past projects. When applying for new roles, you can give this sample to your potential employer to show them your talents.
Explore side job opportunities
Many people begin their voice-over careers as part-time opportunities or side jobs. This can be a great way to develop skills and gain relevant experience while working. Consider exploring these opportunities as you begin your career. As you gain experience, you may find more full-time possibilities.
I hope you find this article helpful.